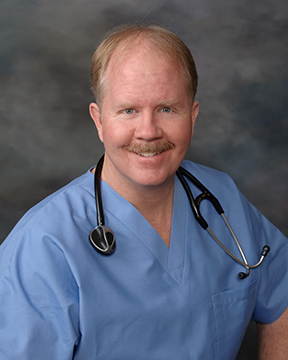 John Wipfler III, MD, FACEP, is an attending emergency physician at OSF Healthcare Saint Francis Medical Center, a Level I Trauma Center in Peoria, Illinois. He is board-certified and teaches as a clinical professor of emergency medicine at the University of Illinois College of Medicine (UICOMP). Dr. Wipfler served in the U.S. military for 14 years, attaining the rank of Major in the U.S. Army Medical Corps before transitioning to a support role for law enforcement tactical operations in 1994. Dr. Wipfler is involved in prehospital Urban Search & Rescue, Wilderness Medicine, and Technical Rescue; volunteers with IMERT (the primary Illinois disaster response team); and served as the medical director of Life Flight air medical program.
Dr. Wipfler was instrumental in forming the first tactical EMS unit in the state of Illinois (called STATT) certified by the Illinois Department of Public Health in 1998. His unit supports 3 tactical operations teams in central Illinois and has been directly involved in more than 220 SWAT callouts. In addition, he has supported callouts or training with the U.S. Secret Service, U.S. Marshals Office, Illinois State Police SWAT, FBI, and DEA in central Illinois.
In 1999, Dr. Wipfler developed one of the first formal 2-week electives in tactical medicine for EM residents at UICOMP/OSF St. Francis Emergency Medicine Residency. He continues to work closely with the Illinois Tactical Officers Association as Tactical Emergency Medical Services (TEMS) co-chair, and he serves nationally as chair-elect of ACEP's Tactical Medicine Section.
Dr. Wipfler is the lead author of "Tactical Medicine Essentials," a textbook endorsed by ACEP and developed with the help of more than 140 reviewers and editors.
Primer on Tactical Medicine
Tactical Emergency Medical Support (TEMS) is a rapidly evolving area of emergency medicine that focuses on prehospital emergency care specifically designed to support high-risk law enforcement operations and operators. Tactical medicine aims to enhance law enforcement operations by assisting in Medical Threat Assessments, training law enforcement officers (LEOs), providing on-scene casualty care, and overseeing preventive health care maintenance of the operators.
TEMS can be dated to 19th century physician Dominique Jean Larrey, the surgeon-in-chief for Napoleon's Army, who was known for his innovative use of surgical teams dispatched on the battlefield to provide immediate lifesaving treatments. In more recent years, TEMS has been utilized by the United States military in the form of specifically trained medical and tactical support personnel who provide critical treatment in active battlefields and allow for the successful extraction of patients to a higher level of definitive care. Civilian law enforcement agencies took note of the success of TEMS in the military and its potential application in the civilian world; in 1994, the National Tactical Officers Association (NTOA) issued formal positions supporting the wide implementation of a well-trained and equipped TEMS element into all tactical teams.
Today, tactical medicine is an increasingly essential element of law enforcement missions. Tactical medicine providers are involved in all aspects of tactical operations, including pre-mission planning, training, and implementation of clinical protocols tailored to the tactical environment. The goal of tactical medicine is to help ensure mission success and safety via preventative as well as acute care medicine. TEMS is a rapidly evolving and widespread practice with exciting opportunities for EM physicians - not to mention plenty of space to be involved as a resident.
Tactical Medicine
of

47-1 Tactical Medicine - copdocs09_500.jpg

of

47-1 Tactical Medicine - DSC04078_500.jpg

of

47-1 Tactical Medicine - DSC04086_500.jpg

of

47-1 Tactical Medicine - IMGP7209_500.jpg

of

47-1 Tactical Medicine - p1010413_500.jpg
CJ: How would you describe tactical medicine?
JW: Tactical medicine is a division of medicine where the prime objective is the support of the tactical officers of the SWAT team, also called Special Response Teams, Emergency Response Teams, or similar names. In my region, I primarily support three groups; ILEAS 6/7, Peoria City Police SRT, and CIERT (Central Illinois Emergency Response Team). A Special Weapons and Tactics (SWAT) Team is a special group of highly trained athletic individuals with specialized skills in assessing and resolving high risk situations in our communities that have significant threats to citizens. The goal is to resolve the crises with minimal morbidity/mortality as possible. As a tactical medicine provider (TMP), my primary objective is to provide comprehensive medical support to the tactical officers, with the secondary objective being providing necessary care to others on scene, ie, other first responders, hostages, innocent bystanders, and suspects.
CJ: What is the physician role in tactical medicine?
JW: Tactical physicians are there for many reasons - comprehensive team support, preventive medicine during training and 'callouts' (deployments), close up medical support with the goal of having TMPs and their advanced life support interventions rapidly available when needed, along with leadership, EMS medical direction, training of team members, and many other functions. There are several ways of accomplishing this goal, and a variety of team structures are utilized in our country.
Some physicians choose to remain at the Incident Command post with the brass and not attempt to provide warm or hot zone medical care. They can mostly provide oversight and backup support of the tactical medics that go inside the warm or hot zone perimeters.
Some physicians choose to be a fully sworn law enforcement officer (LEO), obtain the training and qualification to carry a sidearm for protection, and deploy with the tactical team inside the warm or hot zone. Some tactical paramedics and physicians may go inside with entry teams if fully SWAT-trained and competent, but most will remain nearby - behind hard cover and within a 30-second response time - to be ready to respond to medical emergencies if needed. For most SWAT callouts, there is a single house or small building and the TEMS element can move close to but not inside the structure due to high threats. However, if there is a large building with multiple stories, then the TEMS element may deploy and accompany the rear portion of the SWAT entry team or rescue team, or Rescue Task Force element, which allows the benefit of being close to the team during all movement. Most SWAT callouts have a Tactical Operations Center (TOC), which is where all the operators are completing the mission planning and gearing up for the mission itself. Participating at this point involves much more tactical training with the team in order to be a safe and effective operator on scene with the rest of the team. Medical Threat Assessment (MTA) is formulated and communicated, and emergency medical response plans are determined and planned and prepared for.
There are also regional differences in the abilities to participate in these roles, and in general:
The East Coast: Many East Coast tactical medicine physicians are dedicated to support LEOs, but many choose to not become sworn LEOs (reserve officers or deputized, etc.), are not armed, and choose to function in advisory roles from incident command. The patients get treated and extracted from the scene by the imbedded EMTs / paramedics / nurses and the tactical medicine physician will be able to provide advanced medical care when a casualty is brought to the CCP (casualty collection point), or they may go to the point of injury if the scene is rendered safe. They may also provide medical care during MedEvac / transport to the hospital.
The West Coast: Many tactical medicine physicians in central and western USA choose to be more involved with warm and hot zone operations, and depending upon the politics and administrative support of LE / Fire / EMS, they may be sworn LEOs who are trained and authorized to be armed with a pistol or other firearm. Achieving law enforcement status can require part-time school, a standardized firearm course, and an agreement with a local/regional law enforcement agency in order to be deputized or sworn in as a peace officer with all the rights accompanied with the title. There is variability throughout the country and throughout the rest of the world. Many of these physicians simply feel that anyone who enters the inner perimeter of a tactical operations callout should be armed for self-defense and for defending the casualties they are caring for. As in other areas of life, things are sometimes controversial, and physicians certainly will want to sort through this and other topics in deciding when and how to become involved in tactical medicine.
You really have a lot of options as far as being a tactical medicine provider depending on the level of involvement you are interested in as well as the level of participation your local agencies are willing to have you involved in. You can be the Medical Director of a Tactical Emergency Medical Service unit, where you primarily function as the primary physician for the team members, as well as write medical protocols and lead trainings for your team. You can choose to be more hands-on as well, imbedding within the team and participating in the same trainings as the tactical operators as well as being in charge of the medical aspects of your unit. EMS Medical Directors also help support their local Tactical Medics and Rescue Task Forces and can choose to be more or less involved. Just be aware that the medical legal coverage for tactical medicine can be a significant barrier, especially for resident physicians, so check with your hospital and local/regional teams.
CJ: What are the job prospects of the tactical medicine physician?
JW: There are a couple of paths currently, but this is a continually growing field as states and counties slowly begin to expand their goals and funding for TEMS units. You could be a paid EMS Medical Director who supports local TEMS units, and again, make sure you check into malpractice coverage for your area.
You could also become a faculty member at a residency program that has a tactical medicine elective and get paid to teach the elective. But a large majority of physicians who provide tactical medicine are unpaid volunteers who have decided to contribute towards our community's well-being using God-given talents in a helpful and challenging way. It is a 'mission' or passion for most of the tactical physicians, and many can benefit from this.
CJ: What advice do you have for residents or new attending physicians who want to get involved in tactical medicine/local SWAT teams?
JW: The biggest thing is to get training and experience, meaning take courses on tactical medicine, prehospital medical skills, firearms safety, shooting courses, tactical medicine courses, and other instruction. A lot of different courses are out there that vary in length, depth, and cost. You could start with 1-3 day awareness courses (TEMS / TCCC / TECC), then look at some 5-day to 2-week courses. Some I would recommend looking into are ISTM-International School of Tactical Medicine, CONTOMS, and others. Use the internet and talk with experts to get further information.
Read some tactical medicine books, look at state/regional agencies to get an idea of their structure and curriculum. Out of all of the states, California has done the best job of setting up a standardized organization for tactical medicine, so the California EMSA website (search for Tactical Medicine) is a great resource!
Basically, I would say to build up your prehospital medical knowledge and skills with firearm safety, shooting, and tactical medicine courses and then approach your local law enforcement agency about getting involved. One of the big things is the firearms competency; you likely will have the medicine down, but you need to be competent and safe with a weapon to be respected by law enforcement, so go to a shooting school or two. And don't act like a Rambo wanna-be. If you show up at SWAT training with a black tactical vest on that has 3 knives and 5 magazines for your pistol and very little medical care, then that will not work in your favor. Be quiet and modest and start out slowly with a sincere desire to be there for emergency medical care and preventive medicine and team support. Ask about vaccinations, medical histories and allergies of team members; take blood pressures; and worry about the guns and shooting later, at an appropriate time.
CJ: In what ways could medical students get more involved in this field?
JW: Go ahead and check out the ACEP Tactical Medicine Section website, which lists the EM programs that have tactical medicine education. We are preparing to revamp the webpage to include some cool new resources, but there are currently some helpful resources such as the Tactical Medicine tool kit. There is also a list of training and education sites for various courses as well as a list of some of the EM residency programs that offer tactical medicine electives. I am working on creating a comprehensive list of all the residency tactical medicine training at the EM programs in the country, and currently most EM residencies do NOT offer some level of tactical medicine training. I would suggest starting by reading, completing courses if you can, and trying to choose a residency program that offers tactical medicine training.
CJ: In what ways could residents get more involved in tactical medicine?
JW: Kind of similar to the previous question, but basically try to choose an EM program that teaches tactical medicine, work on getting baseline training, and then approach the local team.
CJ: How would you suggest folks interested in this sector of EM get more experience if they lack a specific military or law enforcement background?
JW: Really work on building a solid foundation of the basic skills and knowledge. Get familiar with law enforcement, SWAT tactics, weapons, and how to treat injuries associated with those lethal and less-lethal weapons. Go take some 2-day and 5-day courses and at least 1 or 2 shooting courses. Become safe and reliable with weapons handling and safety. Don't be that 'doc' who accidently 'flashes' fellow shooters with the muzzle. Incompetence on the shooting range will be quickly noted, and you'll lose respect and they won't want you around. Start thinking through injury prediction based on the environment of mission and learn the medical knowledge and skills necessary to deal with them in the field when it's rainy and dark and you're providing medicine on your knees in the mud or on broken glass.
CJ: How do you see the role of the physician evolving in tactical medicine in the future?
JW: Right now many of the tactical medicine physicians are volunteers and unpaid. Many county and local law enforcement agencies have very limited budgets and don't have money to pay for tactical medics or nurses or physicians. Will this change as tactical medicine becomes recognized as the 'standard of care'? Yes, eventually it will be, and there will be a budget for it, because SWAT teams without formal TEMS support will be successfully sued in court due to deliberate indifference in providing close-up medical care. We have not quite reached that point in the USA but it will arrive someday. Meanwhile, fortunately there are medical professionals out there who are interested in the tactical medicine field and support the women and men in blue and camo who protect our communities. I feel there is a deep amount of satisfaction in volunteering and supporting the incredible professionals working to provide these critically important public services. For me, it is an honor, and a privilege, to support my community through tactical medical support.
Helpful resources and links:
• ACEP Tactical Medicine Section: https://www.acep.org/how-we-serve/sections/tactical-emergency-medicine/
• CONTOMS Course: https://contoms.chepinc.org/EMT-TRegistration.html
• Special Operations Medical Association: http://www.specialoperationsmedicine.org/Pages/default.aspx