Lorna Breen always wanted to be an emergency room physician in New York City.1 From childhood, she believed that medicine was the avenue she wanted to pursue to make an impact on people in her community.
Dr. Breen's passion for patient care and the patient experience was fundamental to the way she practiced emergency medicine. She was an avid snowboarder, salsa dancer, and the "cool aunt" to eight nieces and nephews.1 Dr. Breen achieved her childhood dream, but then came the COVID-19 pandemic.
Dr. Breen was working at the peak of the first COVID-19 surge in New York City in April 2020. After working multiple 12+ hour shifts and not being able to sleep in over a week, Dr. Breen called her sister and stated she was unable to move.1,2 Her family stated Dr. Breen grew worried about one aspect of her life in particular: her job. She was concerned that she would lose her medical license, or be ostracized by her colleagues, because she was suffering due to her work on the front lines. She was afraid to get help; she worried it would end the career that she had spent her entire life working for.1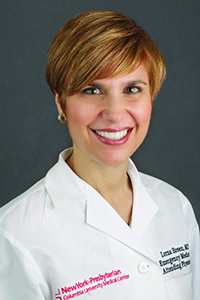 Dr. Breen's experience is not unlike many other physicians. Licensing boards throughout the country require disclosure by physicians of current or past mental health care (in some cases at any level), hospitals require disclosure for credentialing, and seeking mental health care is considered a sign of weakness among many medical professionals.1
According to her family, Dr. Breen had no known history of mental illness, and unfortunately her risk factor for suicide, being a physician, was overlooked until it was too late.2
Every year, hundreds of physicians die by suicide. The rates of burnout and high levels of stress are not new experiences, and COVID-19 has exacerbated this issue.2,3
---
"In order to take care of patients, you have to take care of yourself."
— Corey Feist, JD, MBA, Dr. Lorna Breen's brother-in-law, president and co-founder of the Dr. Lorna Breen Heroes' Foundation
---
On March 18, 2022, history was made when the Dr. Lorna Breen Health Care Provider Protection Act (H.R. 1667, S.610) was successfully enacted into law. This is the first law aimed at supporting the well-being of the healthcare workforce, an action that is long overdue. The primary goal of this law is to prevent and reduce burnout, suicide, and behavioral and mental conditions specifically among healthcare providers. Under this law, the Department of Health and Human Services (HHS) is set to award grants to hospitals and other healthcare entities to assist in establishing programs for evidence-based strategies for mental health promotion and resiliency. This includes relevant training for students, residents, and healthcare professionals to improve well-being and job satisfaction. The law also requires HHS to create a campaign to encourage healthcare professionals to seek support and treatment and to adopt best practices for suicide prevention. It further adds that HHS is required to study and provide policy recommendations for improving the well-being of the workforce, removing barriers to access care, and developing strategies for the promotion of resiliency.4
Although burnout and mental health challenges can be driven by a multitude of diverse triggers, this crisis needs to be assessed on various organizational levels to develop necessary interventions and continue the fight toward the improvement of physician well-being and fulfillment.
The authors of this article would like to thank EMRA for all their work in making this law a reality. The historical enactment of the Dr. Lorna Breen Health Care Provider Protection Act (H.R. 1667, S.610) represents the victory of one battle in this critical war.
---
References
Dr. Lorna Breen Heroes' Foundation. Dr. Lorna Breen. Accessed April 5, 2022. 
Henderson J. Dr. Lorna Breen Law signals hope for healthcare workers. Medical News. Published March 21, 2022. Accessed April 4, 2022.
Kelly S. Emergency physicians' level of burnout jumped last year. Healthcare Dive. Published January 24, 2022. Accessed April 4, 2022.
Dr. Lorna Breen Health Care Provider Protection Act, H.R. 1667, 117th Cong (2022).