Air medical transport (AMT) is a vital component of emergency medical care in the United States. Exposure to the different aspects of EMS care is a core competency for emergency physicians, and experience with AMT can be a valuable contribution to resident education.1
Despite this, resident participation in AMT during residency is often brief and primarily in an observational or ride-along roll.2,3,4 And despite the value to resident education and potential patient benefit of physicians providing care in AMT, few residency programs offer a longitudinal AMT experience. (Internationally, physician-staffed Helicopter Emergency Medical Services [HEMS] agencies are quite common, whereas in the United States, the crew model typically consists of a nurse and paramedic.5)
In this article, we describe our experience developing a longitudinal AMT curriculum within our residency program and training new EM physicians to become fully independent flight physicians.
Western Skies: A Critical Need
New Mexico is the 5th largest state in the United States, yet it ranks 46th in population density.6 University of New Mexico Hospital (UNMH) is the only Level I trauma center and academic referral center in the state. UNMH is also home to the state's only emergency medicine residency program. Given the distances patients must travel to access tertiary care, AMT is a critical component of our state's healthcare infrastructure and is a necessity for the delivery of equitable care to our rural population.
UNM Lifeguard Air Emergency Services is the AMT program of UNMH. Lifeguard operates 3 fixed-wing aircraft, 1 rotor-wing aircraft, and 1 ground ambulance. Lifeguard's primary staff consists of flight nurses, flight paramedics, and flight respiratory therapists.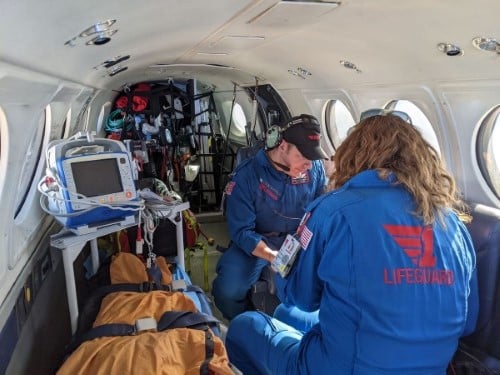 Resident flight physician Mike Lauria and flight nurse Beth Beazley prepare en route to a fixed-wing mission.
Because of our altitude and hot climate, aircraft performance is limited, and weight becomes a major operational factor. As a result, physicians must replace another crew member rather than simply fly as a 3rd person. Historically our program's EMS fellows, as well as some attending physicians, have flown with Lifeguard as crew members, but residents becoming full crew members is a recent development that required considerable planning and buy-in from multiple stakeholders.
Resident Flight Physician Training Program
In July 2018, a resident arrived to our program with considerable prior AMT experience. He worked with the residency program director as well as the Lifeguard program director and medical director to develop a longitudinal elective in AMT. Beginning with ride-alongs during his PGY-1 year, he progressed to becoming a full crew member. His experience became the template for the UNM Resident Flight Physician Training Program.
The training program starts during the PGY-1 year. In the 2nd half of the academic year, after new residents have had time to acclimate to the clinical environment of the hospital, interested residents begin the program with 6 ride-along shifts to become familiar with how care is delivered in the AMT environment and gauge their level of interest. These shifts also serve as "interviews" in case there are more interested residents than downstream spots.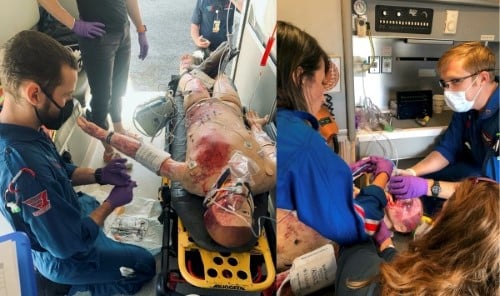 Resident flight physicians Jeff Wayland (left) and Chris Root (right) resuscitate a simulated trauma patient during their final simulation exercise.
Up to 4 residents may progress to the PGY-2 phase of the program, when they take on increased roles as trainee flight crew members. During their PGY-2 flight shifts, residents act as 3rd crew members and work with senior crewmembers to provide patient care just as any other "new hire" would. Because of the aforementioned density altitude limitations, this often occurs in fixed-wing aircraft or on cooler winter days.
In lieu of the standard EM residency PGY-2 ultrasound rotation, flight resident trainees take on a hybrid rotation consisting of 3 days a week of ultrasound in the department, a weekly department conference 1 day per week, and two 12-hour flight shifts per week. They also do 2 flight shifts per month during each of their PGY-2 ED rotations.
Table 1: UNM Resident Flight Physician Training Timeline
Training Year

Flight Resident Requirements

PGY-1

6 orientation flights as ride-a-longs

PGY-2

Hybrid flight ultrasound month

2 flight shifts per month during ED months as 3rd crew member

Participation in quarterly flight crew education days

PGY-3

2 flight shifts per month during ED months as primary crew member

Participation in quarterly flight crew education days
Throughout the year, there is a competency-based skills training program where they are trained, evaluated, and tested on important clinical and operational skills. The 2nd-year flight experience culminates with a day of high-fidelity simulation exercises when the residents are tested in the same clinical and technical knowledge domains as Lifeguard's non-physician crew members. They are evaluated not only on clinical decision-making and resuscitation but also on the technical skills required of critical care transports teams such as the set-up of IV pumps and ventilators, patient packaging, and radio communication.
After successful completion of the culminating simulation exercises, flight residents are considered fully-qualified flight crew members.
During the PGY-3 year, flight residents will work a minimum of 2 flight shifts per month during their ED rotations. Throughout both the PGY-2 and PGY-3 years, flight residents are expected to participate in Lifeguard's quarterly education days as instructors.
Benefits of Flight
The priority of any emergency medicine residency should be the education and training of its residents. Any additional activities beyond standard clinical duties must add tangible value to resident learning. We feel that working as a flight physician and providing care in the AMT environment is an incredibly valuable learning experience for residents.
In the AMT environment, residents must practice critical care and resuscitation in a setting with more autonomy than what is typical in the ED or inpatient settings. Flight residents are also exposed to a broader array of patient care settings than they would typically see during their training. They will care for patients at pre-hospital scenes, in rural and under-resourced emergency departments, and quaternary referral centers in other states. This means they often must provide the same high standard of clinical care with more limited resources and personnel.
There is also tremendous benefit in the educational exchange that takes place between residents and other flight crew members; they provide valuable interdisciplinary input on patient care.
Finally, residents learn about the process of interfacility patient transport — from initial acceptance to patient arrival at the destination hospital — and develop a deeper understanding of a process they may have to initiate as a referring physician in their future careers.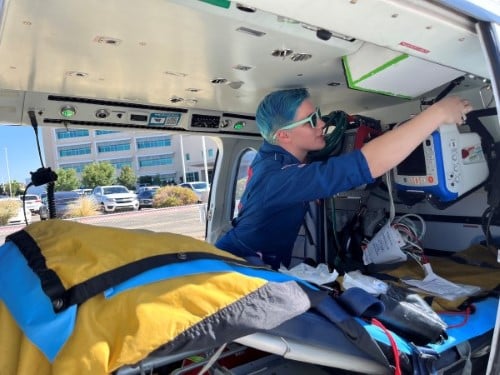 Resident flight physician Hallie Meador restocks the aircraft after a call.
Resident involvement in AMT has tangible benefits to flight crew members as well. Residents can provide additional education on some nuances of patient management and answer clinical questions about downstream management for crew members.
Residents also act as a resource in the hospital for crew members to shadow and learn from during clinical rotations. In addition, residents act as force multipliers for the program educational team. They can deliver lectures, assist in the development of crew simulations, and operate skills stations for invasive procedures.
Resident involvement in AMT also opens a significant avenue for research collaboration. Having direct involvement with the clinical operations of an AMT program allows residents to formulate and investigate relevant clinical questions. Residents in our program have collaborated with flight crew on poster presentations, case reports, review articles, and original investigations published in peer-reviewed journals.7,8
Potential Barriers
As with any changes to an existing curriculum, there are several potential barriers to creating a resident flight program that should be anticipated and proactively addressed. Residency leadership must understand the benefit to resident education that flight offers. It must also be made clear that flight time will not negatively impact resident rest and wellness or lead to duty-hour violations. Of course, there is an inherent risk to flight that must be considered as well.
From the perspective of the flight program, the addition of resident physicians must be done deliberately and with consistent input from program leadership and flight crews. Flight resident trainees have a high level of clinical knowledge, but they may have minimal prehospital care experience. It is essential that full-time crew members see the physicians as good partners. We believe that resident flight physicians must be held to the same educational standard as full-time nurses and paramedics and must demonstrate competency in all mission aspects including charting, cleaning, restocking, and pharmacy management. Because flight residents replace other full-time staff, there is a risk that residents are seen as threatening available hours. To this end, our physicians commit to collectively filling one full-time equivalent (FTE) position in the hospital flight program. This translates to 9 shifts per month staffed with a physician at PGY-3, fellow, or attending level. Additional shifts may be worked if there are schedule openings, which is often the case.
As the flight program develops, leadership should also anticipate increasing resident interest in flight and be prepared for a surplus of interested residents compared to available positions. Ideally, any interested resident would be able to have a robust flight experience, but the staffing needs of the flight program or the residency program may not allow for that.
Conclusion
Resident involvement in AMT can lead to significant mutual benefit for residents, residency programs, and flight programs. Residents are able to gain unique clinical experiences and broaden their understanding of AMT and the diversity of care settings in their geographic area. Residency programs in turn benefit from the experiences of their residents. Flight programs that add resident physicians to their staff gain an enthusiastic and knowledgeable group of new physicians who can augment the organization's educational and clinical capabilities.
Starting a resident flight program requires careful planning and significant coordination of stakeholders, but the end result is an outstanding clinical experience for clinicians and patients alike.
The authors would like to thank the amazing faculty and residents at University of Wisconsin MedFlight and University of Cincinnati AirCare for their support and help starting the resident flight program at University of New Mexico Lifeguard. Their willingness to share lessons learned, best practices, and educational material was invaluable in getting our program off the ground.
---
References
Mastenbrook J, Savino P, Mazurek P, Eichel J, Selde W, Ekblad G. Air Medical Curricula in Emergency Medicine Residencies: A National Survey. Air Med J. 2015;34(5):283-288. doi:10.1016/j.amj.2015.05.013
Ray AM, Sole DP. Emergency Medicine Resident Involvement in EMS. J Emerg Med. 2007;33(4):385-394. doi:10.1016/j.jemermed.2007.02.051
Tang N, Fredericksen K, Sauer L, Kozen B, Liang H, Chanmugam AS. Air-Medical Transport Experience in Emergency Medicine Residencies: Then and Now. Prehospital Disaster Med. 2009;24(3):247-252. doi:10.1017/S1049023X00006889
Hoyle Jr. JD, Loos SA, Jones JS. Training of Residents for Their Role as Flight Physicians: A Survey of Emergency Medicine Training Programs. Acad Emerg Med. 2003;10(12):1404-1406. doi:10.1197/S1069-6563(03)00545-1
Rasmussen K, Røislien J, Sollid SJM. Does Medical Staffing Influence Perceived Safety? An International Survey on Medical Crew Models in Helicopter Emergency Medical Services. Air Med J. 2018;37(1):29-36. doi:10.1016/j.amj.2017.09.008
Bureau UC. 2020 Population and Housing State Data. Census.gov. Accessed August 23, 2022. https://www.census.gov/library/visualizations/interactive/2020-population-and-housing-state-data.html
Lauria MJ, Root CW, Gottula AL, Braude DA. Management of Respiratory Distress and Failure in Morbidly and Super Obese Patients During Critical Care Transport. Air Med J. Published online October 22, 2021. doi:10.1016/j.amj.2021.09.010
Braude D, Lauria M, O'Donnell M, et al. Safety of air medical transport of patients with COVID-19 by personnel using routine personal protective equipment. J Am Coll Emerg Physicians Open. 2021;2(2):e12389. doi:10.1002/emp2.12389