A 44-year-old male presents to the ED with intermittent chest pain for 2 weeks, worse with exertion, and resolves with rest. He is currently symptom free. What is your interpretation of his EKG?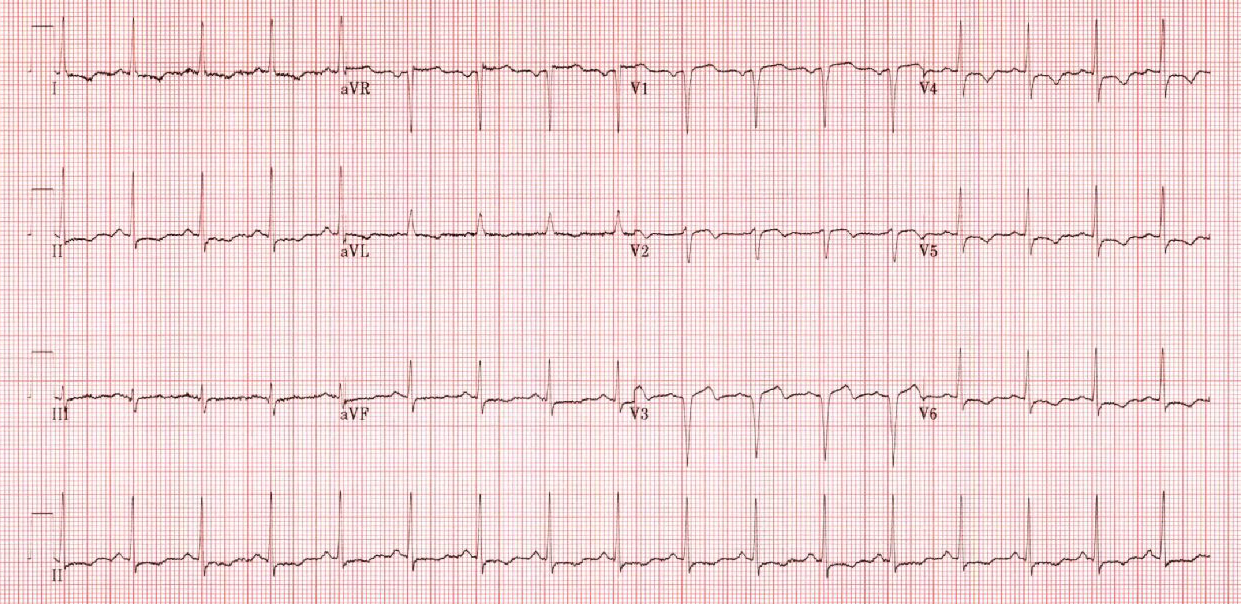 Pseudo-Wellen's Syndrome
The EKG shows a normal sinus rhythm, biphasic T-waves in V2 and V3, STD and TWI in the lateral leads, increased S-wave amplitude in aVR and V1-V3, and poor R-wave progression. The EKG was initially interpreted as concerning for Type A Wellen's Syndrome, but after further discussion it was determined that the EKG abnormalities are more likely caused by LVH (also called Pseudo-Wellen's). In particular, Wellen's syndrome is associated with a preserved R-wave progression, whereas LVH is a common cause of poor R-wave progression.
Wellen's syndrome, also called "coronary T-wave syndrome" or "the widow maker sign," consists of characteristic EKG findings that suggest critical LAD stenosis. If untreated, approximately 75% of patients will develop an anterior myocardial infarction, usually within a few days. The classic EKG findings are biphasic T waves in V2-V3 (Type A, 25% of cases) or deeply inverted T waves in V2-V3 (Type B, 75% of cases). This EKG pattern is associated with a pain-free state and the T-wave abnormalities are result of reperfusion. Other EKG findings include a preserved R-wave progression and the absence of any significant STE or precordial Q-waves.
Pseudo-Wellen's syndrome has a similar pattern of abnormal precordial T-waves that are the result of LVH repolarization abnormalities. There are multiple voltage criteria for LVH, but echocardiography is the superior diagnostic modality. While the EKG above does not meet any of the common voltage criteria, the repolarization abnormalities, often called "strain pattern," are typical for LVH. The presence of LVH can make EKG interpretation more challenging as the strain pattern can mimic ischemic findings and confound an EKG's ability to detect ACS, particularly an anteroseptal MI.
Learning Points
Wellen's Syndrome
General Features
Abnormal T-wave pattern present in pain-free state with recent history of angina

EKG changes are sometimes called "Wellen's waves" if patient is having pain
Normal or minimally elevated cardiac biomarkers
LVH or high voltage can make diagnosis more difficulty
EKG Features
Deeply inverted or biphasic T-waves in precordial leads, typically V2-V3
Isoelectric or minimally elevated ST-segment (< 1 mm)
No precordial Q-waves
Preserved precordial R-wave progression
Clinical Significance
Suggestive of proximal LAD lesion
Not currently an indication for emergent cardiac catheterization but requires admission

Coronary angiography is most appropriate testing modality (avoid exercise stress testing)
T-wave abnormalities resolve with PCI or CABG
Type A (less common)

Biphasic T-waves
Seen immediately upon reperfusion
LVH
General Features
EKG is only suggestive of LVH
Echocardiography is superior diagnostic modality
Often demonstrates ST and T-wave abnormalities, termed "LVH with strain pattern"
Numerous diagnostic EKG criteria with limited sensitivity
No criteria are recommended for use exclusive of other validated criteria
EKG Features
Commonly used criteria include:

Sokolow-Lyon- S in V1 + R in V5 or V6 > 35 mm
Cornell- R in aVL + S in V3 > 28 mm in males or 20 mm in females
STE in V1-V3
STD and TWI in I, aVL and V4-V6
Increased S-wave depth in III, aVR, and V1-V3
Increased R-wave peak time > 50 ms in V5 or V6
Increased R-wave amplitude in I, aVL and V4-V6
Left axis deviation typical, but can occur with any axis
Can see increased QRS and QT duration
Clinical Significance
Confounds EKG's ability to detect ACS, particularly anteroseptal MI, and mimics ACS findings
Marker of increased risk of adverse outcome in the chest pain patient
Diagnosis of LVH in the presence of intraventricular conduction abnormalities (e.g., fascicular blocks, bundle branch blocks) should be made with caution as they may impact the accuracy of the EKG criteria for LVH
DDx for T-wave Inversions
Bundle Branch Blocks
CNS Injury
Digitalis Effect
Intra-abdominal Disorders
Juvenile T-wave Pattern
Left Ventricular Hypertrophy
Metabolic Abnormalities
Pericarditis
Pre-excitation Syndromes
Pulmonary Embolism
Toxicologic Abnormalities
Ventricular Paced Rhythms
Causes of poor R-wave progression (< 3 mm R-wave by lead V3)
Dilated cardiomyopathy
LAFB
LBBB
LVH
Misplaced precordial leads
Normal variant
Pre-excitation syndromes
Prior anterior myocardial infarction
RVH