In traditional ED flow models, patients who arrive via EMS often experience similar prolonged door-to-bed, door-to-doctor, and ED length-of-stay times as walk-in patients. ED overcrowding, a national crisis, often exacerbates this problem. At Rutgers New Jersey Medical School, we identified the need for a new workflow model for EMS arrivals that would allow us to provide efficient care without adversely affecting overall clinical operations for the department.
RAT to the Rescue
The Department of Emergency Medicine initiated a 9-session pilot project utilizing the Rapid Assessment Team (RAT) to address some of our key operational inefficiencies. Our hospital is an academic, tertiary care, Level I trauma center located in an urban city with an ED annual census of roughly 90,000 patients. Approximately 30% of our patients arrive via EMS. Using data from available benchmarking resources, we identified deficiencies in throughput times and implemented a unique strategy to improve ED flow. Historical data from our ED was obtained from our electronic health record prior to the implementation of this pilot project and focused on important metrics of throughput.
A multidisciplinary team was conceptualized, composed of physicians, advanced practice providers, ED technicians, and nurses in an effort to create a more streamlined approach for patients arriving via EMS. This team was formed by reassigning existing ED staff, and no additional resources were needed for this pilot. The team operated from 7 am to 3 pm out of a multipurpose space within the ED that had previously been used to hold boarding admissions.
Bypass the Waiting
During the pilot sessions, patients transported by EMS were immediately placed in one of the designated RAT beds. The RAT initiated a diagnostic workup for each patient, including laboratory studies, diagnostic imaging, and initial therapeutic interventions based on each patient's presentation. Patients were then transferred to the most appropriate care area of the ED for their ultimate management and disposition.
While the establishment of a RAT is an accepted Provider-in-Triage alternative flow model, most focus on the evaluation and treatment of low-acuity patients. Our model is innovative in its unique focus on higher acuity patients who arrive via ambulance.
After each pilot session, the relevant data was assessed and compared to data on the same day during hours in which the RAT was not operational. Analysis of the data after each of the 9 pilot sessions revealed a significant improvement in the targeted metrics. For the target population, patients arriving via EMS, door-to-doctor times were reduced by a mean of 85% (46.9 minutes), door-to-bed times by 80% (24.5 minutes), overall length of stay by 11% (73.2 minutes), and the LWBS rate were reduced by 35%.
By front-ending the labor-intensive aspects of patient care such as specimen collection, electrocardiogram acquisition, and imaging, the RAT improved downstream operational efficiencies by enhancing the providers' ability to make a disposition. Such improvements resulted in increased bed availability for all patients regardless of arrival method. As such, walk-in patients experienced a reduction in mean door-to-doctor times (6%), door.to-bed times (4%), and LWBS rates (8%).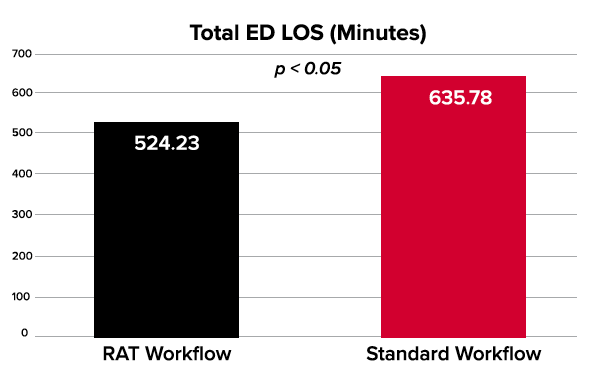 The substantial improvements that have been demonstrated by the RAT highlight an important success in the quest for improved ED workflow.