Improvised medicine might be viewed as a skill reserved for the wilderness — for the people who can whittle an entire trauma bay out of a few sticks. Indeed, someone is occasionally pressed to use a hydration bladder tube to perform a cricothyroidotomy on the side of a mountain. However, emergency medicine is a specialty of improvisation, and the same techniques and ingenuity used in the wilderness setting have a direct benefit in the emergency department (ED).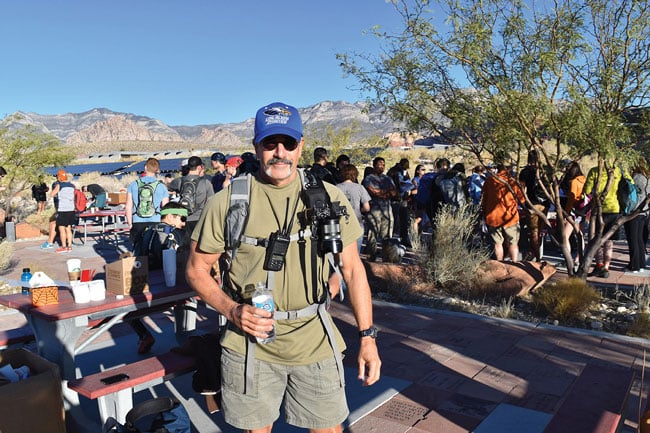 Many of us were drawn to the emergency department because we have all of the toys. The modern emergency department contains a dizzying array of tools and techniques to resuscitate and treat a variety of conditions as safely as possible. However, situations often demand something that doesn't fit into a neat box, and we have to get crafty. Consider the humble Foley catheter that has been employed by generations of physicians to remove peanuts from noses, tamponade bleeding, and preserve g-tube tracts. That is a lot of mileage out of something simply designed to deliver fluid from one place to another. Another example, the safety pin, has hundreds of applications both in the wilderness backcountry as well as in the pocket of a creative emergency medicine physician during a busy shift in the department.
A core idea of improvised medicine is to identify the problem and find a solution with the materials directly at hand. It is important to think of an object not only for its intended use, but also as a sum of many other useful parts. A suture package doesn't just contain the material for wound closure (or backpacker repair). It can also serve as a plastic backing to splint a finger, or as a wrapper to hold a patient's easily misplaced jewelry.
Weight and space considerations limit the amount of specialized tools a physician may have in low-resource situations, but even a minimal wilderness medicine tool kit generally includes a knife, parachute cord, space blanket, and heavy tape. These items, along with other readily available materials, can help manage a variety of medical conditions. This type of common-sense problem solving is only limited by the physician's imagination.
We wondered how some well-known physicians in wilderness and emergency medicine might apply their favorite improvised medicine techniques. What follows are their favorite tips and tricks for situations in either the wilderness or a busy ED.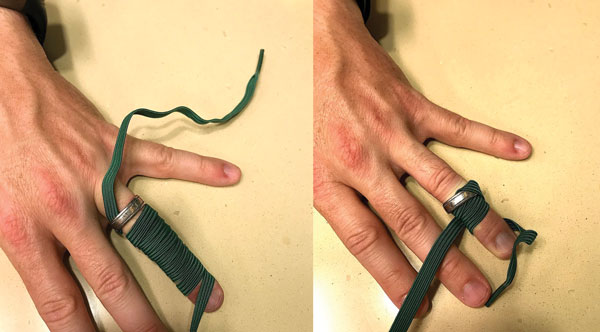 Ring Removal
Wrap the swollen finger distally to proximally with suture, umbilical tape, or the elastic strap from an oxygen mask.
Pass the proximal end under the ring and unwind the wrap proximally to distally to force the ring off of the finger.5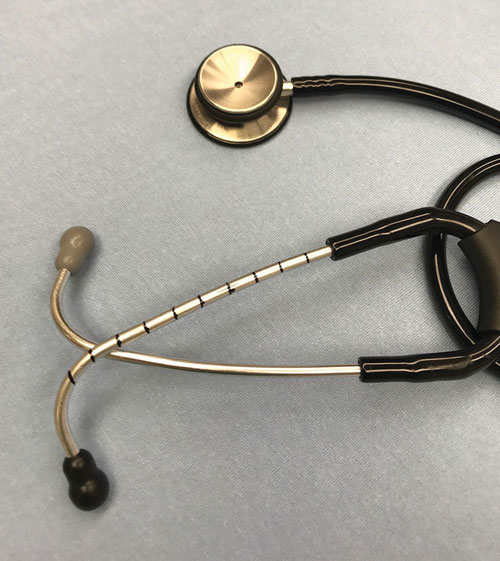 Quick Measures
Mark your stethoscope with pre-measured lines to help with rapid length estimations.5
Wound management in the Backcountry

Cut two strips of adhesive tape 1" longer than the wound. Fold one-quarter of each strip of tape over lengthwise (sticky to sticky) to create a long non-sticky edge on each piece. Attach one strip of the tape on each side of the wound with the non-sticky edge toward the wound. Using a needle and thread, sew the folded edges together, cinching them tightly enough to bind the wound edges together properly.
Paul S. Auerbach, MD, MS, FACEP, MFAWM, FAAEM

Redlich Family Professor, Department of Emergency Medicine Stanford University School of Medicine
Nasogastric tube placement in the ED
Insert 5cc of 2% lidocaine jelly into the nostril, then fill a 50cc irrigating syringe with water and have the patient suck on the syringe to get water out. It takes the focus off the tube and as they suck and swallow it allows the NG tube to slide down.
Jay Kaplan, MD, FACEP
Immediate Past President, ACEP
Fluid resuscitation without IV access in the austere environment
Rectal fluid administration with hydration system tubing for fluid resuscitation as temporary measure to start rehydration and evacuate from the backcountry.
Jeremy Joslin, MD, FACEP, FAWM
Wilderness & Expedition Medicine Fellowship Director
SUNY Upstate Medical University
Remember "materials" you will always have
Splint a femur fracture by securing the injured and non-injured legs together when ease and speed of evacuation from the backcountry is important.
David Della-Giustina, MD, FACEP, FAWM
Wilderness Medicine Fellowship Director
Yale School of Medicine
A reminder for when you don't have exactly what you want
Buy a pen light. Have a backup for otoscopes, and know where they are in your department.
Rebecca Parker, MD, FACEP
President, American College of Emergency Physicians
Backcountry c-spine stabilization
An improvised cervical collar can be made by firmly rolling and taping a fleece jacket around the head and neck.
Scott E. McIntosh, MD, MPH
Wilderness Medicine Fellowship Director
University of Utah
Injury prevention and the athlete
Apply regular paper tape on specific blister-prone areas of the feet during hiking or other athletic events to prevent "hot spots" and friction blisters.
Grant S. Lipman, MD, FACEP, FAWM
Wilderness Medicine Fellowship Director
Stanford University
Often, creativity is necessary to provide exceptional patient care. Improvisation enhances both our in-hospital practice as well as wilderness capability.
What are some techniques that you have used in the emergency department? What unconventional tools do you employ in the hospital? How do you prepare for when things go awry in the wilderness? We would love to hear about it. Join the conversation on twitter with the hashtag #EMRAImprovMed to share your favorites!
Make sure to join us at 2017 EMRA MedWAR in Washington, D.C., at ACEP17 for some real-time examples of improvisation in the wilderness!
The authors would like to thank all of our contributing experts for their ideas and wisdom.
References



Johnson CA, Goodwine DS, Passier I. Improvised Cricothyrotomy on a Mountain Using Hiking Gear. Wilderness Environ Med. 2016;27(4):500-503.


Kirby R, Wagner MJ. In: Wolfson AB, Cloutier RL, Hendey GW, Ling LJ, Rosen CL, Schaider JJ, eds. Harwood-Nuss' Clinical Practice of Emergency Medicine. 6th ed. Philadelphia, PA: PB - Wolters Kluwer; 2015:1651.


Reichman EF. Gastrostomy Tube Replacement. In: Emergency Medicine Procedures. New York, NY:McGraw-Hill, 2013.


Iserson KV. The Situation. In: Improvised Medicine: Providing Care in Extreme Environments. New York, NY: McGraw-Hill Medical; 2012.


Auerbach, PS. Improvised Medicine in the Wilderness. In: Wilderness Medicine. Philadelphia, PA: Elsevier Mosby; 2012.