Dec. 21, 1955 – Nov. 20, 2017
He led by example, always made time to teach, and above all else, was a fierce advocate for the residents.
It was the mid-afternoon shift change in the emergency department at Sidney and Lois Eskenazi Hospital in downtown Indianapolis. Typical for a Monday, the scene was hectic. I was about to begin the last hour of what had been a routine shift in the low acuity side of the department. The oncoming resident had already arrived, so I was focused on entering dispositions and finishing charts when my attention was abruptly pulled away from the computer screen.
"Come with me — I need all of the EM residents."
I turned around to see a veteran faculty member glaring at those of us in the central workstation. He was wearing casual clothes and carrying a messenger bag. He was not on the schedule to work that day, which was my first clue that something was wrong.
"Right now. Just stop what you're doing, let's go."
It didn't faze me. At least, not at first. There were plenty of reasons to be pulled aside after a busy shift. We had been working against a full waiting room all day, so I figured that we were going to be given a stern talk about our performance. While that method of feedback would certainly be out of character for our program, it was my first month in the county ED as a resident, and I had no idea what to expect.
I wish I had been right.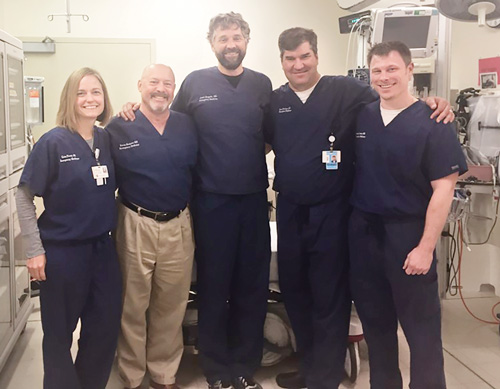 Anxiously, I trailed shortly behind the attending as we began our march across the department. Over the course of a few minutes, we collected the remaining EM residents. The last to join was the sole PGY3 on shift at the time. Her eyes opened wide in a panic as she realized the situation that was unfolding. "This never happens," she said as we moved past the triage area. The look of concern on her face was enough to convince the rest of us that something indeed was wrong.
We were ushered into a small meeting room on the outskirts of the department. There were chairs set out for us. We took our seats and the door was closed. An eerie silence was shared amidst the collective apprehension of what was to come. Then, the door opened. One of our program directors slowly entered the room. His face was solemn, unsmiling. His eyes were red and swollen as he looked around at us. He sat down and diverted his gaze toward the ground. "I'm sorry to be the one to tell you this," he paused, voice cracking. "Kevin was murdered this morning."
Time seemed to stand still.
"We don't know much right now," he looked up, tears forming in his eyes. "Please take as much time as you need to process this."
At once, we were violently ripped away from our familiar roles as physicians and thrust into the unfamiliar position as vulnerable individuals receiving the worst possible news about a family member. The silence was gradually broken by the sounds of choking back tears. No words were spoken. One by one, we quietly got up and left the room.
Dr. Kevin Rodgers was killed in his home that morning. As a program director for the Indiana University emergency medicine residency program (IUEM), he was a beloved mentor and father figure. KRodge, as he was affectionately known, defined the program and created the culture that exists here today. He led by example, always made time to teach, and above all else, was a fierce advocate for the residents.
At his memorial service, two co-interns and I found ourselves listening to stories from one of KRodge's extended family members. After learning that we were residents, her face lit up and broke into a smile. "I know that I've met some of the best people in the world now," she said. "Kevin always told us that he trained the best people and the best doctors."
It's difficult to articulate the full impact of KRodge at IUEM. For those of us who were lucky enough to work with him, his lessons will live on and continue to inspire generations of emergency physicians to never provide anything less than excellent care.
Army veteran and Indiana University emergency medicine residency program director emeritus Kevin Rodgers, MD, was killed in November during a home invasion at his residence in Indianapolis. At the time of his death, he was president of the American Academy of Emergency Medicine and a respected mentor to emergency physicians across the country.