Shannon Findlay is a PGY-3 and Chief Resident in the Department of Emergency Medicine at the University of Iowa Hospitals and Clinics. At the 2016 Society for Academic Emergency Medicine Annual Meeting, Shannon was recognized as the Resident of the Year by the Academy for Women in Academic Emergency Medicine. She has vast experience in global health, education, and addressing human trafficking issues. Recently, she authored an EMRA resolution and co-authored ACEP guidelines on human trafficking.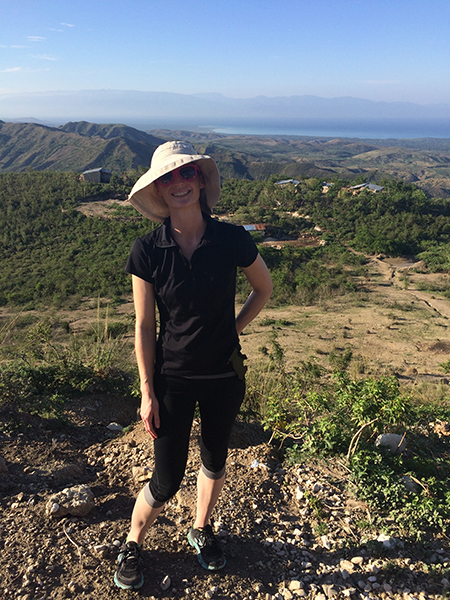 "Shannon has a unique and diverse background, including teaching in Japan and studying at the prestigious Karolinska Institute in Sweden, which contributes to her energetic leadership style. She
has worked hard to promote awareness of human trafficking and educated many of her colleagues on recognizing and intervening on behalf of victims," said Hans House, MD, FACEP, one of Dr. Findlay's mentors.
Daniel Runde, MD, another mentor, speaks on her work with human trafficking. "Dr. Findlay has worked to raise awareness of human trafficking throughout our hospital system, within the medical school, and at local community hospitals," Dr. Runde said. "In the process she has developed into a poised and commanding speaker."
We wanted to learn more about Dr. Findlay's life both within and outside of medicine.

Congratulations on being named Resident of the Year by the Academy for Women in Academic Emergency Medicine! Can you tell us more about your work identifying human trafficking in the emergency department?
Before medical school, I spent 5 years traveling through Asia and teaching in Japan. I saw human trafficking on the streets during my travels. As a medical student and resident, I continued to learn more about the issue. The education piece is key. My interest has transformed into educational seminars for physicians and other health care providers at the University of Iowa. Providers approach me after the seminar and say, "I think I've seen this before and did not realize it."
An EMRA resolution was passed and ACEP guidelines on human trafficking are printed. I'm excited we will be able to share this issue with the greater emergency medicine community to increase awareness of human trafficking.
When did you decide you were interested in emergency medicine?
I have always been interested in women's health and disaster relief. During my fourth year, I rotated in emergency medicine. The people within my EM rotation were very approachable and inspiring. I also really love the variety of patients seen in EM.
Outside of medicine, what do you enjoy?
My husband and I love to travel whenever we can – I even met my husband while teaching in Japan! On a more daily basis, walking our dog and yoga help me keep me centered during residency. I also enjoy reading, which lately included thought-provoking poems by Warsan Shire.
What has been your favorite global health experience, and why?
Traveling with Community Health Initiative Haiti has been one of my favorite experiences. I loved the people, and it sparked my interest in pursuing a global health fellowship. I gained an appreciation of the skills needed to begin a career in global health.
What advice would you have for first-year residents beginning their EM residencies?
First, know your top priorities. For me, it's my husband, family, and friends. Second, protect your sleep. It helps you stay mentally and physically healthy. Last, be organized by knowing deadlines and by blocking out time on your calendar for your personal life. If you don't schedule your personal life into your residency work, you will find that months have gone by and you have not made time for yourself and your family. Just remember to have as much fun as possible. Residency is tough, but you have a lot of support.
OK, so here's the big question. What's next after you graduate residency?
Working with medical students and residents is rewarding to me, and I hope to stay in academic medicine. A Global Health Fellowship will be an opportunity to learn about how to identify and assess public health needs. I'd also love to go to Haiti again!
To learn more about how to identify and approach human trafficking, check out the ACEP guidelines Dr. Findlay co-authored:
Shandro J, Chisolm-Straker M, Duber HC, et al. Human Trafficking: A Guide to Identification and Approach for the Emergency Physician. Ann Emerg Med. 2016;68(4):501-508.e1.