Application and interview season is upon us. As medical students enter their fourth year, some may ask, "How do I make the best of my final year of medical school?" This article draws wisdom from Brian Levine, MD, FACEP, Jeffrey Gudes, DO, and Hatham Shawqi, MD, to discuss how to shine during elective emergency medicine rotations and what to expect as interns.
Dr. Jeffrey Gudes is a PGY-2 at St. John Macomb-Oakland Emergency Medicine Residency in Warren, Michigan. He shares his insights on auditioning students and intern year:



The students who are considered the top 10% of auditioning candidates are the ones who are the most efficient, who are not afraid to ask questions, and who get involved with procedures. When you make efforts to go the extra mile, residents and attendings start to see you as a potential colleague instead of a student.


To prepare for intern year, I would recommend watching how the residents use the computer system and how they function in their respective department. Learning how to use a new electronic medical record, what to order, and who to consult/when to consult takes time. Actively asking residents and attendings for tips about how to efficiently navigate this new environment will help save you a lot of time and headache.


The most common mistakes that I have seen during intern year are from not knowing how the hospital or systems work, being overly confident, and not knowing when to ask for help.


---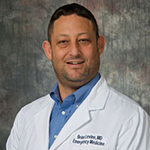 Dr. Brian Levine is the Program Director at Christiana Care Health System in Newark, Delaware.
You may know Dr. Levine as the author of the critically acclaimed EMRA Antibiotic Guide or from his presentations at ACEP Scientific Assembly. Dr. Levine was also the inaugural guest on EMRA Hangouts, in an episode titled, "Program Director's View: How to Enhance your EM Application."
These are his recommendations for students and interns:
KEYS TO ROTATION SUCCESS



Be prompt.


Be an engaged, active learner when in the department.


Read on your cases.


Own your patients.




Ask senior resident/teaching resident before seeing each patient.


Be ON TIME to your clinical shifts and conferences.


Dress professionally and be professional with patients and staff.


Read about interesting cases.


Contact chief resident for any schedule conflicts or life events.


Get involved with all alerts, codes, traumas, and CPR in progress.


We are really just looking for hard-working, nice people!


Check out this guide for EM clerkships!


INTERN YEAR
It's important to remember you are crossing from data gatherer to interpreter. Most interns want to know everything, get past this year, and be ready and competent. We must realize this takes time and growth; it can be stressful. We have to learn to take care of ourselves and one another, always be kind, ask for help, use your mentors, stay involved with family and friends, and read regularly. There is a lot of frustration when we want it now, and we want the map to get laid out perfectly. Everyone will handle the new environment differently, but remember there are many resources available at all residencies to help you along the way!
Lastly, have fun with emergency medicine, remember why you went into medicine and EM, use your senior residents as mentors, ask questions, read, and be honest with yourself on all levels. Prepare yourself , leave yourself open for healthy educational criticism for improvement, accept feedback, and embrace growth and the process.
I thank my lucky stars everyday for doing what I do, and I want everyone to feel the same way!
---
Dr. Hatham Shawqi is a PGY -4 who is completing his final year at St. John Macomb Oakland Hospital's Emergency Medicine/Internal Medicine Combined Residency Program in Warren, Michigan. A man of few words, Dr. Shawqi offers some final advice:
As Interns, you take a fast transition from student to physician. It is especially important to be humble, ask for help, and treat everyone with kindness and respect. Particularly, make your nursing staff happy. Nursing staff are also adjusting to the fact that you are now taking responsibility for patients. Some may still treat you less than what you think is appropriate, but that does not warrant you being rude or condescending. There is a balance that you have to find between taking actions and having conversations that establish your new role and overstepping or going on a power trip. Intern year will be the biggest firehose you will drink from, but have faith in your training and in yourself. Do not forget to take care of your health, relationships, and peace of mind!
Fourth-year students, learn as much as you can from your final year - solidify your knowledge base, broaden your differential diagnoses, practice developing your assessment, plan and disposition, and finally, go on vacation! Take a long break, go on an adventure, and recharge - you will need all the energy, focus, and determination for this new chapter of your life!