ABEM Selects New Members of Resident Panel
The American Board of Emergency Medicine (ABEM) is pleased to announce the newest members of its Resident Ambassador Panel: Joan W. Chou, MD; Charles Sanky, MD, MPH; and Barbara Van De Water, MBA, MS, DO. Panel members provide a resident's perspective to certain ABEM activities, such as applying for certification, communication with residents, the Residency Visitation Program, and the ABEM website.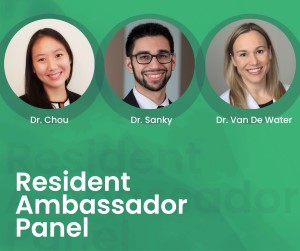 Dr. Chou is an EM resident at SUNY Upstate Medical University in Syracuse, N.Y. During medical school and residency, she has served as a representative to curriculum and academic affairs committees. She is currently the program representative and vice chair to the NYACEP resident committee and EMRA representative for her class. She plans to undertake fellowship training in undersea and hyperbaric medicine.
Dr. Sanky is an EM resident at Icahn School of Medicine at Mount Sinai (New York, N.Y.)–The Mount Sinai Hospital, Elmhurst Hospital Center (Queens, N.Y.), and Mount Sinai Beth Israel Hospital. He is currently vice chair of research for EMRA. Dr. Sanky also holds an MPH degree from the Icahn School of Medicine at Mount Sinai. Prior to attending medical school, he contributed to public health policy at the local, state, and federal levels. He plans to undertake fellowship training in the National Clinical Scholars Program, focusing on health system design, disaster medicine, and health equity.
Dr. Van De Water is an EM resident at the HCA Healthcare/USF Morsani program in Brandon, Fla. Prior to attending medical school, she earned an MBA degree from Northcentral University and an MS degree in Adult Education from Troy University. She has served in the U.S. Air Force and plans to practice in a community setting following residency training.
The Board looks forward to working alongside these residents and to their contributions to ABEM activities.
---
NAM Names ABEM NAM Fellow
The National Academy of Medicine (NAM) has selected Caitlin Rublee, MD, MPH, as the 2022-24 ABEM NAM Fellow.
Dr. Rublee is an assistant professor in the Department of Emergency Medicine and Department of Environmental and Occupational Health; assistant fellowship director, Climate and Health Science Policy fellowship; and director of the Graduate Medical Education, Climate and Health Program, at University of Colorado School of Medicine and Colorado School of Public Health in Aurora, Colo.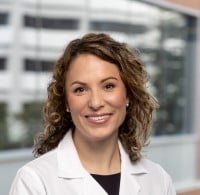 Dr. Caitlin Rublee
The purpose of the ABEM NAM Fellowship is to provide talented early-career health science scholars in emergency medicine the opportunity to participate in evidence-based health care studies that improve patient care outcomes in domestic and global health care systems.
During her two-year fellowship, Dr. Rublee will collaborate with eminent researchers, policy experts, and clinicians from across the country, and she will help facilitate initiatives convened by the National Academies to provide nonpartisan, evidence-based guidance to national, state, and local policymakers; academic leaders; health care administrators; and the public.