This month, the EMRA Medical Student Council interviewed Maria Moreira, MD, Program Director at Denver Health's Emergency Medicine Residency Program, about applying for EM residencies and opportunities at Denver Health. Dr. Moreira shares her advice and insight.
What sets Denver Health's EM residency program apart from others?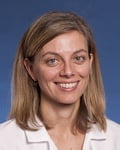 We have been creating leaders in the field of Emergency Medicine since 1974. Our graduates have had a significant influence on the growth of our field, and we plan to continue our tradition of excellence going forward. Our residents rotate through 4 different hospitals, which allows them to be exposed to a variety of practice environments, diversity in patient population, and variability in teaching styles and practice patterns. Our primary goal is to graduate outstanding clinicians who will become leaders in our field. We believe in the tenets of deliberate practice and understand that challenge is required for growth. We work to strike the balance between challenging our residents every day and supporting them by providing responsible wellness.
What are the benefits of attending a 4 year EM residency program?
A 4-year program allows for a more comprehensive curriculum, exposure to increased number of patients, and time to develop a potential area of interest. Additionally, there is more time to develop an understanding of administration, leadership, and the business of medicine. In essence, our graduates feel like they are better prepared clinically. Residents who choose academics have had more opportunity to test the niche areas of EM and make an informed selection of their future academic area of interest.
What is something students may not know about your program?
Here are a couple of things that I would like medical students to know about our program:
Our program was established in 1974, and we have been developing leaders in EM since that time.
Residents and faculty are integrally involved in continuously evaluating and improving our program.
Interns rotate on medicine, surgery, NSG, and orthopaedics in order to learn to provide better care to their patients in the ED. Understanding what happens in the hospital allows us to better prepare our patients and provide a better transition of care.
Residents run all the medical resuscitations.
Residents share the responsibility of the Trauma Resuscitations with the Surgery Residents.
Our residents are well respected in our institutions and we have good relationships with all the other services.
The culmination of training is the 4th year role in which the EM4s supervise junior residents and students, oversee an observation area, and are integrally involved in making decisions on patient flow. This role prepares our graduates to work and excel in any Emergency Medicine environment anywhere in the world.
What range of USMLE/COMLEX Step 1 scores do you look for in an applicant for your program?
We take a holistic look at residency applications, with the USMLE scores only being a small part of the total picture. Ideally, we would like to see USMLE scores at or above 215. However, a score below 215 does not mean the applicant is not a good fit for our program, especially if the applicant has improved in their subsequent USMLE exams. More important than one score is consistency in the application. If an applicant has done poorly on the USMLE, I would suggest they use the personal statement as a method to address the score.
Do you look for residency candidates with research experience? What kinds of opportunities for research exist for residents in your program?
While we look at research experience as part of the application, we do not specifically look for candidates with research experience. Our residents are exposed to multiple opportunities and have multiple avenues for funding for research at the various facilities in which they rotate. Some of our opportunities for research include the following: basic science lab at the University of Colorado, databases for retrospective studies (including the Colorado Trauma Database and the Kaiser Outcome Database), and numerous clinical study possibilities. We have research grants available to support resident research. Additionally, residents are supported to travel to national conferences in order to present their research.
Do you have opportunities to explore global health at your institution?
Yes. We have a new Global Health Fellowship that will create more opportunities for global health exposure for our residents. However, even before the creation of the fellowship, our residents have been successful in doing international work during their elective time - either with faculty within our program or with faculty contacts they had prior to residency.
What are some qualities that your program looks for in applicants?
Here at Denver Health, we look for applicants who are self-reliant, independent, responsible, focused, enthusiastic, self-motivated, and have a hard work ethic.
Learn more about Denver Health's Emergency Medicine Residency Training Program.