"Boarding" is a term used to describe the phenomenon of patients remaining in the emergency department for an extended period after the ED care team has decided  to admit or transfer them.
While boarding has been shown to have negative impacts on patient care,1 those with mental health disorders are particularly vulnerable to the effects of boarding, as most EDs are not equipped to handle the unique challenges of caring for the mentally ill patient for a prolonged period of time in a chaotic environment with limited resources.
In December 2015, The Joint Commission released a QuickSafety article stating that psychiatric boarding in the ED was leading to multiple problems when it came to treating both psychiatric and medical patients.1 Some of the problems included: increases in psychological stress on patients who may already be in depressed or psychotic states; worsening ED crowding; and delays for other ED patients, some of whom had life-threatening conditions.
Since the beginning of the COVID-19 pandemic, emergency departments across the country have seen a well-documented increase in patient volume and boarding.2 Though the study of psychiatric boarding since the pandemic began is lacking, available data indicates likely challenges ahead.
Review of Literature
1) Mass. Physicians Call On State To Address ER 'Boarding' Of Patients Awaiting Admission (Jolicoeur & Mullins3)
In February 2021, WBUR News released an interview with Dr. Jesse Rideout, president of the Massachusetts chapter of the American College of Emergency Physicians (MACEP). The data provided by MACEP showed that pediatric behavioral health patients' average boarding time in the ED had increased by more than 25 hours between July 2019 and January 2021 (Figure 2). For pediatric behavioral health patients alone, the average wait was even longer at 59 hours. And the total number of hours that psychiatric patients had boarded in emergency departments had increased from 4,555 hours in January 2019 to 10,527 in January 2021 (Figure 1), marking the highest total that MACEP had ever recorded, according to Rideout. The MACEP data also showed that 25% of ED beds were occupied by boarding psychiatric patients awaiting an inpatient bed at any given time.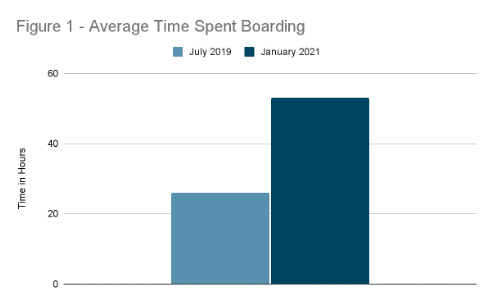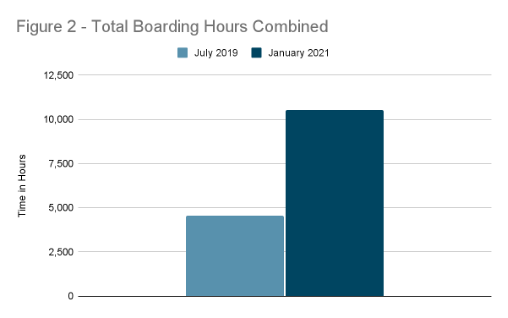 Figures 1 and 2: Based on data from "Mass. Physicians Call On State To Address ER 'Boarding' Of Patients Awaiting Admission," a WBUR News report.3
2) ED Visits for Suspected Suicide Attempts Among Persons Aged 12–25 Years Before and During the COVID-19 Pandemic — United States, January 2019–May 2021 (Yard et al4)
The CDC reported during 2020 there was a 31% increase in the proportion of mental health–related ED visits among adolescents aged 12–17 years. The CDC also noted in May 2020 there was an increase in ED visits for suspected suicide attempts among the same age range. In 2021, the month between February 21 and March 20 saw a 50.6% increase in suspected suicide attempts among girls ages 12-17 years, compared to the same time period in February and March 2019.
3) Trends in U.S. Emergency Department Visits for Mental Health, Overdose, and Violence Outcomes Before and During the COVID-19 Pandemic (Holland et al5)
This national cross-sectional study was made using data from The National Syndromic Surveillance Program, which captures approximately 70% of U.S. ED visits from more than 3,500 EDs that cover 48 states and Washington, DC. The study looked into the ED visit changes for mental health conditions (MHCs), suicide attempts (SAs), overdose (OD), and violence outcomes from Dec. 30, 2018, to Oct. 10, 2020, which included before and during the COVID-19 pandemic using data from the Centers for Disease Control and Prevention's National Syndromic Surveillance Program. The study showed that in 2020 after the initial drop in ED visits in March from COVID-19 mitigation efforts, the number of ED visits for the above-mentioned topics were significantly higher than in the same period for 2019. As this was toward the beginning of the pandemic, the authors recommend further studies to evaluate COVID-19's long-term effects on these types of ED visits.
4) Emergency department psychiatric holds are linked to increased emergency department violence (Costumbrado et al6)
This retrospective study on mental health holds in an ED from 2016 to 2017 found an association between mental health holds in the department and a greater risk of ED violence. This suggests ED boarding for mental health conditions may not only be detrimental to patients, but also to healthcare workers.
Summary of Literature
Bojdani et al7 noted as early as April 2020 that psychiatric care had already been impacted by COVID-19, and though they were unsure of the long-term effects, they believed them to be significant. The literature reviewed here demonstrates an increase in psychiatric ER visits since the pandemic began, prolonged length of stay in the ED, and suggests possible risks to patients and healthcare workers.
Looking Ahead
Psychiatric boarding has been a challenge for emergency departments for many years, and the long-term effects of COVID-19 on this issue is still unknown. The increase in visits to the ED for mental health could continue to be compounded by the lack of staff and beds noted in recent months. Ultimately, further studies are needed to review the impact of psychiatric care in the emergency department.
---
References: