Simulation is a fast-growing trend in medical education. It is an excellent way to train for situations that are ubiquitous in medicine. Additionally, it is useful in preparing for critical emergencies and clinical problems that are rarely encountered in practice. However, medical simulation has barely been tapped as a resource for educating medical students. Some medical schools have no access to the technology, and even the schools that do have access to large simulation centers rarely use them for their students. Most often, the only role for simulation at the medical student level is for testing purposes (eg, standardized patient encounters).
In 2016, the Student Initiative in Medical Simulation (SIMS) was created with the goal of helping students incorporate simulation into their medical education. We accomplish this by creating interactive resources, hosting competitions, and connecting students with experienced mentors to build sim programs.
Simulation is a fun, exciting way to further your medical education and prepare yourself for the realities of a career in medicine. SIMS will help you learn how to optimize your education through simulation, and our 70+ interactive cases will give you plenty of material to practice with.
Evan Strobelt is the president and founder of SIMS. When Strobelt began leading other medical students in simulation exercises, he quickly realized there was a great need for affordable, interactive resources for case facilitators. Strobelt set out to meed that need by developing the SIMS Series, two casebooks with more than 70 interactive cases.
High-fidelity, Interactive Cases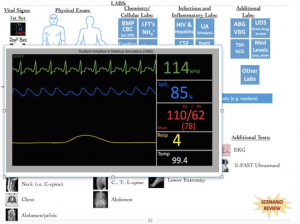 All our cases incorporate an easy-to-use interface, which allows the case facilitator to seamlessly display a multitude of interactive features without turning the page. At the touch of a button, the team can access vital signs, lab findings, and imaging, including radiographs, CT scans, MRIs, EKGs, and bedside ultrasounds.
Evidence-based, Peer-reviewed
Each case is peer-reviewed by our incredible faculty mentors, all of whom are experienced leaders in the field: Tyson Pillow, MD, Shane Jenks, MD, FACEP, Navdeep Sekhon, MD, and Zaven Sargsyan. The cases include links to podcasts to help learners prepare for meetings. Finally, each case is supported by evidence from the primary literature, as well as renowned resources such as Tintinalli's Emergency Medicine.
Controlling the "Hidden Curriculum"
Simulation is also uniquely able to teach important aspects of medical education that cannot be taught effectively through lectures and books alone. Through these cases, students learn teamwork, stress management in critical scenarios, and management of distressed patients and family members. Some cases challenge students with important ethical dilemmas, substance abuse, disruptive patients, non-adherent patients, resource management in mass-casualty incidents, and improvisation in unfamiliar environments.
Visit www.joinsims.com to learn more about SIMS and find links to our free resources. You will also find information about upcoming competitions and can contact leaders to help build your simulation programs.