We're pleased to introduce Gwen Hooley, MD, chair-elect of the EMRA Pediatric EM Committee, 2020-2021.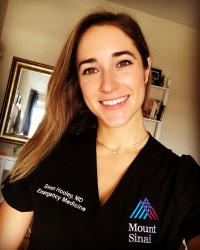 Program: Icahn School of Medicine at Mount Sinai
Your goal as an EMRA leader: To improve access to PEM resources, generate interest in PEM, and provide information for those applying to fellowship
What is something people don't know about you?
My mom is from Spain and I grew up going back and forth between the US and Spain. I even did 7th grade over there.

Favorite life hack for night shifts: Getting a venti Starbucks with 3 extra shots of espresso before your first night on a string of nights. You won't be tired!!
What's on your playlist?
Lately my pre-shift playlist features a lot of Lizzo and Cardi B

---