We're pleased to introduce Hayley Musial, vice chair of the EMRA Social EM Committee, 2020-2021.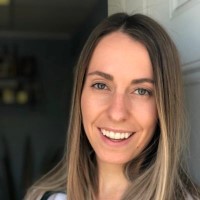 Program: Florida International University Herbert Wertheim College of Medicine
Your goal as an EMRA leader: I am looking to work with like-minded physicians and medical students to help spread the word of the Social EM committee! Social EM, while more of a mindset that has been around forever, is now stepping into its own as an intentional, growing branch of EM. My mission is to create programming for leaders to speak of their unique social EM projects through furthering the Vlog Series. I also want to create opportunities for residents and medical students to develop and lead social EM initiatives at their own programs, and to overall become further immersed within the EMRA and national conversation.
Top 3 traits of a great leader:
1. Prioritize delegation
2. Empowerment
3. Organization
If I weren't an emergency physician, I would be: Artist or graphic designer
What's on your playlist?
My most recent playlist features some cult classics from Ginuwine, Drake, Ja Rule, Nelly, Outkast, Yonce

---