Dr. Steve Stack's career is quickly becoming defined by firsts. At 40, he became the youngest chairman – and the first emergency medicine physician — ever elected to the board of the American Medical Association (AMA) in the organization's 170-year history. He is now running unopposed to become the AMA's next president — at 43, the youngest to hold that position in more than a century.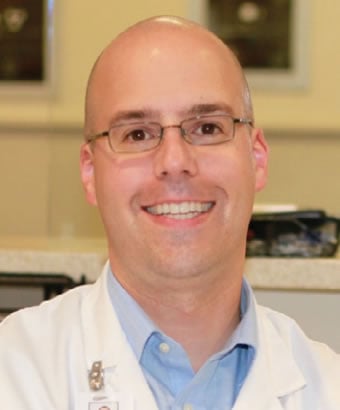 While Dr. Stack's remarkable insight and ambition have led him to serve leadership roles in numerous state and national organizations, he credits his time on the EMRA Board of Directors for helping pave the way for his exceptional success.
Dr. Stack was first elected to the AMA's Board of Trustees in June 2006. He also has served as medical director of multiple emergency departments, including St. Joseph East (Lexington), St. Joseph Mt. Sterling (rural eastern Kentucky), and Baptist Memorial Hospital (Memphis, Tenn.).
He has special expertise in health information technology (IT) and was chair of the AMA's Health Information Technology Advisory Group from 2007 to 2013. Dr. Stack is the secretary of eHealth Initiative, a non-profit association committed to improving health care through the advancement of health IT.
Additionally, Dr. Stack has made notable contributions to the areas of physician licensure, regulation, and assessment. Born and raised in Cleveland, Dr. Stack graduated magna cum laude from the College of the Holy Cross in Worcester, Mass., where he was a Henry Bean Scholar for classical studies. He then returned to Ohio, where he completed his medical school and emergency medicine residency training at the Ohio State University. He served as the ACEP respresentative on the EMRA board from 1998 to 2000. He and his wife, pediatric allergist Tracie Overbeck, MD, PhD, live in Lexington, Ky. with their 9-year-old daughter, Audrey.
In his leisure time, Dr. Stack enjoys the study of classical Greek and Roman history, the study of early U.S. history, and traveling with his wife and daughter.
What inspired you to become a physician, and what drew you to emergency medicine?

I'm not one of those people who had a passion for medicine from the time they were in the crib. I just really liked interacting with people, and I had an affinity for science and biology. It's not a very dramatic story, but I just thought – pragmatically speaking – that a medical career would allow me to combine those things.
Emergency medicine has fulfilled for me everything that I'd hoped. I interact with people with great frequency and intensity, and that is a very satisfying experience. Like a lot of my emergency medicine colleagues, I like having a broad-based familiarity with a whole wealth of things. I consider myself to be an applied scientist, who takes the knowledge researchers provide and deploys it in the real world. I feel like I'm a "real" doctor because I'm called upon on a regular basis to see, assess, and render opinions on a whole gamut of human illness and injury. I'm also comfortable that I don't have to be the absolute expert on how to put together a bone, sew a blood vessel, or manage an odd neurological condition. I prefer my ocean to be wide and a couple of inches deep.
How did you first become involved in EMRA?

I attended my first EMRA meeting at ACEP's 1998 Scientific Assembly, where I ran and was elected for the board's ACEP representative. Although, since my early medical school days, I had been involved in the AMA and the Ohio State Medical Association – and had held leadership positions at both – joining the EMRA board provided a whole new level of experience.
EMRA offers an opportunity unlike any other. Other medical specialties offer leadership opportunities to their residents, but there are no other specialties that I'm aware of that have their own separately incorporated not-for-profit organization created solely for residents and medical students. Serving on the board means you have true fiduciary responsibilities and real legal obligations. As a board member, you are directly involved in bringing in revenue, publishing educational books, and managing a staff.
There are many organizations that bring together young physicians, who convene to discuss issues and make recommendations that they hope will affect policy. These like-minded groups are enormously important, but their roles are entirely different from those of boards, which have to make decisions, oversee staff, create budgets, and be accountable for the results at the end of the year. There's an autonomy that goes along with the responsibility of being on a board, which is a major step up in terms of career growth and personal accountability.'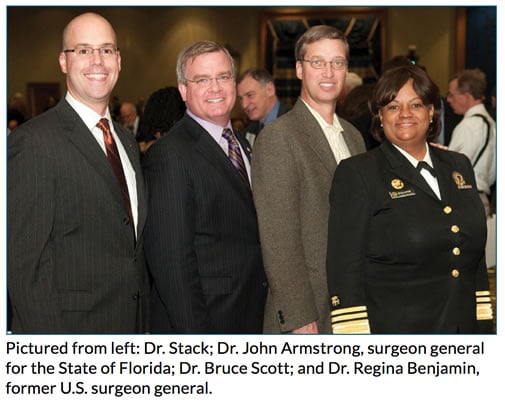 What did you learn from your time on the EMRA board, and in what ways do you think that experience helped advance your career?

The ACEP representative position I held for two years provided a remarkable inside view into the premiere medical organization of our specialty, and gave me the opportunity to interact with people who were determining the future of our specialty. Although I was not a member of the ACEP board, I was treated almost as if I were one. I got to be involved in the ACEP board's meetings and conference calls, which was invaluable experience that reshaped my view of leadership. It was an enormous benefit to have that experience so early in my career.
My residency director used to play a Jeopardy-style game with us. One of the categories was "Who's Who in Emergency Medicine." I would drive everyone crazy because I'd say, "Oh, I know that person, or I had dinner with that one"¦" Invariably, I knew or had met most of those people during my time with EMRA, but they were strangers to my fellow residents. It was a big advantage for me.
Like so many other things in life, the ability to communicate and build effective relationships makes the work we have to do with each other so much more successful. Frustrations and animosities are mitigated when you take the time to get to know each other and develop more personal relationships. The fact that I had that experience as a resident is uncommon; most people don't have access to the president of ACEP or SAEM, for example, that early in their careers.
The people with whom I served on the board – Cherri Hobgood, Rebecca Parker, Matt Watson, and Gary Katz, to name a few – are strong examples of how EMRA sets the stage for continued high-level involvement in the specialty. You don't have to look any further than just the small group with which I served to see how service in the organization prepares physicians for high future accomplishments.