We present the case of varicella-zoster virus (VZV) reactivation without typical skin findings in a 66-year-old patient who presented with mastoiditis and encephalitis.
Case
A 66-year-old male with no relevant past medical history presented to the ED with worsening confusion and altered mental status. Secondary to his worsening Glasgow Coma Scale (GCS) and combativeness, the decision was made to intubate the patient. After intubation, the patient's physical exam was notable for right-sided erythematous, flat 3 cm linear rash that was limited to the submandibular and mastoid regions with erythematous and purulent right-sided ear discharge. Later the patient mentioned that he was diagnosed with otitis externa few days prior to this hospital admission. CT scan demonstrated right otitis externa with otomastoiditis, paranasal sinus mucosal thickening, and mild involutional changes of the brain. Lumbar puncture performed in the ED was positive for clear CSF with an opening pressure of 22cm H2O. CSF demonstrated moderately elevated protein and neutrophilic count. The patient was then subsequently started on Rocephin, acyclovir, vancomycin, hydrocortisone, and maintenance fluids. He was then transferred to the ICU.
Discussion
Approximately 1 in 3 people will get affected with herpes zoster, also known as shingles, during their lifetime.2 Once infected, the varicella-zoster virus remains dormant in the dorsal root ganglia for a lifetime. According to the CDC, children who get the varicella vaccine have a lower risk of reactivation of VZV compared with those who were infected with wild-type VZV.2 Approximately 99.5% of people born before 1980 in the US have been infected with wild-type VZV.2 Hence, the lack of prior immunization and the decreased immunity in older patients places them at a greater risk of developing herpes zoster.
The central nervous system (CNS) manifestations associated with VZV reactivation include aseptic meningitis, encephalitis, cerebral infarction associated with granulomatous vasculitis, myelitis and cranial neuropathy.3 Patients with VZV encephalitis often demonstrate CT findings that demonstrate the involvement of the temporal lobe.3 This patient did not have this pathognomonic temporal lobe involvement on the CT. VZV-encephalitis is most often a complication reported in immunocompromised patients of VZV infection. In immunocompetent patients, VZV most commonly presents with a disseminated rash4 and rarely with encephalitis. Our patient had a right-sided erythematous, non-raised, non-pruritic 3 cm linear rash limited to the submandibular area. Encephalitis from varicella-zoster involves large vessel vasculopathy that often occurs in immunocompetent patients while small vessel mediated encephalitis is seen in immunosuppressed patients.3 Large vessel mediated encephalitis presents with acute focal deficits, similar to a stroke, and is fatal in up to 25% of patients.3 Patients with small-vessel mediated encephalitis present with headache, fever, vomiting, mental changes, seizures, and focal deficits.5
Studies have documented that VZV encephalitis in immunocompetent patients are associated with an underlying vasculitis.5 This patient presented with encephalitis notable for delirium and combativeness on the initial presentation. The importance of lumbar puncture in ED was critical in this scenario since the patient did not present with the typical VZV vesicular rash or reported a history of prior episodes.
Some case studies have identified VZV encephalitis in patients following a malignant otitis externa infection.6,7 This superimposed otomastoiditis infection combined with old age possibly made this nondiabetic patient susceptible to a more severe manifestation of an independent VZV reactivation causing VZV encephalitis.
No controlled studies of antiviral therapy for complications of varicella (encephalitis, pneumonia) have been recorded.8 However, information derived from clinical experience and case reports suggests that intravenous acyclovir (10–15 mg/kg every 8 hours) may be beneficial.8 Antiviral therapy is appropriate for adolescents and adults upon rash presentation due to the greater risk of complications.8 It has been demonstrated that acyclovir is most effective when initiated within 72 hours of the rash appearance.8
Case Conclusion
In the ICU, CSF PCR was positive for VZV encephalitis and ear cultures grew P. aeruginosa. Ceftriaxone, ampicillin, and acyclovir were added 24 hours after the patient's arrival. Ciprofloxacin-dexamethasone drops were used to treat otitis externa. He was extubated on hospital day 6 and transferred to an LTAC facility.
Take-Home Points
VZV encephalitis should be considered in an immunocompetent patient with AMS and atypical rash, though rashes may not always appear.
Otomastoiditis coincident with an independent VZV reactivation can lead to a more severe manifestation of the VZV infection, causing VZV encephalitis.
The threshold for lumbar puncture should be lower in an acute setting in an altered patient with limited history and no other source of infection identified.
Images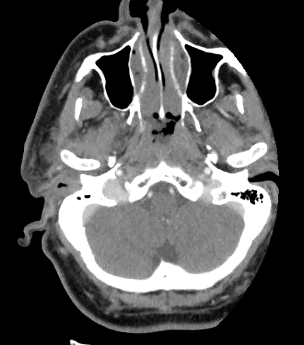 Figure 1. CT IAC with contrast, right otitis externa with otomastoiditis
Figure 2. MRI brain without and with contrast showing enhancement of meninges
---
References
Hope-Simpson R. The Nature of Herpes Zoster: A Long-Term Study and a New Hypothesis. Proc R Soc Med. 1965;58(1):9-20. doi:10.1177/003591576505800106
Shingles | Clinical Overview - Varicella Vaccine | Herpes Zoster | CDC. Cdc.gov. https://www.cdc.gov/shingles/hcp/clinical-overview.html. Published 2020. Accessed July 22, 2020.
Gilden D, Kleinschmidt-DeMasters B, LaGuardia J, Mahalingam R, Cohrs R. Neurologic Complications of the Reactivation of Varicella–Zoster Virus. New England Journal of Medicine. 2000;342(9):635-645. doi:10.1056/nejm200003023420906
Klein N, McDermott B, Cunha B. Varicella-zoster virus meningoencephalitis in an immunocompetent patient without a rash. Scand J Infect Dis. 2010;42(8):631-633. doi:10.3109/00365540903510716
De Broucker T, Mailles A, Chabrier S, Morand P, Stahl J. Acute varicella zoster encephalitis without evidence of primary vasculopathy in a case-series of 20 patients. Clinical Microbiology and Infection. 2012;18(8):808-819. doi:10.1111/j.1469-0691.2011.03705.x
Saeed A, Assar S, Ali H, and Heidemann D. Its not always dementia: A rare case of vzv encephalitis. J Hosp Med 2017; 12(s2)
Cunniffe HA, Cunniffe NG. Herpes zoster oticus with meningitis masquerading as malignant otitis externa. BMJ Case Reports. 2019;12(6). doi:10.1136/bcr-2019-229569
J. Antiviral therapy of varicella-zoster virus infections. Ncbi.nlm.nih.gov. https://www.ncbi.nlm.nih.gov/books/NBK47401/. Published 2019. Accessed November 3, 2019.