In 2017, the inaugural Lao emergency medicine residency was born from a collaborative project between the Lao University of Health Sciences; Lao Ministry of Health; central hospitals in the capital, Vientiane; and the NGO Health Frontiers.
These residents and their colleagues are working incredibly hard as they prepare to take on the immense challenge and responsibility of being the first emergency medicine specialists in Lao PDR when they graduate in 2020. It is an incredibly exciting time for the field of emergency medicine in Lao PDR.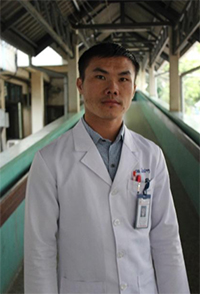 Dr. Mouavang Xiapao joined the residency from Xaysomboun Provincial Hospital, located in the northwest portion of the country.
Why did you choose a career in medicine?
I chose medicine because I enjoy being a doctor and being able to restore people back to their lives after physical injury and disability. I enjoy treating both adults and children alike and ultimately will endeavor to keep on learning.
What do you like best about working in the ED?
EM doctors are the first to receive and examine patients. We are the ones to decide whether their condition is severe or mild and what kind of assistance is well-suited for their symptoms. As EM providers, we have to act fast to stabilize patients in order to save a human life. This, to me, is a priceless experience and I believe that every hospital in Laos should have an EM specialist on staff.
What would you like physicians in other countries to know about Laos and about emergency medicine in Laos?
Healthcare professionals in Laos, especially in the ED, hurry to assist patients. However, there is no national standard of care: doctors and hospitals have different approaches to most everyday cases. There is a lack of standardized protocols, guidelines, or training available. This sometimes means that they take the same approach towards all patients for all diseases rather than manage them appropriately according to their specific diagnosis.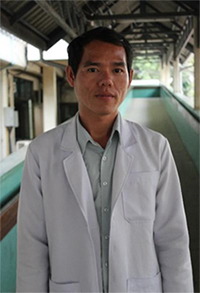 Dr. Anouphet Yengtavanh joined the residency program from Tahteng District Hospital in Sekong province, which is located in the southeast part of the country. It is one of the poorest, most ethnically diverse, and most sparsely populated provinces in Laos.
Why did you choose a career in medicine?
I think that robust healthcare and medical expertise are essential to national development. Many Laotian citizens reside in rural areas of the country and need care that specialist doctors provide. However, at the moment, specialists do not travel to visit patients residing in rural areas. Speaking as a rural doctor myself, I consider it to be important that multi-ethnic people receive coverage nationwide. Thus, I studied medicine to be a part of this development.
How will emergency medicine improve patient care in Laos?
Specialized emergency care at this time is lacking, but it is essential as Laos is in the process of relieving itself of its status as a least developed country (LDC). The rising population, vehicular traffic, and industrialization need to be paralleled by a developing and improving healthcare system. Emergency medicine and emergency management are critical to this process.
What is the most difficult part of EM training?
Medical training in Laos is faced with all kinds of difficulties such as a lack of equipment, a lack of specialized knowledge and lessons, linguistic difficulties, and doctors being unaware of reliable sources of knowledge.
What do you like best about working in the ED?
Emergency medicine is highly challenging because it is an area of work which has to cater to patients of all kinds. As a doctor, I recognize the importance of the emergency department and often parallel it to the military: a fence to protect a country.
What would you like physicians in other countries to know about EM in Laos?
I would like them to know about the solidarity and unity we share as a work-family - solidarity where everything takes place peacefully - and the mutual respect we have for each other. I believe this helps us as coworkers during difficult times. However, we still lack knowledge, equipment, and expensive medications, all of which remains a problem in Lao medical facilities.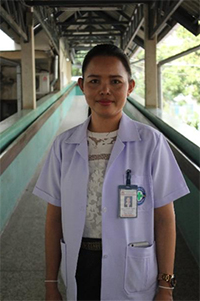 Dr. Thepbandith Sydavong worked in the ED of Setthathirath Hospital, a central hospital in Vientiane Capital, before she was chosen for the EM residency.
Why did you choose a career in medicine?
I enjoy providing healthcare services to patients who come in to receive them. It is challenging work and there is a great need for trained personnel. There are insufficient numbers to meet healthcare demands. It makes me feel proud and happy each time I play a part in this.
How do you think EM will improve patient care in Laos?
The ED is right on the front-line of the hospital, so every day our ED meets people in all kinds of conditions, from minor to severe. Therefore, if the ED works systematically and uniformly, we are able to act fast in diagnosing the patient and performing the treatment in time. This reduces mortality and morbidity rates and the need for inpatient treatment.
What would you like physicians in other countries to know about Laos and about Emergency Medicine in Laos?
Laos is a developing country with a high demand for healthcare to adequately cater to the needs of the population. Emergency care is important and challenging for all our hospitals, as the supply of trained personnel and necessary emergency equipment are often insufficient. This leads to delays in diagnosis and treatment and significant morbidity. The lack of EM specialists also makes education difficult for EM residents like myself.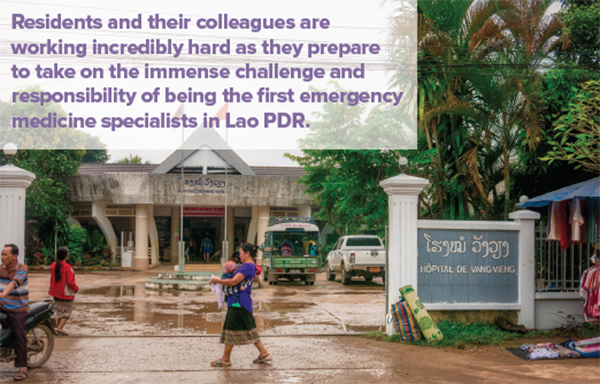 If you would like to support Emergency Medicine in Lao PDR, we are looking for financial contributions and volunteers. More information can be found on the Health Frontiers website: www.healthfrontiers.org.