Get a glimpse of medical care in the Himalayas, where altitude, arid conditions, and rugged, remote terrain redefine what it means to offer care.
In April 2018, during my third year of residency, I completed a wilderness medicine educational trek to Mt. Everest base camp. The trip provided a glimpse of remote medical care in the Himalayan region of Nepal, training on high altitude and wilderness ailments, and fulfilled my lifelong goal of visiting Everest (all during a residency elective!).
This 2-week, high-altitude hike alongside yaks and well-conditioned Nepalese porters provided a glimpse into how medical care is provided in remote and austere environments, ranging from arid mountain passes to snowy glaciers. At 12,600 feet, the 15-bed Khunde Hospital in the village of Khumjung is staffed by local doctors. It is equipped to provide maternal ultrasounds, EKGs, slit lamp exams, defibrillation, oxygen, X-ray, and preventative services. The hospital is remote and accessible only by foot or helicopter. The thousands of residents served by the hospital often walk for hours, sometimes days, to receive care. It's a sobering perspective on the relative abundance of resources available to EM residents in the U.S.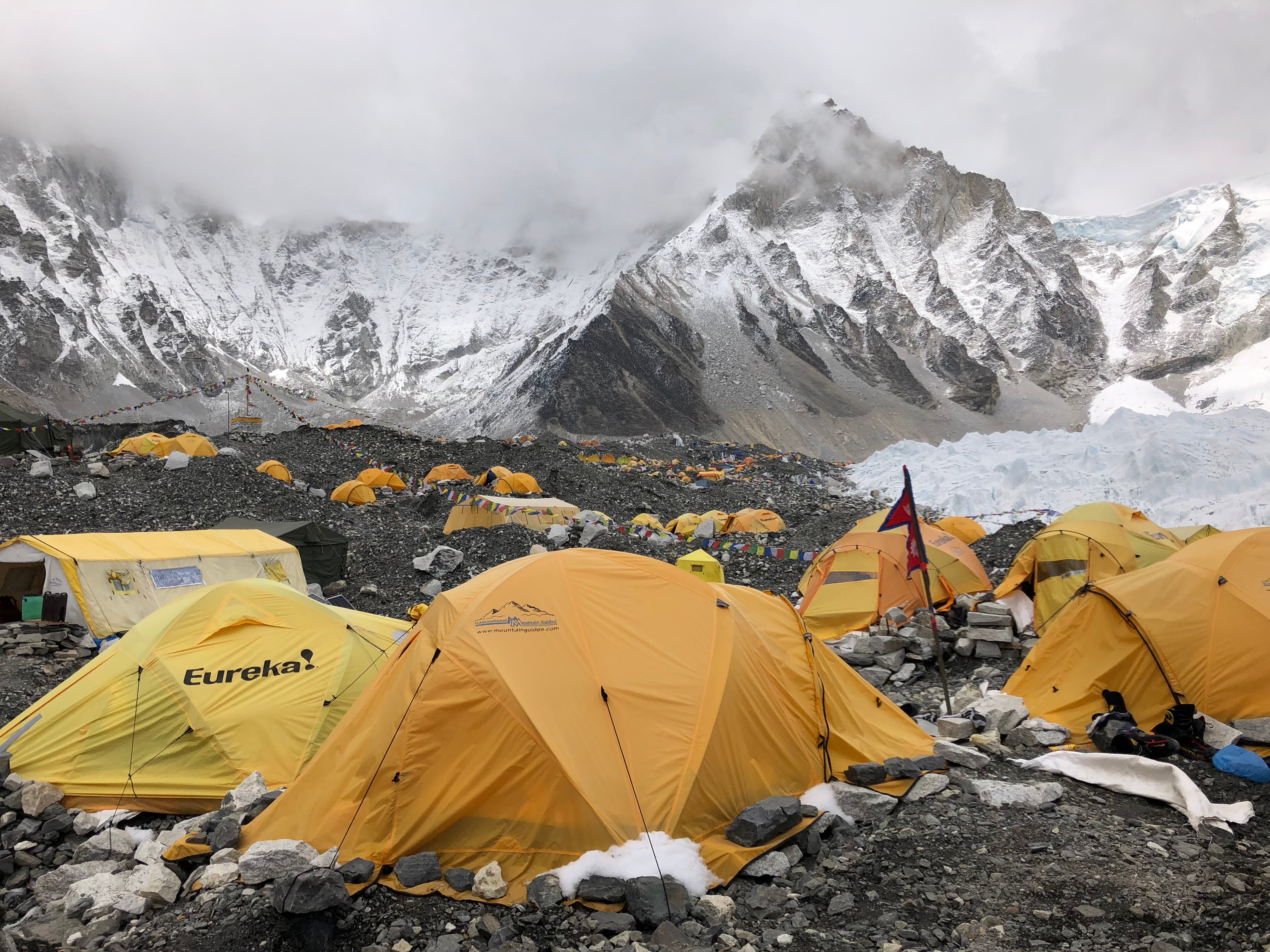 At 17,600 feet, base camp is situated atop a constantly moving glacier and takes about an hour to traverse end-to-end. The emergency medical tent is about a 40-minute walk from the camp's entrance, over hostile, unstable terrain. Inside, however, the medical tent feels like a safe, spacious landing. Three physicians staff the tent for the 2- or 3-month climbing season each year. When I visited, there was an emergency physician, an orthopedic surgeon, and a general practitioner.
These 3 providers spend a significant amount of their time caring for the climbing support staff who live at base camp during the season, both for their acute and chronic conditions. They are also called upon to treat climbing injuries and medical conditions that occur on the mountain, including orthopedic injuries, high-altitude pulmonary edema (HAPE), high-altitude cerebral edema (HACE), and frostbite. The tent has no advanced imaging capabilities, so much of the physicians' decision-making relies heavily on their history and physical exam.
Some climbers have additional options for medical care on Everest. For example, climbing teams might employ their own doctors to help care for members. As helicopter technology improves, it is possible for climbers injured on Everest to be evacuated from higher altitudes directly to larger hospitals, rather than descending to base camp for preliminary treatment.
Around 14,000 feet, during our descent from Everest base camp, we stopped at the Himalayan Rescue Association's clinic in Pheriche. The 2a-room clinic is staffed by local and volunteer doctors who assist both the local Nepalese population and trekkers. It is open during the main trekking seasons and, like the other clinics in the region, lacks advanced imaging capabilities. During my visit, however, the clinic had use of a portable ultrasound brought by one of its Wilderness Medicine Fellows. The clinic's 4 beds are used to treat patients suffering from conditions including acute mountain sickness, diarrheal illness, hypertension, diabetes, and more severe conditions such as HAPE and HACE.
The clinic's patients can also be evacuated by helicopter to Kathmandu, Nepal's capital, if weather permits and if medically warranted. Although the clinic's resources are limited, it provides essential care in the region. For example, the clinic helps coordinate rescue and evacuation during devastating natural disasters, including during the 2015 earthquake that killed thousands of Nepalese people and triggered an avalanche that killed 18 people on Everest base camp.
In addition to visiting medical facilities in the region, the trek's program included near-daily lectures on various aspects of wilderness medicine by two experts who happened to be married. The lectures covered topics ranging from acute mountain sickness spectrum, exposure and frostbite, diarrhea, water purification, bacterial/parasitic infections, and weather and animal related injuries, to name a few. We also had hands-on demonstrations using a portable hyperbaric chamber called the Gamow bag, portable oxygen, and makeshift patient transport, as well as lessons on designing an appropriate first aid kit.
Another enriching aspect of this wilderness medicine trip was getting to spend time with a diverse group of health care professionals from across the U.S. Doctors of all types attended the trek (emergency medicine, cardiothoracic surgery, OB/GYN, radiology, ophthalmology, family medicine, neonatology), nurses, physical therapists, and search and rescue EMS crew members. After spending nearly 2 weeks on the trail together, our group of strangers developed strong friendships and formed an extended professional network that I am lucky to have on call.
For emergency physicians, an inherent degree of resourcefulness is ingrained during training, a skill that makes this specialty particularly capable of providing care in resource-poor environments. Visiting these remote Himalayan villages and facilities gave me a new appreciation for how valuable my emergency medicine training has been and how it can open the door to opportunities I hadn't previously imagined. I encourage everyone to also take a step out of their comfort zone and seek their own adventure.