After a 3-year hiatus fraught with blizzards and COVID, EMRA's Wilderness Committee organized and hosted ACEP21's most challenging test of endurance: MedWAR.
The event occurred just south of Boston at Blue Hills Reservation, a picturesque state park featuring skyline views and a few rocky climbs, made more challenging after a Nor'easter the day before. Although rain clouds dissipated, temperatures remained in the mid-40s for the competition, requiring adequate layers and movement to stay warm.
What is MedWAR?
MedWAR, Medical Wilderness Adventure Race - is a competition concept developed at Medical College of Georgia and led by Michael Caudell, MD, FACEP. Teams race through an orienteering course peppered with medical quizzes and proctored wilderness medicine simulation challenges. It's a test of strength, endurance, adaptability, and medical knowledge all rolled into one.
Since its inception in 2000, MedWAR has been adopted internationally, with versions hosted by multiple medical societies. The EMRA MedWAR debuted in 2016, led by the Wilderness Committee's Carrie Jurkiewicz, MD, and Geoff Comp, DO, with faculty advisors Dr. Caudell and Paul Auerbach, MD, MS. It has become one of EMRA's most dynamic annual competitions.
Prep Time
For the return of the in-person, outdoor event this fall, more than 40 volunteers and staff met before daybreak to distribute medical quizzes at unmanned stations and prep the scenarios created by committee members. After they dispersed, 30 racers comprising 10 teams from around the country gathered to debrief and fuel up for a long day. Wilderness Committee Chair Lainey Yu, DO, MS, FAWM, introduced the competitors and welcomed everyone to a much-anticipated event. MedWAR faculty advisors Dr. Caudell and Taylor Haston, DO, FACEP, reviewed the rules, and Hillary Irons, MD, PhD, FACEP, the race's Chief Medical Officer, provided safety instructions. Then, at 9 am sharp, the timer sounded and teams sprinted into the wilderness with the historic announcement, "The British are coming!"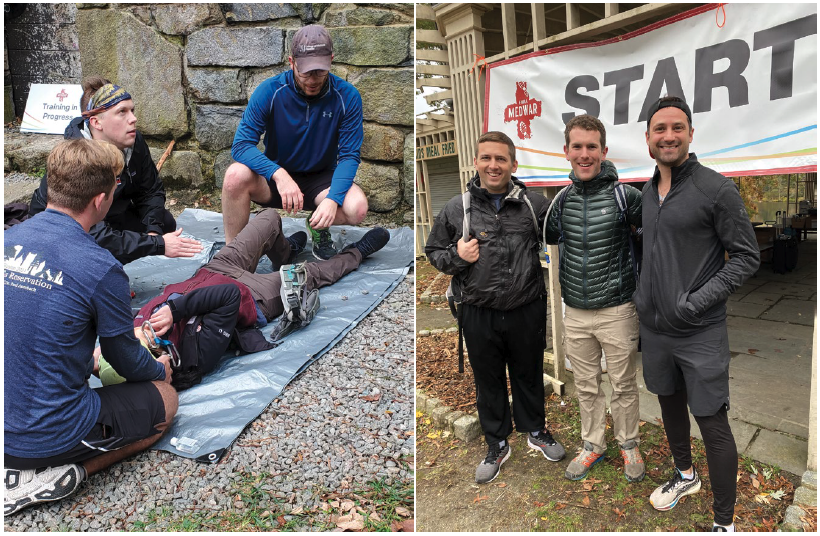 Running Blue Hills
Throughout the 11-mile course, racers encountered 7 medical simulation scenarios and 4 optional unmanned stations. Whereas prior EMRA MedWAR races were run in sequential order, teams this year were simply told to find and complete all the challenges on the course - allowing them to plan their own race strategy on a course that included a steep summit and medical challenges both common and rare.
Prizes and Pulled Pork
Six hours after the starting bell, racers crossed the finish line and were greeted with a warm barbeque dinner while committee members worked hard to gather their supplies and tally the final scores.
All of the stations featured incredible actors who made the experience more realistic, but two volunteers stood out for their Oscar-worthy performances: Kimberly Sokol, MD, won for her impression of a crazed hiker with HAPE, while EMRA Medical Student Council Chair Chiamara Anokwute's intoxicated antics on the Appalachian Trail garnered rave reviews from racers and course directors.
The Spirit Award, honoring the late Paul Auerbach, MD, father of wilderness medicine, was awarded to Wreck'EM Tech from Texas Tech University Health Sciences, a team that embodied the positivity and perseverance required in austere environments. Team members received an autographed copy of Dr. Auerbach's book, Wilderness Medicine, courtesy of Elsevier.
In their matching tracksuits, the UCONN Huskiteers took third place with a time of 3:10 after time deductions, while the best facial hair and second place went to Stanford's Fear the Stache, with a time of 2:52. The champions of MedWAR 2021 were Status BAFERDicus from Albany Medical. Competing with a broken hand, Status BAFERDicus narrowly clinched the win and earned an invite back to MedWAR 2022 with a time of 2:49. Winners received a dry bag, stainless steel pint glass, water bottle, and an REI gift card. Many thanks to BTG Specialty Pharmaceuticals, whose funding helped provide transportation for the event.
Hard Work Pays Off
This event would not have been possible without the hard-working members of the Wilderness Committee: Chair Lainey Yu, DO; Chair-Elect Katie Kammert, DO; EMRA Board Liaison and Past Chair Yev Maksimenko, MD; Vice Chairs Michelle Skuba-Gray, MD; Matt Basinger, MD; and Kaitlyn Votta, MD; and Assistant Vice Chairs Jordan Brown and Sriram Venkatesan.
If you are interested in joining the committee for MedWAR at ACEP22 in San Francisco this October, please contact emrawildernessctte@emra.org, and join us for our planning meeting held during CORD Academic Assembly 2022 in San Diego this March.