Traditionally, medical education has taken the form of textbook readings, lectures, and direct clinical practice with patients. Over the past few years, the med-ed movement has witnessed incredible shifts in presentation style, delivery methods, and performance improvement techniques. Medical schools and residencies more frequently use novel ways of teaching medicine, interpersonal communication, and other germane aspects of care. Among these, simulation has made an incredible impact on the world of education.
In 2016, Evan Strobelt, a fourth-year medical student at Baylor College of Medicine, created an organization dedicated to helping medical students organize simulation programs. Mostly student-driven, the Student Initiative in Medical Simulation (SIMS) connects students with faculty mentors, provides them with a large database of cases, and gives them the basic knowledge of how to use simulation to enhance their learning.
Strobelt and others have published multiple interactive casebooks (free online) with a library of more than 80 faculty-reviewed cases to use in simulation exercises. Regional liaisons work with diverse student leaders across the country to set up their own sim programs. Finally, the organization plans to host multiple Sim Wars around the country to foster a fun and competitive atmosphere that facilitates learning. The goal is to make medical education effective, engaging, and accessible.
On Jan. 20, 2018, SIMS and UTHealth McGovern Medical School in Houston, Texas, hosted the first annual SIMS Conference. More than 100 students from 13 medical schools participated in a high-fidelity simulation tournament consisting of 9 clinical scenarios, 6 individual medical skills sessions, and a poster presentation session.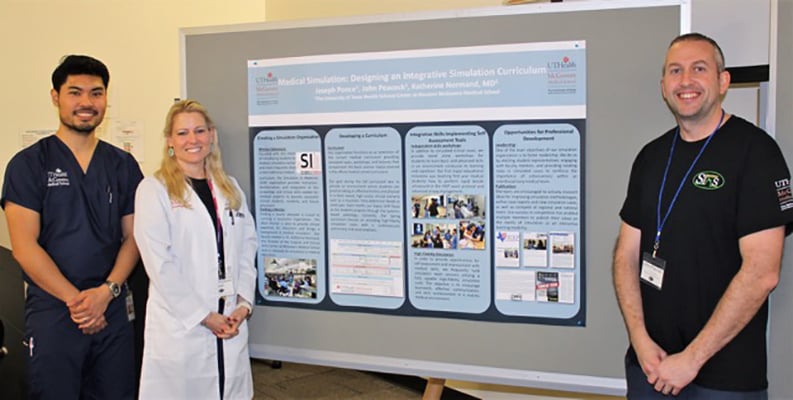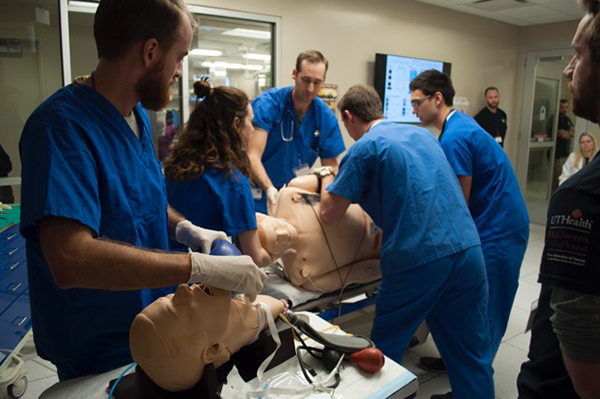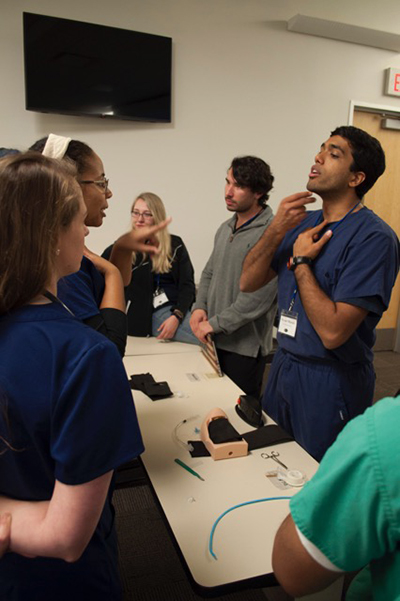 Throughout the tournament, high-acuity cases — such as patients suffering from a heart block, a ruptured abdominal aortic aneurysm, and an acute allergic transfusion reaction — challenged teams to demonstrate their medical knowledge through the proper diagnosis, evaluation, and treatment of the patient. Other cases challenged teams to utilize procedural skills, such as cricothyrotomy to manage airway compromise in a burn patient. A panel of physician judges evaluated each team until a winner was determined. Demonstrating efficient teamwork and sound clinical decision-making, the University of Texas Medical Branch (UTMB) at Galveston emerged as the 2018 SIMS champion.
All conference attendees, including those not competing in the tournament, participated in skills labs covering procedures such as lumbar puncture, bedside ultrasound, basic suturing, central line placement, medical moulage, cricothyrotomy, and airway management. A separate high-fidelity simulation suite provided the opportunity to practice guided simulated medical cases in a non-competitive setting.
Post-conference feedback was largely positive and highlighted a request for simulation- oriented lectures and presence of more residents and faculty mentors, for both learning and networking.
Going forward, SIMS leaders seek to continue outreach efforts through regional leadership. In keeping with the mission of SIMS and the spirit of FOAMed, we will continue to provide high-quality resources and mentorship to medical students around the country who are developing their own simulation programs. As evidenced by the SIMS Conference 2018, regional and national simulation competitions are a great way to bring students together and provide an opportunity to test their skills in a fun, competitive, and educational environment.
If you are a medical student looking to get involved or to start your own simulation program at your school, reach out to us via our website, or talk to the EMRA Simulation Division leaders!