"So, like, you want to teach?"
When asked what I'm doing with the next year of my life, I often get a puzzled look. "Wait, what is medical education? Like, you want to teach?" they ask. My friends and family just cannot seem to understand why I would want to spend another year of my life learning how to become a better educator.
As we all know, simply having MD after your name does not automatically make you an effective teacher. It may, however, get you your own television show, a cosmetics line, or a 4-minute cameo on the daily news. But being an effective physician takes so much more than that: You need experience, passion, and knowledge in just the right parts.
The further we get in our careers, the less our learning is pedagogical (traditional teacher/learner model) and the more it becomes andragogical (self-directed or "adult" learning). The word andragogy was first used by Alexander Kapp to describe the educational theory of Plato.4 American educator Malcolm Knowles then applied the term to adult education, stating that the learning process should incorporate the entire emotional, psychological, and intellectual being.2
In this model, the teacher is more a facilitator, encouraging students to become self-directed learners instead of passing the information directly along. These concepts are the basis of the work of Canadian physician Sir William Osler, one of the four founding professors of Johns Hopkins Hospital.1 Little did he know his work would pave the way for an entirely new generation of medical education.
The field of medical education is still relatively new within emergency medicine. Over the past few years, the quality of research has been criticized for imprecise methods and lack of standardization. There are currently a wide variety of departmental and national faculty development programs that teach emergency physicians how to be better educators, 3 and thus it seems only natural that medical education fellowship programs have evolved. Let's take a look.
The Future
A 2012 study in Academic Emergency Medicine outlined the career paths of 14 medical education fellows over a 5-year period. These fellows took positions in residency leadership, as medical student clerkship directors, medical school administrators, and simulation directors.5 The fellows surveyed had a clear advantage during the job search, and most transitioned into roles developed during their fellowship program.
Without a doubt, a medical education fellowship offers the tools you need for a prosperous academic career. It is a rapidly growing field, with new fellowships opening monthly. But don't forget, medical education is merely one fish in a large sea of opportunities for educational leaders within our specialty. So, like, you want to teach? The world is your oyster classroom.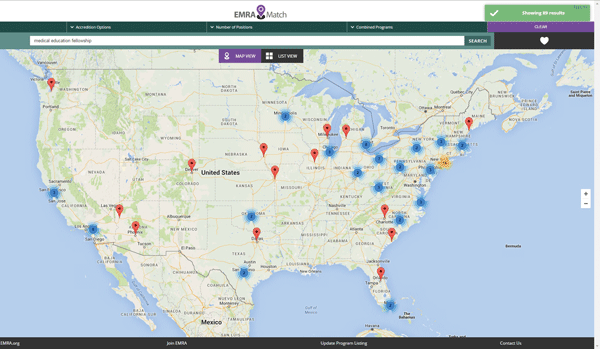 Medical Education Fellowships: The Breakdown
Length:
1-2 years
4 main components:
Didactic (master's degree or certificate program), clinical (instructor in ED), administrative (mentor, group leader) and research (presentation at meetings, publications)
Master's Level Training:
Optional, offered by most programs. Examples include curriculum design, adult learning theory, education, and research methods.
Where are they?
There are currently 36 programs, and that number is constantly growing.
6
Baylor College of Medicine: Houston, TX
Beth Israel Deaconess Medical Center: Boston, MA
Brown University Alpert Medical School: Providence, RI
Carolinas Medical Center: Charlotte, NC
Christiana Care Health Services: Newark, DE
Denver Health: Denver, CO
Emory University: Atlanta, GA
George Washington University: Washington, DC
Harbor-UCLA Medical Center: Torrance, CA
Hennepin County Medical Center: Minneapolis, MN
Johns Hopkins School of Medicine: Baltimore, MD
LAC+USC Medical Center: Los Angeles, CA
LSU Health Sciences Center: New Orleans, LA
Maimonides Medical Center: Brooklyn, NY
Mayo Clinic: Rochester, MN
Northwestern University: Chicago, IL
Ohio State University College of Medicine: Columbus, OH
Oregon Health & Science University: Portland, OR
St. Louis University: St. Louis, MO
St. Vincent Mercy: Toledo, OH
Stanford University School of Medicine: Stanford, CA
Summa Akron: Akron, OH
Thomas Jefferson University: Philadelphia, PA
UC Davis School of Medicine: Sacramento, CA
UC Irvine School of Medicine: Irvine, CA
UCSF School of Medicine: San Francisco, CA
UCSF – Fresno: Fresno, CA
University of Chicago Pritzker School of Medicine: Chicago, IL
University of Iowa Carver College of Medicine: Iowa City, IA
University of Maryland: Baltimore, MD
University of New Mexico: Albuquerque, NM
UNC School of Medicine: Chapel Hill, NC
University of Virginia: Charlottesville, VA
University of Washington: Seattle, WA
Washington University: St. Louis, MO
Wright State University: Dayton, OH

5 Questions to Ask Yourself Before Pursuing a Medical Education Fellowship
1
Do you want to do academics?
A medical education fellowship is a fast track to becoming a future leader in academic emergency medicine, but you have to be excited about that. If a community hospital is where you see yourself, you might want to reconsider.
2 Do you get excited by learning how we learn? A large portion of most education fellowships involves learning theory. Take conference for example. What is the best way to teach a difficult concept, like performing a cricothyrotomy? How do we measure the effectiveness of a lecture?
3 Are you interested in an advanced degree? The majority of programs offer some sort of advanced degree- usually a Master's in Education. Others offer a certificate program. Courses vary, but potential topics include: educational theory, adult learning, curriculum development, instructional strategies, grant writing, and applied statistics.
4 Do you want to expand upon your training? Residency is challenging. Although you will be working part time as an attending in the emergency department, you must take into account that you would be delaying your income earning potential by 1-2 years.
5 Do you love red pens? But seriously. You will be teaching almost every day. On shift with medical students and residents. During conference. Online. On the back of an EKG, at the bedside of a critically ill patient.

Med-Ed Fellow: A Day in the Life
7:00 am
– Wake up, shower, EMRA mug full of coffee, last-minute review of slides
7:30 am
– Head over to conference to set up
8:00 am
– Inservice review lecture
9:00 am
– Meet with guest speaker, tweet about guest speaker
10:30 am
– Interview medical students for potential residency slots
12:00-1:00 pm
– Lunch on the fly!
1:00 pm
– Run simulations with the residents
4:00 pm
– Answer emails
6:00 pm
– Work on manuscript
8:00 pm
– Dinner with friends
9:30 pm
– Catch up with grandma
10:00 pm
– Sleep for attending shift in the ED
References



Darkenwald GG, Merriam SB. Adult education: Foundations of practice. New York, NY: Harper & Row; 1982.


Knowles MS. The modern practice of adult education . New York, NY: Cambridge, The Adult Education Company; 1980.


Lin M, Santen SA, et al. Development of a training needs assessment for an education scholarship fellowship in emergency medicine. Acad Emerg Med. 2012;19(12):1419-1424.


Nottingham Andragogy Group, University of Nottingham, Department of Adult Education. Towards a developmental theory of andragogy. Nottingham, Malaysia: University Park, Notthingham; 1983.


Yarris LM, Coates WC. Creating educational leaders: experiences with two education fellowships in emergency medicine. Acad Emerg Med. 2012;19(12):1481-5.


Emergency Medicine Residents' Association. Education Fellowships. http://www.emra.org/match/education-fellowships/.