Emergency medicine is uniquely positioned to respond to new crises as they arise, smolder, conclude, and are planned for again. One such enormous humanitarian crisis is unfolding in the Middle East.
The triad of an ongoing civil war, resultant famine, and cholera epidemic in Yemen has been dubbed by the United Nations as the "the world's worst man-made disaster."1 Yemen's situation deserves much more urgent recognition and a wider broadcasting. Since March 2015, the United Nations has estimated that 6,872 civilians have been killed and 10,768 injured, primarily from air strikes, but also compounded by an unfolding cholera epidemic and a concomitant gridlock leading to nation-wide food insecurity. Sadly, the Armed Conflict Location and Event Data Project estimates the number of dead is more likely over 60,000 people.2 In October 2018, Mark Lowcock, Under Secretary General for Humanitarian Affairs and Emergency Relief Coordinator, stated "there is now a clear and present danger of an imminent and great big famine engulfing Yemen; much bigger than anything any professional in this field has seen in their working lives."3
A Brief History of Chaos
In 2011, during the fallout from the Arab Spring and amid ongoing pressure from various groups, longtime authoritarian president Ali Abdullah Saleh handed over power to his deputy, Abdrabbah Mansour Hadi. Taking advantage of Hadi's new presidency, the Houthi group - generally comprised of the Shia minority – took control of the northern city of Saada in 2014-2015. Shortly afterwards, the Houthis and some security forces still loyal to the previous president overtook the capital city of Sana'a and President Hadi fled to Saudi Arabia. Led by Saudi Arabia, new coalition force made up of mostly Sunni Arab states and backed by the United States, United Kingdom, and France began air-strikes in an attempt to restore Hadi to power. Hadi's government temporarily relocated to the southern city of Aden. Soon after, several groups such as Islamic State (IS) and al-Qaeda in the Arabian Peninsula (AQAP) used the chaos to attack Aden and seize surrounding southern lands.1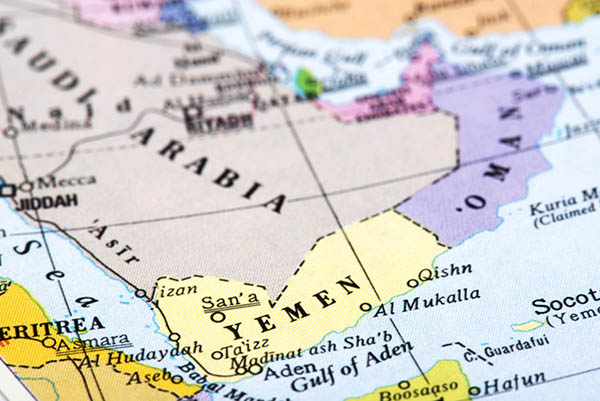 In November 2017, the key western port of Hudaydah, a vital gateway for crucial resources for approximately 2/3 of Yemen's population, was placed under a stranglehold blockade by the Saudi-led coalition in retaliation for a ballistic missile that was launched at Riyadh. Food and fuel prices skyrocketed and millions were pushed into food insecurity. After the assassination of former president Saleh by the Houthis, several groups, including South Yemen separatists, joined in the fracas, which led to more civilian deaths and further blockages against humanitarian aid.1
Meanwhile Yemen's health care system, which was already weakened by 2 years of civil war and at the point of collapse, was further strained by cholera outbreaks in several main cities. Key infrastructure, such as water and sanitation facilities required to control waste, was collapsing, and heavy rains washed further waste into the tenuous water resources.4 The Yemini outbreak now has the dubious distinction of being the worst cholera outbreak the world has known. A suspected 10,000 cases are now reported per week, and over 1.2 million suspected cases since the start of the epidemic. Thousands more have died from starvation and lack of access to basic medical care.5 As air strikes continue, humanitarian hospitals themselves have been targeted with horrific effects. (See Yemen: Surviving Air Strikes in Sadaa by Doctors Without Borders, detailing ongoing air strikes that have begun to target hospitals.)
Houthi representatives and Saudi-led coalition forces agreed to a cease-fire in Hudaydah in early December 2018 after peace talks were held in Geneva. A UN resolution to extend the UN monitoring role and add 75 new monitors passed on 16 January 2019. However, UK Middle East Minister Alastair Burt stated that while "the ceasefire was holding…" admittedly, "confidence between the parties was nil" and there is now mounting speculation that the deal may be on the verge of collapse.6
From December 2018 to January 2019, 53% of the population, roughly 15.9 million people, faced "Emergency" (~5 million people) or "Crisis" (~10.8 million people) food shortages, and cholera has been reported in 306/333 of Yemen's districts.
Why Should We Care?
As complex humanitarian emergencies in countries such as Yemen evolve, emergency care provision is essential in the ongoing response and critical in recovery planning for the health system. Effective emergency care provision requires a sequence of time-critical interventions that rely heavily on pre-hospital services and timely, quality care provision. Yemen must strengthen both its weakened emergency care system (ECS) and train further providers in the delivery of emergency care in order to address current and future needs.
For all disasters, a robust, pre-existent ECS is the essential foundation to prove an effective initial response to mass casualty management and vital for continuity of care for everyday emergencies. In the immediate aftermath of large-scale disaster, the ECS is likely to be the major functioning platform for maintaining general health care services for acute complaints. If well prepared, these same emergency care systems can rapidly scale up efforts to respond to further health crises that may arise as a result of the disaster, such as outbreak of cholera in Yemen or acute exacerbations of chronic disease in the absence of longitudinal care and the usual access to medications. Yet, there is little attention to the development of ECS as a disaster preparedness and mitigation strategy, especially for countries known to have particular vulnerabilities to armed conflicts, epidemics, or natural disasters. Yemen's emergency care system has been profoundly affected by the ongoing conflict with the WHO stating that the health system is on the brink of collapse.7 In addition, the majority of Yemeni providers assessed in one study noted marked decrements in knowledge about clinical management of emergency conditions and disaster response fundamentals.8
Strategic emergency care system building is essential to ensure ongoing access when a patient has a health emergency, and quality care delivery is ensured by trained emergency providers with a broad-based knowledge of acute presentations across the lifecycle. In addition, EM teams develop the skills to remain effective even during high-stress and often rapidly changing situations while simultaneously maintaining leadership of a team of personnel with diverse skill sets. On a daily basis, emergency physicians quickly adjust from stabilizing a critically ill patient to obtaining social services or coordinating transport vouchers. They are often also able to function efficiently in austere environments and perform rapid decision-making with attention to the principles of triage.9, 10 In contrast to many other specialties, emergency physicians practice medicine across all ages, body systems, genders, and stages of illness; with additional insight into acute exacerbations of chronic, non-communicable disease – an increasingly common problem as conflicts simmer and the global burden of disease shifts with improved development.10
Emergency physicians have the burden and privilege of seeing the direct and very human consequences of ongoing conflict, while navigating complex, multi-level organizational system in order to provide the best possible patient care. Some have been critical participants in the hallowed practice of "bearing witness" – the tricky balance between reporting human rights abuses while maintaining access to those populations that need assistance most.9 While neutrality in conflict is a core value of the International Committee of the Red Cross, this doctrine is not held by all countries or aid organizations and testaments from the field providers have historically proved essential in the investigation into perpetrators of hostilities.
During the recovery phase in post-conflict settings, emergency physicians are equally indispensable in planning for future disasters given their expertise in the principles of triage, pre-hospital transport, mass casualty management, and surge planning. EM teams can also establish in-country training programs to ensure a sustainable and adequate response when new crises arise.
Yemen's conflict provides a lens through which to see the necessity of both ECS strengthening and human resource training in the specialty of emergency medicine. Health system priority-setting and resource allocation should always be focused on the local providers and the local ECS. As world development continues and conflicts increasingly encompass whole nations or regions, a new breed of EP's who have pursued additional training in Global Health and Humanitarian Assistance are amassing. Supplementary training allows EP's to be effective on the ground with proficiency in rapid epidemiologic assessment, health priority planning, surveillance and response, disaster epidemiology, and evaluation of the impact of various programmatic efforts.
Conclusion
Since the 1990s, humanitarian emergencies and armed conflicts have been increasing in severity and frequency. Civilians are specifically targeted as part of the tactics during intra-state struggles for a "varying mix of liberation, control of valuable resources, or power."7 Many militia groups operate outside the Geneva Conventions – precisely because they are paramilitary and essentially state-less. These are geo-political conflicts, influenced by powerful international allies in a sort of proxy-war, made worse by climate change, and somehow depersonalized yet simultaneously brought closer-to-home through the advancement of technology and weaponry. The world has become increasingly globalized, populations closer, and our international neighbors have increasing need of specialized aid. The conflict in Yemen represents the newest iteration of simmering humanitarian disasters. Recognition and urgent response is needed globally. From W.R. Smyser, the former UN Commissioner for Refugees, "Humanitarian conscience…holds that the human race can and should act on the basis of common and innate standards of humanism and decency that people understand and appreciate."11 As the world reacts to ongoing and future humanitarian crises, EP's have a unique set of skills, expertise, and system knowledge to offer throughout the different phases of the response and recovery. Yemen's crisis is the next and most pressing challenge – let's get to it.
---
References
1. Yemen crisis: Why is there a war? BBC News. Dec. 18, 2018.
2. Bachelet urges States with the power and influence to end starvation, killing of civilians in Yemen. United Nations Office of the High Commissioner of Human Rights. Geneva, Switzerland. Nov. 10, 2018.
3. Under-Secretary-General for Humanitarian Affairs and Emergency Relief Coordinator, Mr. Mark Lowcock, Remarks to the Security Council on the Humanitarian Situation in Yemen. (2018, 23 Oct). United Nations Office for the Coordination of Human Affairs. New York, United States. Oct. 23, 2018.
4. World Health Organization. Cholera and malnutrition in Yemen threatens millions.Dec. 27, 2018.
5. Doctors Without Borders/Médecins Sans Frontières. Yemen: Crisis Update December 2018.Dec. 11, 2018, Dec 11.
6. Wintour P. Yemen ceasefire: new UN resolution seeks to save agreement. The Guardian. Jan 16, 2019.
7. Gavlak D. Health system in Yemen close to collapse. Bull World Health Organ. 2015; 93:670-671.
8. Naser WN, Saleem HB. Emergency and disaster management training; knowledge and attitude of Yemeni health professionals – a cross-sectional study. BMC Emergency Medicine. Aug 2018;18-23.
9. VanRooyen M, Venugopal R, Greenough PG. International Humanitarian Assistance: Where Do Emergency Physicians Belong? Emerg Med Clin North Am. 2005;23(1):115-131.
10. Parmar PK, Greenough PG. Optimizing the use of a precious resource: the role of emergency physicians in a humanitarian crisis. West J Emerg Med. 2017;18(4):607-615.
11. Smyser WR. The Humanitarian Conscience: Caring for Others in the Age of Terror. New York: Palgrave Macmillan; 2003.