Boston witnessed a whirlwind of activity during ACEP15, with EMRA marking key milestones.

Topping the list was the matter of representation for residents. After clear and persuasive speeches by EMRA leaders, the ACEP Council voted to double the number of council seats afforded to EMRA, from 4 spots to 8. The previous allotment of ACEP Council seats for EMRA representatives was set in 1992, when EMRA membership stood at 2,500, compared to approximately 13,000 today.
EMRA also welcomed new members to its Board of Directors in Boston. Read on as we introduce you to the new faces of leadership, and help us welcome each new board member, along with President Ricky Dhaliwal, MD, JD, who accepted the gavel from Immediate Past President Matt Rudy, MD.
ACEP15 saw standing-room-only crowds for many of the popular EMRA offerings such as the Medical Student Forum, Residency Program Fair, Job & Fellowship Fair, and more. Bringing down the house, however, was the inaugural 20 in 6 Resident Lecture Competition.
---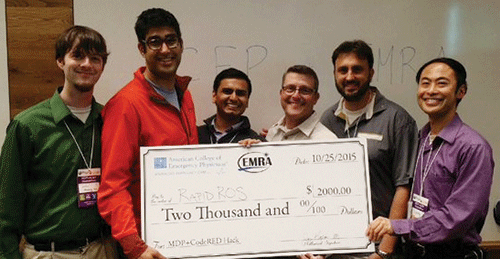 Hackathon. Technology and collaboration were on full display during Hackathon 2015, brought to you by ACEP, EMRA, Hacking Medicine at MIT, and athenahealth. Rapid ROS won the $2,000 prize for best EM solution, with a system that integrates patient questionnaires and health information into an interface delivered to care coordination teams.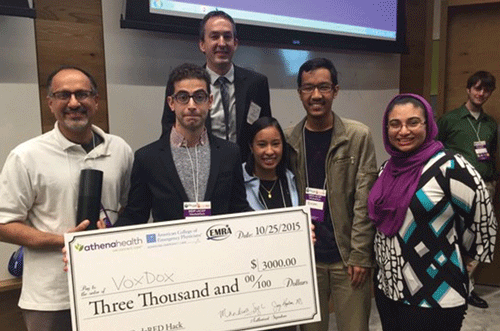 Team VOXDOX snagged the Hackathon $3,000 grand prize by creating a stationary real-time speech-to-text solution using the Amazon Echo. Having an Echo situated in each patient room would allow doctors to be more hands-on with each patient and not have to turn their backs to chart or enter orders in the EHR.
---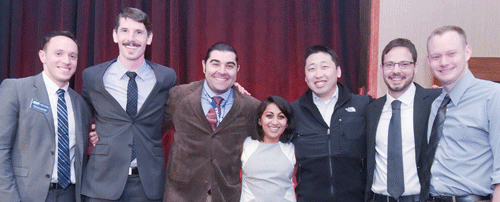 20in6. After a round of attention-grabbing lectures, three residents emerged victorious in the first-ever 20 in 6 Resident Lecture Competition, developed by the EMRA Education Committee and sponsored by EMRAP. Pictured, from left: Nick Governatori, MD (judge); Peter McCorkell, MD (2nd Place winner); Salim Rezaie, MD, FACEP (judge); Nikita Joshi, MD (judge); Paul Jhun, MD (judge); David Terca, MD (1st Place winner); and Aaron Heckelman, MD (People's Choice winner).
---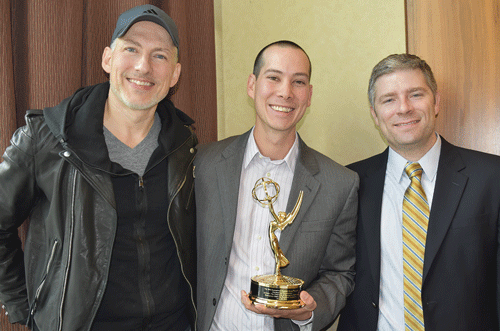 The Emmy award-winning 24/7/365: The Evolution of Emergency Medicine, brings viewers into the riveting world of emergency medicine, thanks to director Dave Thomas (from left) and executive producers Don Stader, MD, and Mark Brady, MD, MPH, MMS, DTM&H.
---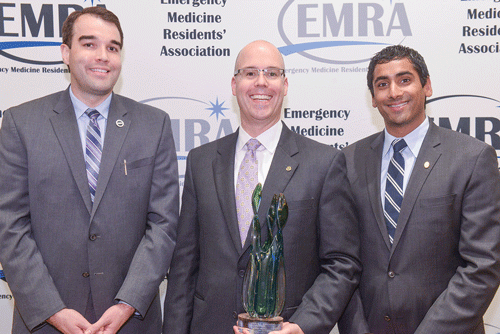 Waeckerle Award. During the Fall Awards Reception, EMRA was proud to honor a group of residents and physicians who together are making the profession stronger. Immediate Past President Matt Rudy (left) and President Ricky Dhaliwal (right) congratulated Steve Stack, recipient of EMRA's prestigious Joseph F. Waeckerle Alumni Award.
---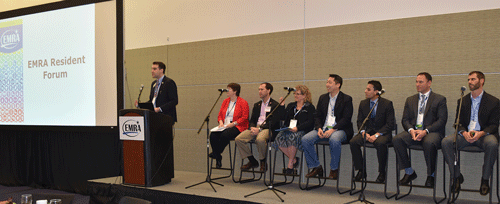 Resident Forum. Offering an inside track on board prep, a distinguished (and helpful) panel set the stage for the 2015 Resident Forum, which covered everything from career planning to financial management.
---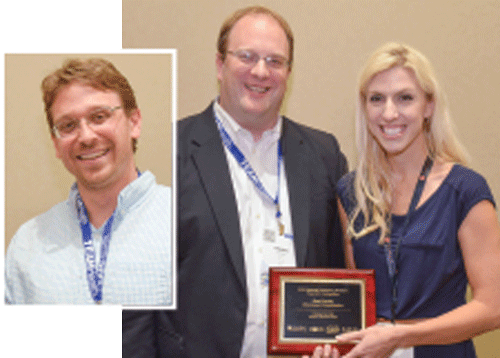 CPC Finalists. Congratulations to CORD CPC Competition winners (above, right) Megan Osborn, MD (Faculty Discussant); and (left) William Soars, MD (tie, Faculty Runner-up). Winners not pictured include Shireen Khan, MD (Resident Presenter); Cory Siebe, MD (Resident Runner-up); and Tim Fallon, MD (tie, Faculty Runner-up).
---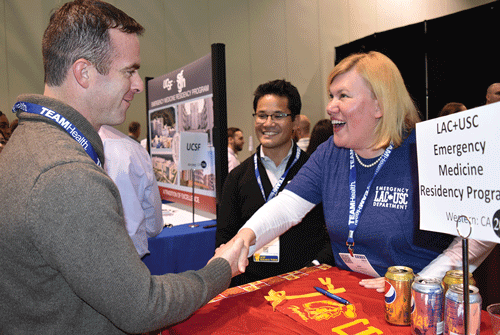 Residency Fair. After spending the day learning the do's and don'ts of interviewing and how to work a room, medical students put that new knowledge to good use at the EMRA Residency Program Fair.