Surprise billing has the potential to bruise the patient-physician relationship, harm patients' health, and lead to downstream problems in health care. This complex issue matters more now than ever.
At CORD Academic Assembly 2020, EMRA's Administration & Operations Committee joined forces with the Health Policy Committee to host physician leaders in administration, economics and policy in a panel on surprise billing:
Dr. Kristen Kent

, an EM physician who is the current president of the New York chapter of the American Academy of Emergency Medicine (AAEM), as well as the co-founder and Chief Medical Officer of Clara Technologies;

Dr. Elaine Rabin

, an EM physician and current Program Director at Mount Sinai Hospital, who has an extensive background in health economics including work at the National Bureau of Economic Research;

Dr. Angela Cai

, an EM PGY-3 at SUNY Downstate/Kings County, who serves as the Director of Health Policy on the EMRA Board of Directors and serves in leadership roles on the ACEP Federal Government Affairs Committee as well as the Emergency Medicine Policy Institute.
Each panelist shared their unique perspective and expertise as it relates to the complex issue of surprise billing. We've distilled their conversation down to key, actionable points.

What is surprise billing?
In the complex world of health care insurance, an emergency physician is sometimes "out-of-network" for a patient, even if the hospital that houses the emergency department is considered "in-network." Broadly speaking, surprise billing refers to a situation in which an insured patient receives an unexpected medical bill, usually from a physician who is outside of that patient's insurance network. This can occur when a patient is brought to the closest hospital in an emergency, where physicians who are hired as independent contractors or by large firms may offer different insurance coverage.
Why does surprise billing matter?
Surprise billing affects many aspects of our practice as emergency medicine students and physicians, from the patient-physician relationship to reimbursement. Many patients have little choice in where they go during a medical emergency, and in an economic landscape where medical bills have been shown to be responsible for up to 60% of U.S.-household bankruptcies, surprise billing remains an unwelcome phenomenon.1 Surprise billing has the potential to bruise the patient-physician relationship as well as patients' health, as patients limit or refuse diagnostic and therapeutic interventions due to cost concerns. Additionally, by adding administrative and legal costs alongside decreased payment, surprise billing can have downstream effects on everything from physician reimbursement to resource availability.
Do things need to change?
Currently, there is significant political momentum toward protecting patients from surprise billing, with bipartisan support for change.2 Both Democrats and Republicans agree that surprise billing is problematic, and that patients should be removed as intermediaries between insurers and health systems vying for bill settlement. The challenge, however, comes with determining an adequate and fair reimbursement process between insurers and health systems.

What does change look like?
Solutions to the surprise billing challenge typically take one of two forms: arbitration, in which a third party decides how much insurers should pay for medical services; or benchmarking, in which insurers agree to pay a specific, predetermined amount for medical services.
On a state level, some jurisdictions such as New York and California have implemented comprehensive policies to help address surprise billing. On a national level, there are currently three bipartisan bills making their way through Congress (Table 1). Although the mechanics differ, each of the proposed bills ensures that patients no longer receive surprise bills for emergency services or for seeing out-of-network providers working within in-network hospitals. As drafted, these bills address surprise billing through benchmarking. Many emergency medicine advocacy groups are working to ensure that an arbitration process is also included, as there is potential for a downward spiral in overall reimbursement when it is based on the health plan's median in-network rate as currently proposed.
Table 1: Proposed Congressional Bills that Address Surprise Billing3-5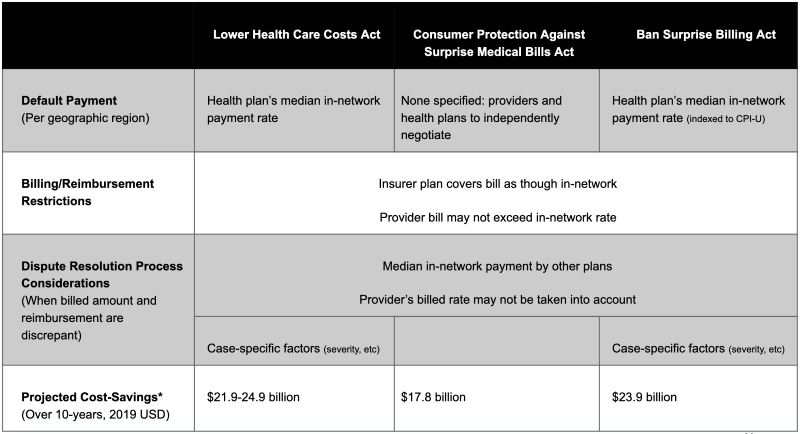 * These projected cost-savings are primarily from reduced insurance premiums due to lower reimbursement amounts from insurers to health systems.6-8
What can I do?
Surprise billing is an important issue for both patients and emergency medicine physicians. We hope you will consider getting involved:
---
References