PEPID and EMRA have partnered to bring you an exclusive discount on PEPID Emergency Medicine Platinum Suite.
Designed by an emergency physician, PEPID EM gives emergency medicine residents instant access to electronic medical and drug references with integrated workflows and content that allows you to quickly drill down to critical information that can improve patient safety and speed of care.
Available anytime, anywhere
PEPID EM is available online, or from any mobile device – without the need for a Wi-Fi connection.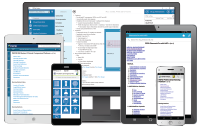 Point-of-care tool for the "heat of battle" environment of emergency medicine
2,300+ emergency-focused topics that include: resuscitation and trauma, anatomic, systemic, pediatric and toxicologic emergencies
Largest drug database available with 8,000+ trades, generics, OTCs and herbals
3,000+ pediatric and adult dosing calculators
Immediate access to life saving protocols, emergency procedures and algorithms
400+ lab tests
Hundreds of medical calculators and scores
Differential diagnosis checker to simplify accurate diagnosis
Powerful drug interaction checker that includes duplicate therapy, OTCs, herbals and foods
Interactive drug allergy checker
Emergency-focused evidence-based medicine topics
Pill pictures and pill identifier tools
(You will need your EMRA Web login and be verified as an EMRA member to access the above link)
Related Content