Social EM Leaders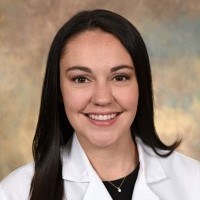 Chair
Alexis Kimmel, MD
University of Cincinnati College of Medicine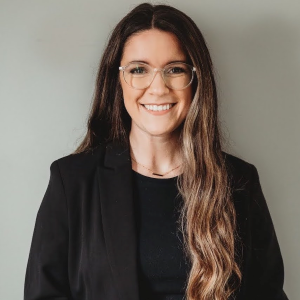 Chair Elect
Molly Curtiss, DO
University of Arizona College of Medicine at South Campus
Vice Chair
Megan Ladd, DO
Mercy Health - St Vincent Medical Center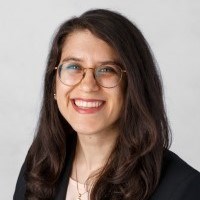 Vice Chair
Samara Albazzaz, MD
Albert Einstein Medical Center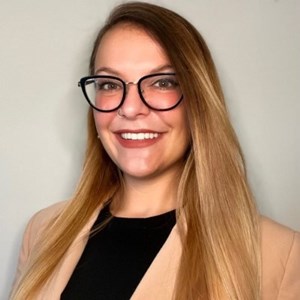 Vice Chair
Nikkole Turgeon, MD
Boston University Medical Center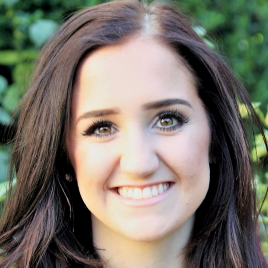 Assistant Vice Chair
Alexandria Foster, DO
Maricopa Medical Center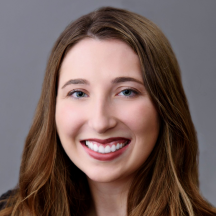 Assistant Vice Chair
Brooke Ott, MD
Case Western/University Hospital Cleveland Medical Center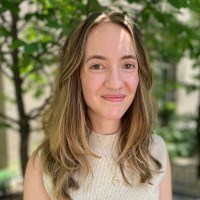 Assistant Vice Chair
Diana Halloran, MD
Northwestern University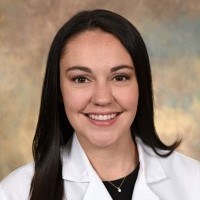 Chair
Alexis Kimmel, MD
University of Cincinnati College of Medicine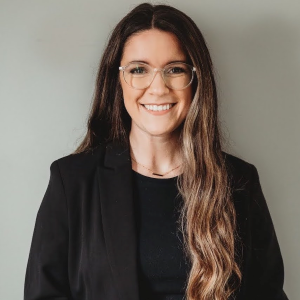 Chair Elect
Molly Curtiss, DO
University of Arizona College of Medicine at South Campus
Vice Chair
Megan Ladd, DO
Mercy Health - St Vincent Medical Center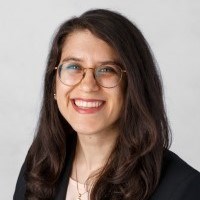 Vice Chair
Samara Albazzaz, MD
Albert Einstein Medical Center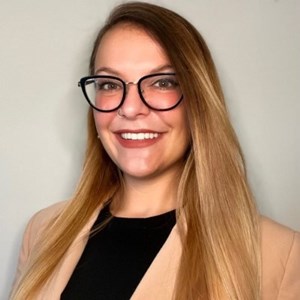 Vice Chair
Nikkole Turgeon, MD
Boston University Medical Center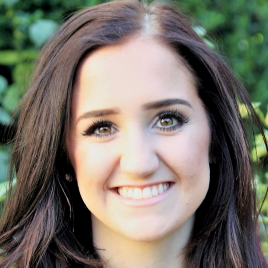 Assistant Vice Chair
Alexandria Foster, DO
Maricopa Medical Center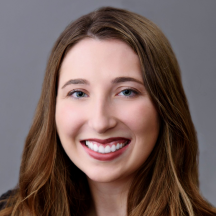 Assistant Vice Chair
Brooke Ott, MD
Case Western/University Hospital Cleveland Medical Center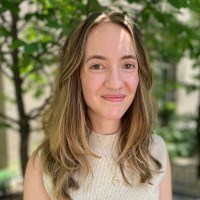 Assistant Vice Chair
Diana Halloran, MD
Northwestern University


Peer and Mentoring Program
Are you interested in social emergency medicine career development, research, or advocacy, but you don't know where to start? Are you looking for a mentor, mentee, or peer with similar interests as you? The EMRA Social Emergency Medicine Committee is starting a mentoring initiative to connect residents, fellows, and attendings with similar interests. If you are passionate about a specific focus area and looking to get connected with other emergency physicians nationwide - this is your opportunity! Please sign up below.
Sign up here!
Committee Videos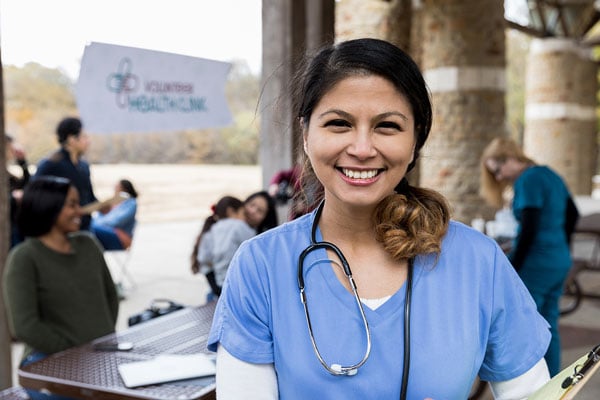 Paying the Price: Inside EM's Fight to End COVID-19's Health Disparities
Join EMRA's Social EM Committee for a discussion on the COVID impact on racial & ethnic disparities.
Watch Now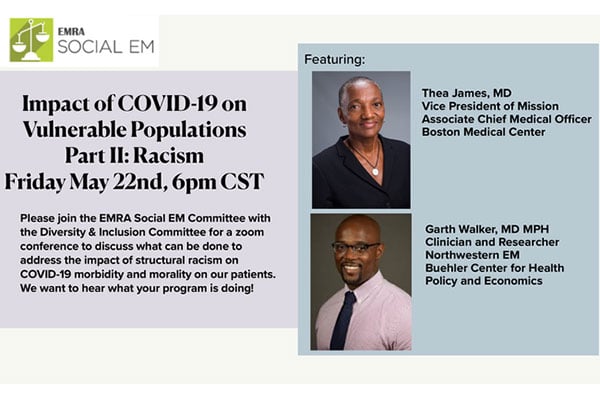 Impact of COVID on Vulnerable Populations : Part 2 - Racism
The EMRA Social EM Committee discusses what can be done to address the impact of structural racism on COVID-19 morbidity and morality on our patients.
Thea James, MD
Vice President of Mission
Associate Chief Medical Officer
Boston Medical Center
Garth Walker, MD, MPH
Clinician and Researcher
Northwestern EM
Buehler Center for Health Policy and Economics
Watch Now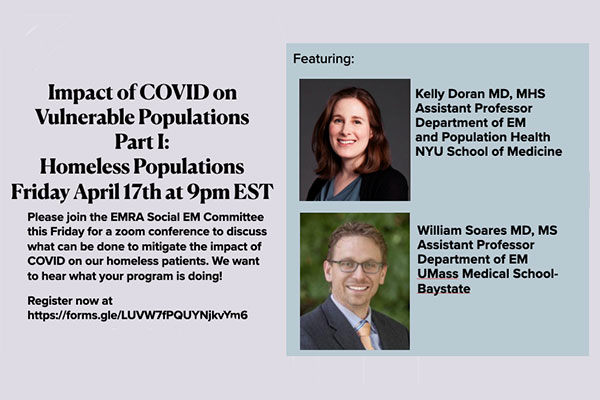 Impact of COVID on Vulnerable Populations : Part 1 - Homeless Populations
The EMRA Social EM Committee discusses what can be done to mitigate the impact of COVID on our homeless patients.
Kelly Doran, MD, MHS
Assistant Professor
Department of EM and Population Health
NYY School of Medicine
William Soares, MD, MS
Assistant Professor
Department of EM
UMass Medical School - Baystate
Watch Now
The Social Emergency Medicine Committee is focused on integrating social determinants of health, social justice, and advocacy for the underserved into the specialty of emergency medicine. Social determinants of health include issues such as homelessness, food insecurity, care for linguistic and cultural minority groups, sexual orientation, immigration status, violence prevention, safe communities, and much more!
The work of the EMRA Social Emergency Medicine Committee is closely aligned with the ACEP Social Emergency Medicine Section. Our goal is to provide a funnel into the activities of the talented attendings developing this field within ACEP and promote a new generation of social EM experts and advocates.
Sound Interesting? Join Us
If any of this sounds interesting to you, we are just getting started and we need all the help we can to get these efforts off the ground, so please join up, let us know your ideas, and help make social EM the next big thing in emergency medicine!
Joining EMRA Committees is easy and FREE.
Just log into your EMRA account and select which one(s) you wish to join.
Once you join, you will receive an invitation to be part of the EMRA Committee Basecamp, which helps facilitate communication and collaboration.
Social EM Vlog Series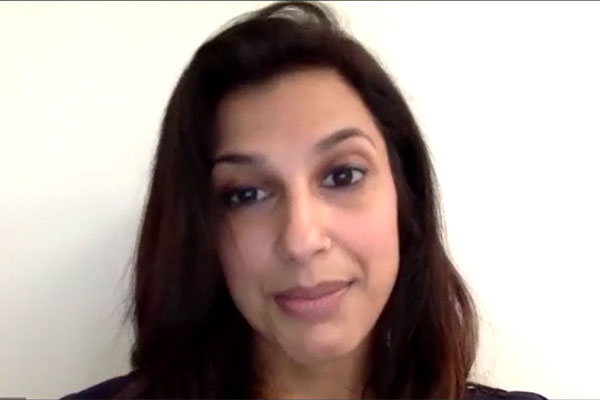 Topic: Social EM VLOG with Ayesha Khan, MD, MPH
Dr Khan discusses her role in developing the Social Emergency Medicine Fellowship at Stanford.
Ayesha Khan, MD, MPH
Assistant Professor, Stanford University
Department of Emergency Medicine
Watch Now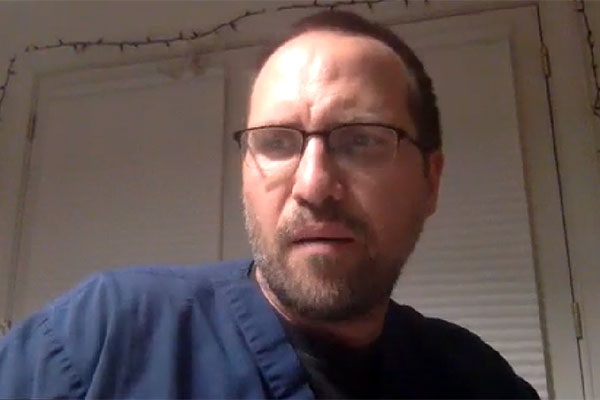 Topic: Social EM Vlog with Aaron Hultgren, MD
Dr Hultgren discusses his work with Prevention & Education Partnership, addressing social determinants of health and more!
Aaron Hultgen, MD
Assistant Professor, Ronald O. Perelman
Department of Emergency Medicine
Watch Now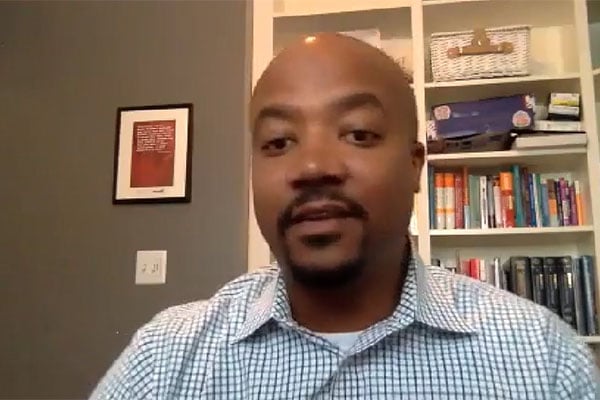 Topic: Social EM Vlog with Nathan Irvin, MD
Dr Irvin discusses his role as Director of Focused Advanced Specialty Track: Social Emergency Medicine at Johns Hopkins, HIV/HCV screning, violence prevention and more!
Nathan Irvin, MD
Assistant Professor, Johns Hopkins University
Department of Emergency Medicine
Watch Now
Activities
The activities of the Social Emergency Mecicine Committee can be divided into 4 areas.
Program implementation – We promote awareness of innovative programs emergency departments have implemented across the country to address social determinants of health. This includes connecting residents and medical students interested in leading their own innovative programming with those who have done it before, and providing them the support they need to make their ideas a reality and drive continuing improvement and sustainability of social EM-oriented programs.
Education – We support educational programming that informs medical students and residents about key issues within social emergency medicine. This includes disseminating existing educational resources (e.g. podcasts, guides, books, etc) and curricula to help encourage their use across the country as well as development of our own educational programming, such as webinars that EMRA members can access to improve their knowledge of social EM and share it at their institutions.
Research – Research on the impact of social determinants of health on our patients in the emergency department and the outcomes of programs that address these issues in the context of emergency medicine is full of opportunity. We seek to connect those who are looking for research mentorship, provide peer support for research planning and implementation, and a forum to share interesting research results and opportunities among residents and medical students.
Advocacy – For those interested in building a healthcare system that is fairer and more just, addressing the needs of those who currently fall through the cracks, there is need to advocate for change within our educational programs, our academic institutions, and at the state and national policy level. The Social Emergency Medicine Committee provides a venue to improve knowledge of policy solutions and political complexities required to be a successful advocate in the social EM space, as well as a venue to learn the skills necessary to be a successful advocate for policy change.
Related Content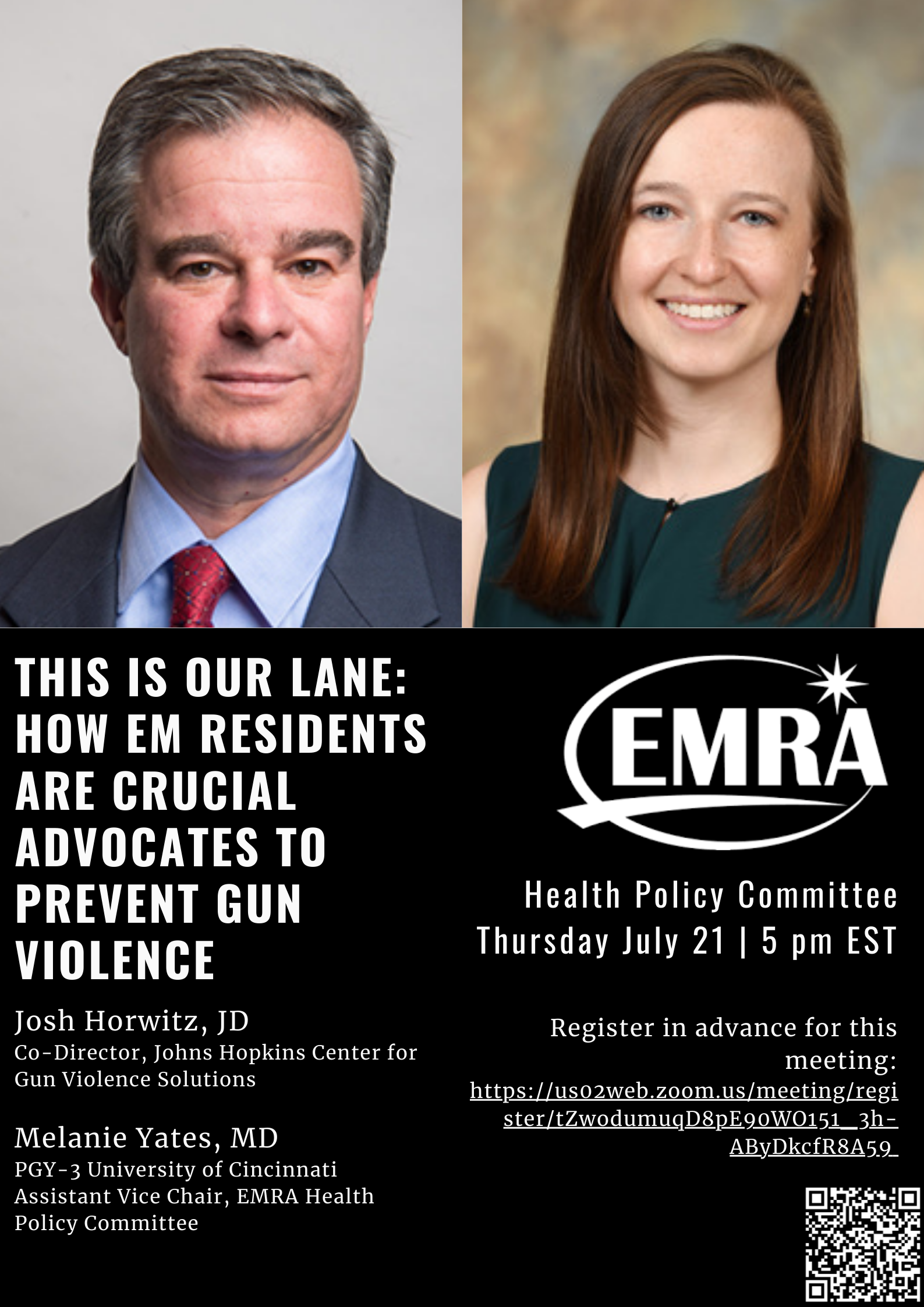 Jul 14, 2022
Health Policy | This is Our Lane
The EMRA Health Policy Committee invites you to this important discussion that we are moved to hold in light of ongoing national tragedies due to gun violence. We will be learning from Josh Horwitz, J.D. who is the Co-Director of the Johns Hopkins Center for Gun Violence Solutions as well as our very own Dr. Melanie Yates (rising PGY-3 Univ of Cincinnati & Assistant Vice Chair to the Health Policy Committee) who will share more updates related to gun violence prevention and her role as a Resident Representative on the ACEP Public Health and Injury Prevention Committee.