By: M. Shayne Ruffing, CLU, ChFC, AEP
This time of year always brings discussion regarding the importance of disability income protection. As EM practitioners, the ongoing rate of disabling injuries is no surprise to you. In the first 20 years of a career, your disability program is one of the most vital components of your financial plan.
A recurring theme among residents is the question of how to evaluate and purchase appropriate disability insurance. This article is a "nuts and bolts" summary of disability terms and conditions. An understanding of these terms will allow you to make informed purchasing decisions.
The disability marketplace continues to be competitive for emergency physicians as we go in to the spring of 2009. Some of the recent developments that impact you specifically are:
There are still three individual disability contracts (in most states) with specialty specific (Own Occupation) language for life of the contract.
Premium costs overall are stable and showing positive signs due to an increasingly competitive market.
Two of the three companies recently increased their total benefit limit to $15,000 per month for emergency physicians.
Following are the terms and conditions that I find myself advising on frequently:
Own Occupation (Specialty Specific) Wording
The own occupation (Own Occ./Own Specialty) period is the length of time that you will be eligible to receive FULL benefits under your contract, as long as you can not practice emergency medicine. Be aware that there are less comprehensive variations of own occupation. Some of the most common are:
Own Occupation and not working
Own Occupation and any Reasonable Occupation
Transitional Own Occupation.
Understand that with a true own occupation contract, you can conceivably be working outside of emergency medicine making more income than prior to your disability and still receive the full benefits under your contract!
Residual Disability
This is as important as own occupation. Imagine you suffer an injury that keeps you out of the ED for eight months. If your burning desire is to get back in to the ED as soon as possible, you need to understand your residual definition more than your own occupation definition. The residual clause will determine how much you receive and for how long, when you go back to work as an emergency physician in your own occupation. Understand this benefit, how long it will pay and if there are any "gotchas" such as time or earnings that could discontinue payments.
Guaranteed Purchase option
An option to purchase simply gives you the right to possibly increase your benefits in the future, if your income will justify it. It ensures that any future medical history will not impact your ability to increase your benefit. It does not guarantee that you can buy more protection. If you plan to be an academic physician for your career, you may not need this. If you will be an independent contractor and currently have a clean medical history, this is a must have.
Cost of Living
Every individual contract should have a cost of living (COLA) feature. This increases your benefit every year that you remain disabled, protecting your income from the rising cost of inflation over time. Given the state of our economy, this is very important. I recommend this to be a compound, rather than a simple increase.
Monthly Benefit Amount
As a resident, you can protect future earnings by purchasing disability coverage before you finish your training. You can purchase up to $5,000 per month of tax-free benefit while still in training as either a resident or fellow. This opportunity expires the day you complete your program.. If you take this in to practice and have 60% of your income covered by your employer, your two programs now stack on top of each other. This allows you to protect a higher proportion of your income than if you waited until after residency. You can also purchase another $10,000 of future income protection. This allows you to ensure $350,000 of future income!
A competent disability advisor will be able to compare multiple contracts, design an appropriate strategy and negotiate the terms of the contract(s) if there are any medical complications.
An adequate disability income program will provide you with the confidence of knowing that your time and effort is fully insured and that your family's financial security is protected from any unexpected loss.
Integrated WealthCare. An Approved EMRA Program Partner.
Learn More
Related Content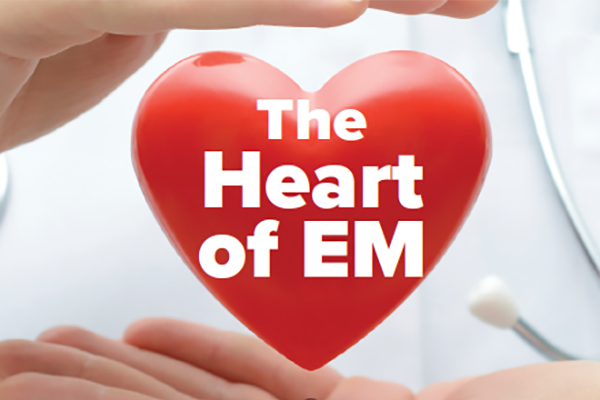 Apr 23, 2020
Heart of EM: Protecting Your Greatest Investment
Doctors wouldn't think of going without malpractice coverage, but far too many fail to insure themselves against an even more expensive risk. Do yourself and your loved ones a favor and get your disability and life insurance in place STAT!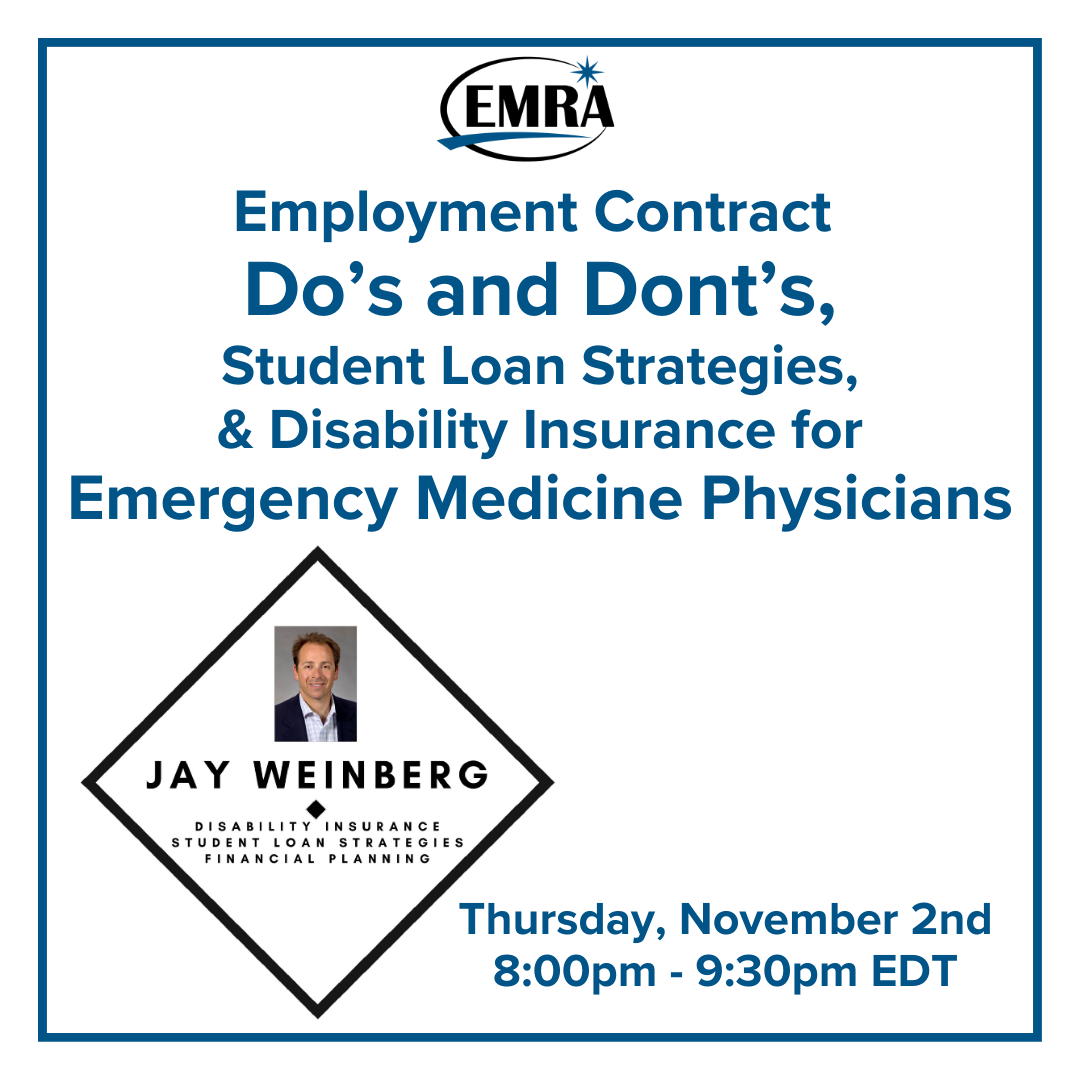 Oct 24, 2023
EMRA - Employment Contract Do's and Don'ts, Student Loan Strategies & Disability Insurance for Emergency Medicine Physicians
Join us for a webinar on Nov 02, 2023 at 8:00 PM EDT. Register now! Bruce Armon is a Health Law Attorney with Saul Ewing LLP. Bruce has over 20 years experience and specializes in Employment Contracts for physicians. In this webinar, he will be speaking about the following topics: Interviewing, Contract Negotiations, Non-Competes, Non-Solicitations and Compensation. Jay Weinberg specializes in Disability Insurance for Physicians and has over 20 years industry experience. Jay will be providing you with the necessary tools to make an informed decision when the time comes to secure a comprehensive disability policy. Jay will also be discussing Student Loan Strategies as we exit Covid Forbearance. If you are unable to join the webinar at the scheduled time, please register regardless. The webinar will be recorded and distributed to those who register. You are also welcome to share this information with your friends or colleagues if you feel they can benefit from the content. https://www.saul.com/attorneys/bruce-d-armon After registering, you will receive a confirmation email containing information about joining the webinar.