It's New and All About You!
Introduce yourself. Watch what happens. If you're a medical student, voilà! You'll receive content personalized to your needs and interests. Same for PGY 1's & 2's; PGY 3's & 4's; fellows and alumni. Our content is tailored specifically to you. It's a piece of cake now because once you log in, the right content magically appears!
We're Mobile and Move with You!
Our website is optimized for the way you live – all the information is right at your fingertips. How great is that?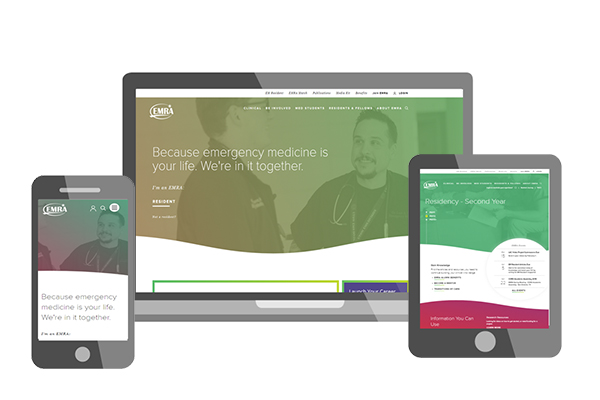 It's Not Just About Us (Although We'd Like to Think So!)
EMRA has fabulous content – you know we do! And we recognize there's also great stuff from trusted emergency sites, blogs, podcasts and publications. Now you can find EMRA content and other #FOAMed information you need. Simply search and the relevant content shows up at the bottom of the page.
Look What's Online. Enjoy!
How Easy Is It to Be Involved? Very, Very Easy!
Matter of fact, it's easier than ever before to be involved. We've streamlined the Committee membership information and you can manage preferences from your account page. And collaboration has never been easier if you want to comment on EMRA resolutions. So, get involved!
Joining EMRA Committees is easy and FREE.
Just log into your EMRA account and select which one(s) you wish to join.
Once you join, you will receive an invitation to be part of the EMRA Committee Basecamp, which helps facilitate communication and collaboration.
Plan Your Life; Please Make EMRA Part of It!
We'll tell you the events that will make a difference in your life, and naturally, we'll throw in the EMRA Events we think you should attend (because we have so much fun, and it just won't be the same if you're not part of them!). Check out the nifty Calendar of Events.