Katie Fisher, MD, MS
Baylor College of Medicine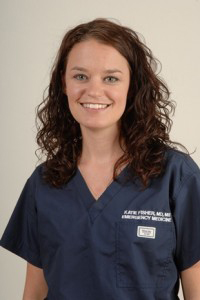 I am constantly inspired by the amazing talent and dedication of EMRA members and leaders. I am so honored and humbled to apply to the Director of Education position and am passionate about improving medical education and facilitating collaboration and mentorship for all trainees. As a senior resident I was afforded many opportunities through EMRA and held leadership roles within my program's education division that inspired me to pursue leadership roles within EMRA.
As a new medical education fellow, my schedule is ideally suited for this position for the next two years with ample protected time for travel, participation in remote commitments and energy to fully engage in this mentorship role. For me, being Director of Education would mean supporting educational pursuits and providing feedback and direction to produce a diverse array of high- quality and high- impact educational resources and experiences.
My background, fellowship position, experience in EMRA's Leadership Academy and as Education Committee's Vice Chair of Resident Education along with my studies as a Masters of Health Professions Education student will provide me with the expertise to be an effective mentor and leader. If elected, I strive to provide excellent mentorship and leadership in all domains of EMRA's educational efforts.
Katie Fisher CV
Erin Karl, MD
University of Nebraska Medical Center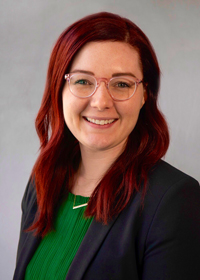 My name is Erin Karl. Some of you know me as the "left banana" co- host of EMRA's 2019 Quiz Show, but hopefully most of you know me from my national work with EMRA. Currently, I am Chair- Elect of EMRA's Education Committee. After residency, I will complete a fellowship in medical education, with the ultimate goal of becoming a clerkship director.
I have experience in all the Director of Education's formal responsibilities, but I want to highlight my fierce advocacy for medical student and resident education. As a medical student, I was selected to serve as the 2017-2018 EMRA Medical Student Council Chair, sat on the EMRA Board of Directors, and partook in the day- to- day work of the board. This included countless hours collaborating with representatives from national EM organiz ations to oppose the SVI. I passed policy at the AMA, advocating for medical students and residents to be equal stakeholders in proposed changes to the residency application process and opposing expansion of the SVI without data showing its validity or usefulness.
I look forward to meeting you all and discussing the ways I will continue to be a fierce advocate for your medical education as the 2019-2021 EMRA Director of Education!
Erin Karl CV
Deena Khamees, MD
University of Michigan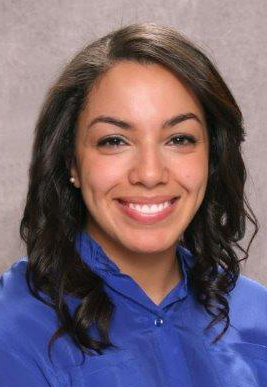 Read Deena's Q&A EM Resident article
My name is Deena Khamees and I am running for the Director of Education. I am a Medical Education fellow at the University of Michigan, but perhaps better known as the banana suit- wearing Quiz Show host! Thank you for the opportunity to earn your vote.
I have spent the last 3 years serving EMRA: as Vice Chair of Conference Planning, Chair- Elect, and then Chair of the Education Committee, and currently as EMRA Liaison to the ACEP Planning Committee. I have had the opportunity to grow Quiz Show, 20 in 6, the new Resident Speakers' Bureau, and the EMRA Fellowship Guide. Additionally, fellowship affords me a relaxed schedule; I look forward to conferences, administrative duties, and new projects without a high clinical burden.
Most importantly, after hours discussing this position with current and recent board members, I am excited for every facet of this role. I feel honored to represent our membership, to push EMRA ahead of its time through technology and explore opportunities in education gamification. Allow me to break ground and build with you, respond to your feedback with concern and action. I am Deena Khamees and I look forward to serving as your next Director of Education.
Director of Education
As the Director of Education, applicants should have a broad understanding of both medical student and resident educational needs, and have progressive ideas in the realm of delivering up-to-date educational content. Excellent candidates may be considering a future leadership role in academic medicine such as program or clerkship directorship, and should have an understanding of the ACGME competencies, curriculum design, educational assessment, and educational research. The Director of Education also has a pivotal role in mentorship to the Medical Student Council, and helps to foster relationships between residents and medical students on a national level.
Election
Odd-numbered years
Term
2 years
Duties

Oversee the coordination and execution of a variety of projects related to resident and/or medical student education
Review new and existing EMRA publications to ensure quality and usefulness of content for members
Serve as liaison between EMRA and CORD, as well as serve on the planning committee for the CORD Academic Assembly resident track
Oversee content development for EMRA*Cast podcast
General board responsibilities (misc projects, monthly board meetings, write articles for EM Resident magazine, and serve as liaison to a number of EMRA Committees including the EMRA Education Committee and the Medical Student Council)

Travel

Monthly EMRA Board of Directors meeting (virtual attendance)
ACEP Scientific Assembly (Oct)
EMRA Board of Directors' Retreat (Jan)
ABEM site visit (March)
CORD Academic Assembly (March/April)
Leadership & Advocacy Conference (May)
Society of Academic Emergency Medicine Annual Meeting (May)