RJ Sontag, MD
UT Health San Antonio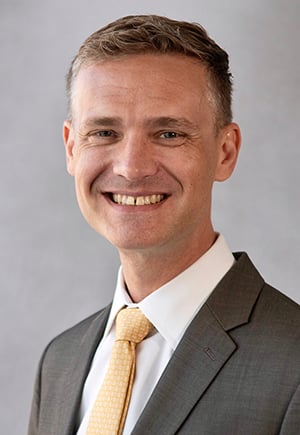 Read RJ's Q&A EM Resident article
I believe in the power of advocacy, and I believe in EMRA. I believe in standing up for the organiz ation that makes us stronger as individuals and stronger together.
I remember the days of nervously navigating away rotations and residency applications. Resources like EMRA Match made me confident and successful. As a resident, EMRA continues to support me. I love on-shift resources like our antibiotic guide and the dosing guides that hang on my badge.
But it's not just the resources-at-my-fingertips that I love. EMRA helps mold the leaders of tomorrow, in our departments and in our communities. At home, EMRA has helped me succeed as a Chief Resident. As the Chair of EMRA's Health Policy Committee, I've reshaped how residents and students become advocates for our patients and our profession. And as the Congressional Health Policy Fellow, EMRA empowered me on the national stage to represent your voice for a month on Capitol Hill.
Advocacy drives me, and EMRA supports me. I promise to harness the amazing talent and ideas that make EMRA great so that others can discover and shape the organiz ation that helps us every step of the way, as nervous students transition to confident physician leaders.
Allen Wang, MD, MPH
George Washington University Hospital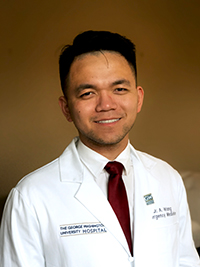 Hey there fellow residents and aspiring medical students,
I am Allen, a current PGY-4 at George Washington University Hospital. I want to share with you a vision of EMRA that continues to build upon EMRA's reputation as a leader for clinical aid and career guidance.
EMRA is in a league of it's own with our on- point clinical references, national leadership opportunities, as well as support of our members through the residency application process. But in talking with residents from across the country over the years, we still lack well- researched macros for documentation or as much guidance on the transition to new attendings.
I am running for president to help realize the following:
An easy- to- access database of clinical macros made from "best practice" EM medical legal casebooks (i.e. the Bouncebacks! series) and clinical references.
Standardized, impartial resources on non-clinical aspects of emergency medicine before residents start their attending career. It will focus on career trajectories, the current pay-for-performance climate, and foundational medical-legal knowledge.
These two solutions are meant to be practical in daily use and achievable during a president's term. I look forward to hearing your thoughts and meeting you in Denver.
Cheers!
Allen Wang - CV
President Elect
The first year of this three year term is the President-Elect year as described in the table below.
The second year is spent as President, responsible for all interactions with other groups inside and outside EM and the official voice of EMRA. The President also presides over all association meetings except those of the Representative Council and its committees.
The third year is spent as the Immediate Past President (IPP) & Treasurer, providing continuity and historical background to the Board as an advisor and peer mentor to its members. The IPP also serves as: chair of EMRA's Finance and Awards Committees; liaison to the Council Credentials and Tellers Committee; member of the Emergency Medicine Foundation Board of Trustees; Ex Officio member of the Emergency Department Practice Management Association board of directors; member of the ACEP Finance Committee.
Election
Annually
Term
3 years (President Elect, President, Immediate Past President)
Requirements
It is strongly recommended that candidates for President Elect have prior leadership experience within EMRA.
Duties

Essentially functions as the Vice President in EMRA's Executive Council, training for your year as President where you will then function as the Chairman of the Board and the official voice of the organization
Ensure fiduciary integrity and accountability of EMRA's actions
Serve as editor of EMRA's monthly newsletter, What's Up in EM
Manage and oversee EMRA's Committees – organize their objectives, coach their chairs and chair elects, and assist the C&Ds to accomplish the goals of the Board and EMRA's strategic plan
Manage and oversee EMRA Reps to the ACEP Sections
Appoint Medical Student Council members with assistance from the MSC Chair and EMRA's Director of Education
General responsibilities as a voting member of the Board of Directors (misc projects, monthly board meetings, write for EM Resident magazine)

Travel

Extensive (average 4-7 days per month)
Includes such meetings/conferences as:

Monthly EMRA Board of Directors meeting (virtual attendance)
ACEP Scientific Assembly (Oct)
ACEP Board of Directors' Retreat (Dec)
EMRA Board of Directors' Retreat (Jan)
ACEP Media Training (Dec)
ABEM Site Visit (March)
CORD Academic Assembly (March/April)
Leadership & Advocacy Conference (May)
SAEM Annual Meeting (May)
ACEP/EMF Corporate Council Meeting (July)