The specialty of emergency medicine does not exist or is in early stages of development in many countries around the world. The ACEP International Ambassador Program consists of emergency medicine physicians practicing in the United States who represent ACEP and help promote the development of emergency medical care and emergency medicine as a specialty in countries where they have significant professional interests and connections. Currently, the Ambassador Program has Ambassadors to more than 80 countries around the world. The International Ambassador Conference convenes the ACEP International Ambassadors yearly to give updates on the countries they represent and to work on initiatives that promote their common goals. One of these initiatives is the Ambassador Mentorship Program. This mentorship program emerged from EMRA's student members' desire for mentorship in global emergency medicine. During the ACEP International Ambassador Conference in 2017, EMRA proposed a mentorship program matching International ACEP Ambassadors with medical students interested in global emergency medicine.
GOALS
To connect EMRA medical student members interested in global emergency medicine with ACEP International Ambassador Mentors.

To familiarize students with the current state of emergency medicine in different countries around the world.

Through participation in projects of the ACEP International Ambassador Program, to educate students about professionalism, leadership, and teamwork.

To provide an overview of global emergency medicine work including research, education, development, humanitarian work, and ethical-implications
EXPECTATIONS FOR MENTORS
Mandatory activities:
Networking phone calls with each of 4-5 mentees once during the program year (Fall, Winter or Spring). Each mentee will have a document where background, program/career goals and mentorship discussions can be noted following each phone call to help provide longitudinal nature to discussions over the course of the year.
One of the following:

15 minute presentation about your career path during GEM-LP Journal Club
Help to plan and run the 2020/21 GEMS LP online orientation
Lead an academic project engaging 3-5 mentees. Project should not involve travel as not all mentees will have this opportunity
Act as the Faculty Liaison for Journal Club for the program year, supervising residents in coordinating the sessions

Country Update Project

Be interviewed or find someone for a mentee to interview to write a short report (2-3 paragraphs) about the state of emergency medicine or emergency medicine development in a country represented in the ACEP International Ambassador Program.
Additional optional activities:
Attend the GEMS LP online orientation
If possible attend the ACEP International Ambassador Conference
Provide ongoing mentorship and/or work on additional projects stateside and abroad with one or more mentees.
Present article and/or lead a discussion in an area of interest during Journal Club
EXPECTATIONS FOR MENTEES:
All mentees are required to have an ACEP's International Section Membership
Attend a mandatory GEMS LP online orientation on October 10th, 2020 10AM-10PM EST.
If possible, attend the virtual ACEP International Ambassador Conference on October 24, 2020 10AM-2PM CST. EMRA and ACEP are not responsible for travel security, costs, and liability that may result from connections and relationships through the program. It is not necessary for mentee to register for the overall ACEP Conference to attend the Ambassador Meeting.
Participate in three mentorship meetings via phone or video conference with the GEMS LP mentors.
Have 2-4 phone calls with program leadership over the program year.
Participate in the majority of the GEMS LP journal clubs via video conference throughout the year.
Lead one of the journal clubs on pre-assigned global emergency medicine topic.
Work 1-2 hours per week on a group global emergency medicine academic project with one of the GEMS LP mentors and other mentees.*
Fill out midpoint and final program evaluations.
*See "Academic Project and Capstone Presentation" below for further information
RECRUITMENT TIMELINE
Student application deadline June 30th, 2020. Every attempt will be made to provide all applicants with a timely decision on their applications, with the intention to provide responses by August 15th at the latest.
VIDEO CONFERENCE ORIENTATION 2020
The GEMS LP online orientation will take place via video conference on October 10th, 2020 10AM-12PM EST. The Ambassador Mentors should make an effort to attend this session. The orientation is MANDATORY for all mentees.
AMBASSADOR CONFERENCE ATTENDANCE 2020
Although not a mandatory requirement this year due to the unexpected COVID-19 pandemic, the Ambassador Mentors and Mentees are highly encouraged to attend the virtual ACEP Ambassador Conference on October 24th, 2020. This is a valuable opportunity for the Ambassador Mentors and Mentees to meet and network. Additionally, Mentees can learn more about the ongoing global emergency medicine projects the Ambassadors are leading.
ACADEMIC PROJECT AND CAPSTONE PRESENTATION
The goal of the academic project is to expose mentees to academic work in global emergency medicine, so they can gain skills they can apply to future projects, as well as helping the mentee create a lasting network of global emergency medicine mentors and colleagues. To this end GEMS LP mentors will provide a number of academic projects which the mentees can rank based on their GEM subspecialty and regional interest. Each project will have 2-6 mentees in order to allow for peer collaboration. The mentee should spend 1-2 hours per week working on the project throughout the year on average.
The academic project should be academically rigorous and of quality equivalent to an abstract presentation at a scientific conference. However, acceptance of an abstract at a conference or a publication is not required. All mentees will present on their projects at the final journal club of the 2020/21 program year and provide a written summary for the yearly GEM LP newsletter.
JOURNAL CLUB
Each mentee will be placed into a group of three to lead one of the 6-8 journal clubs (JC) offered throughout the year. Each mentee is allowed to miss one journal club during the year and should let the journal club leader in advance. The journal club schedule will be published in November 2020 with dates, leader and topic assignments. Journal club instructions and a preparation timeline will be provided. Each group of mentees will be paired with a resident or attending to assist them in preparing their JC presentation. Each JC will review a preassigned book chapter, an article selected by the mentee group and a GEM project proposal presentation addressing a need identified by the mentees related to the JC topic or reading. Journal club will be conducted via Zoom for 1-2 hours and all participants need to have read the articles in advance. At the end of each journal club, one of the members of the program's leadership will have an informal check in with the group to receive feedback and address any issues with the program.
ASSESSMENT
Mentors and mentees will fill out assessments of the program at the beginning, middle and end of the program. Mentors and mentees should contact the GEMS LP directors with any concerns throughout the year. GEMS LP is a constantly evolving program and the Leadership Team will review assessments and feedback from participants in order to improve future iterations of the program.
QUESTIONS
Questions or problems should be referred to GEMS LP leadership at info.GEMSLP@gmail.com. Your feedback is essential and will be used to modify the program for the future.
Related Content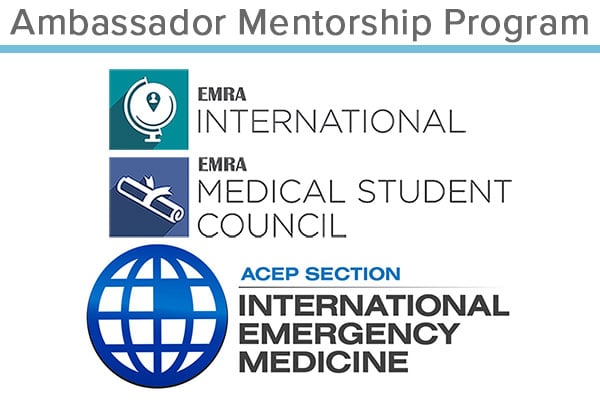 May 04, 2020
Global Emergency Medicine Student Leadership Program (GEMS LP)
This mentorship program emerged from EMRA's student members' desire for mentorship in global emergency medicine. During the ACEP International Ambassador Conference in 2017, EMRA proposed a mentorship program matching International ACEP Ambassadors with medical students interested in global emergency medicine.