Pediatric EM Leaders
Chair
Jessica Chow, MD
University of California San Francisco
San Francisco General Hospital
Chair-elect
Gwen Hooley, MD
Mount Sinai School of Medicine - New York
Vice Chair
Kellan Etter
Des Moines University
College of Osteopathic Medicine
Vice Chair
William White, MD
Harbor UCLA Medical Center - Peds EM
Chair
Jessica Chow, MD
University of California San Francisco
San Francisco General Hospital
Chair-elect
Gwen Hooley, MD
Mount Sinai School of Medicine - New York
Vice Chair
Kellan Etter
Des Moines University
College of Osteopathic Medicine
Vice Chair
William White, MD
Harbor UCLA Medical Center - Peds EM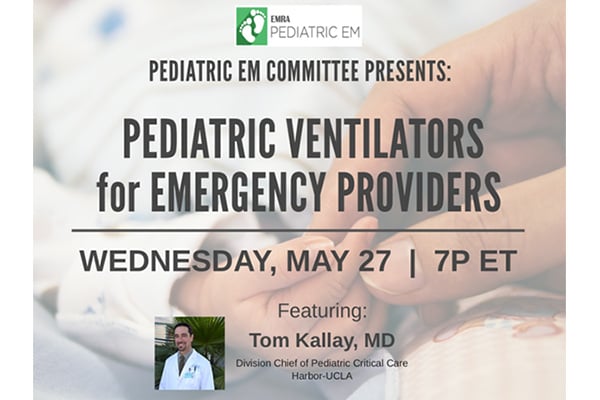 Pediatric Ventilators for Emergency Providers
Tom Kallay, MD
Division Chief of Pediatric Critical Care
Harbor-UCLA
Watch Now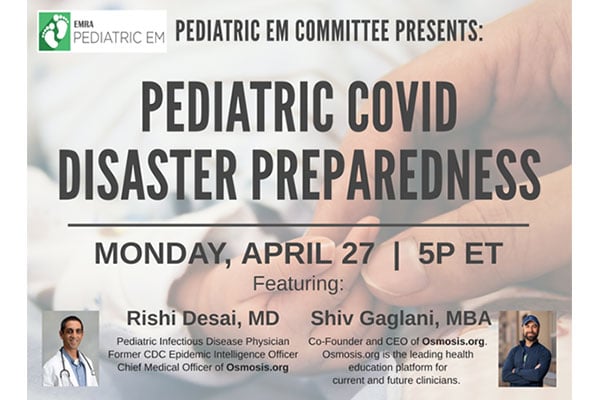 Pediatric COVID Disaster Preparedness
Rishi Desai, MD
Pediatric Infectious Disease Physician
Former CDC Epidemic Intelligence Office
Chief Medical Officer of Osmosis.org
Shiv Gaglani, MBA
Co-founder and CEO of Osmosis.org
Watch Now
EMRA Pediatric Emergency Medicine Objectives
Improve membership awareness of pediatric emergency medicine fellowship opportunities and dual pediatric-emergency medicine residency opportunities
Provide resources for pediatric patient management in the emergency department
Provide references to sentinel articles in pediatric emergency medicine
Provide information and advice from fellowship directors for applicants into pediatric emergency medicine fellowship
Encourage pediatric emergency medicine research
Why Pediatric Emergency Medicine?
Do you love pediatrics? Are you a person who likes the fast pace and variety of the emergency department? Then Pediatric Emergency Medicine is for you! Combining the best of general pediatrics with the best of the critical care specialties and emergency medicine, Pediatric Emergency Medicine is a good fit for the calm, curious physicians who enjoy both the intellectual and procedural challenge of resuscitations as well as the joy of interacting with children during an exam. As one of the younger specialties within Pediatrics, and the first subspecialty within Emergency Medicine, there are areas of significant growth and the ongoing potential for significant, clinically relevant research that will significantly affect the care of children.
Joining EMRA Committees is easy and FREE.
Just log into your EMRA account and select which one(s) you wish to join.
Once you join, you will receive an invitation to be part of the EMRA Committee Basecamp, which helps facilitate communication and collaboration.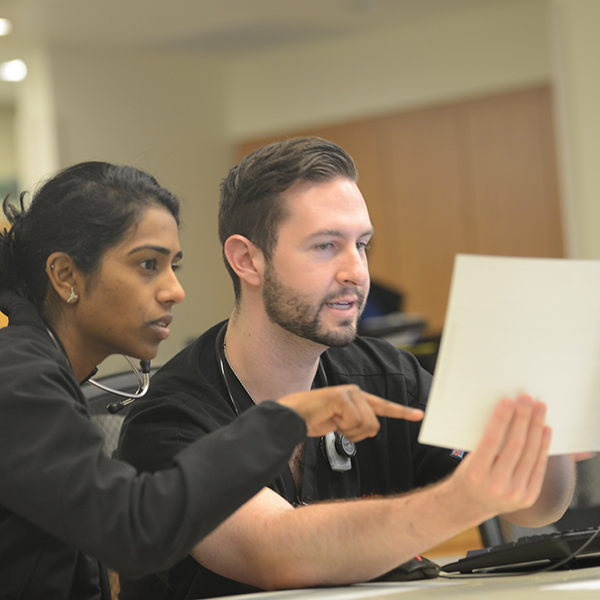 Virtual Mentorship Program
If you have an interest in Pediatric Emergency Medicine but do not have adequate mentorship at your home institution, we can help! Follow the link below to sign up for a mentor - or to serve as one.
Virtual Mentor/Mentee Registration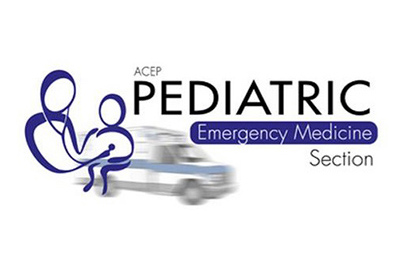 ACEP Pediatric EM Section
As a resident, you get joint memberships in both EMRA and ACEP - so make sure you're aware and informed of what the ACEP Pediatric EM Section is doing!
When you set up your EMRA/ACEP membership, you get (2) section memberships for free - one to the ACEP Young Physician Section, and one of your choice. Why not make that choice Pediatric EM?
Additional ACEP section fees are half off - only $20
Learn More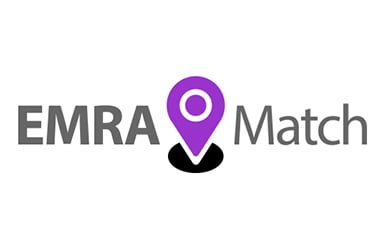 Pediatric EM Fellowships
Check out the different Pediatric Fellowships in EMRA Match.
Find Fellowships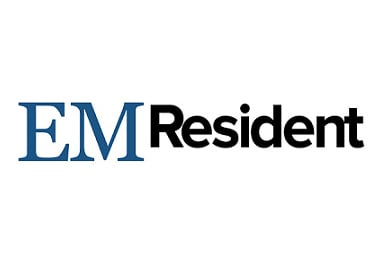 Pediatric EM Articles
See the Pediatric EM articles in EM Resident magazine!
Learn More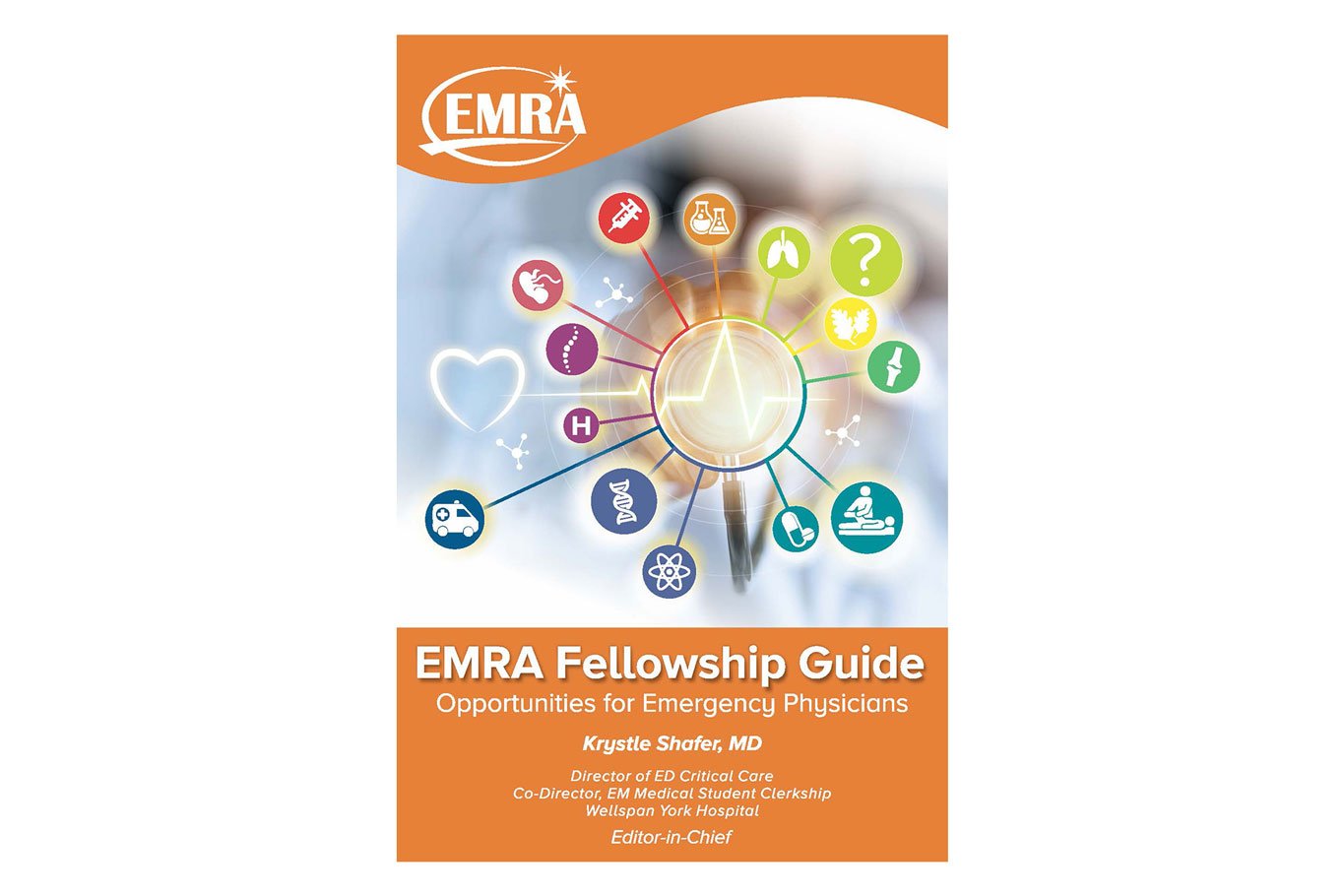 EMRA Fellowship Guide
Chapter 19 Pediatric Emergency Medicine Fellowship
Pediatric emergency medicine (PEM) is a clinical subspecialty that focuses on caring for the complicated and acutely ill pediatric patient in the emergency department. The subspecialty is available to both pediatricians and emergency medicine (EM) physicians, and completion of PEM training and examination results in board certification in pediatric emergency medicine.
Go to Chapter 19
Applying for PEM Fellowship Toolkit
Overview information, timeline, and sample personal statement for PEM Fellowships
PEM Online Resources and Blogs
Published: October, 2017
This resource aims to erase some of the stress of caring for our youngest patients. It offers considerations for the most common pediatric complaints — along with considerations for child abuse, an overview of neonatal emergencies, and ultra-useful pediatric medication charts, normal vital signs, and likely diseases per age group.
Order now from Amazon or the ACEP Bookstore!
EMRA Member Price $9 // ACEP Member Price $12 // List Price $15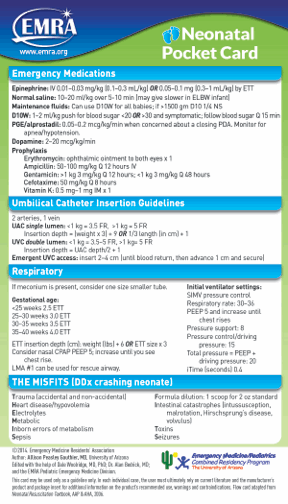 Published: July, 2014
Emergent delivery? Septic newborn? Confidently handle these less-than-comfortable situations in the emergency department. This practical, two-sided pocket card includes initial vent settings, antibiotic and pressor dosages, neonatal airway pearls, a neonatal resuscitation algorithm, and more.
Order now from Amazon or the ACEP Bookstore!
EMRA Member Price $7 // ACEP Member Price $10 // List Price $12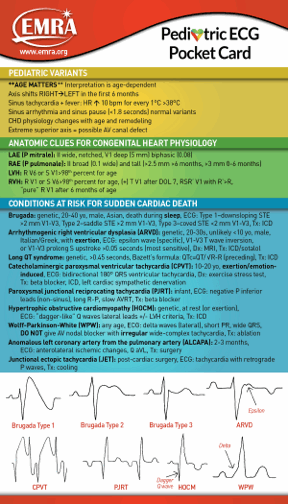 Published: July, 2014
These ECG pictorials of causes of sudden cardiac death in children can help you identify dangerous patterns early enough to save a life. Because ECGs are obtained less frequently in children than they are in adults, this essential card is geared toward the interpretation of congenital cardiac anomalies and causes for sudden cardiac death, rather toward adult ischemia. Pediatric ECG interpretations based on age will be in the palm of your hand, along with ED-relevant Davignon intervals for age, anatomic clues for differentiating congenital heart physiology, and normal pediatric variants.
Order now from Amazon or the ACEP Bookstore!
EMRA Member Price $7 // ACEP Member Price $10 // List Price $12
Published: May, 2017
EMRA's comprehensive quick-reference card puts indispensable pediatric medical information at your fingertips -- from proper dosages to vital statistics by age. The tri-fold Qwic Card includes pertinent sections for critical care including: toxicology formulas, treatment of DKA, treatment of hyperkalemia, neonatal resuscitation, modified infant GCS score, RSI-pretreatment, RSI-Induction, RSI-paralysis ventilation, pearls, fluids, sedation and analgesia, seizure medication, anaphylaxis, asthma and croup, medication drips, cardiac medication and arrhythmia, antihypertensives and diuretics, antidotes, antibiotics, blood products, and rhythm disturbances (fast, slow, pulseless arrest). Also included is a chart of average vitals and equipment sizes by age (newborn to 12 yrs).
Order now from Amazon or the ACEP Bookstore!
EMRA Member Price $7 // ACEP Member Price $10 // List Price $12