Case-Con 2018 - Winners
A huge success! Thank you to the 20 medical students that came out to present this year at our inaugural case study presentation contest. Congratulations to our 2018 winners, who we hope to feature in an upcoming edition of EM Resident:
First Place: Parth S Gandhi (Broward Health Medical Center) presenting "Lost in The Forest" – A Rare Case of Forestier's Disease (Diffuse Idiopathic Skeletal Hyperostosis)
Second Place: Alex Gregory (St. Louis University) presenting "Eggs Marks the Spot": The Diagnostic Dilemma of In Vitro Fertilization-Associated Emergencies
Third Place: Brendan Innes (University of Massachusetts) "Alcoholic Ketoacidosis: Mind the Gap and Give Patients What They Need"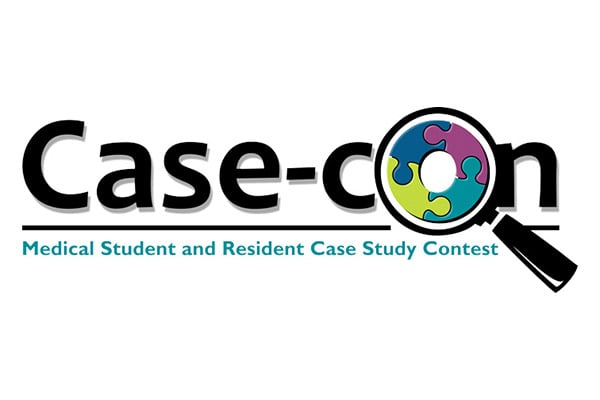 2018 Case-Con Images
2018 Presenters
Check out the posters that were presented at ACEP18.
Parth Gandhi, MSIV - 1st Place
"Lost in The Forest" – A Rare Case of Forestier's Disease (Diffuse Idiopathic Skeletal Hyperostosis)
Broward Health Medical Center
Alex Gregory, MSIV - 2nd Place
"Eggs Marks the Spot": The Diagnostic Dilemma of In Vitro Fertilization-Associated Emergencies
St Louis University
Brendan Innes, MSIV - 3rd Place
Alcoholic Ketoacidosis: Mind the Gap and Give Patients What They Need
University of Massachusetts Medical School
Adam Goodcoff, MSIII
Tricky Trauma: Cutting Edge Aeromedical Interventions in the Rural Setting
West Virginia, SOM
Caitlin Leigh Oldenkamp, MSIV
Case in Pointes: Acquired Polymorphic Ventricular Tachycardia in a Patient with Alcohol Withdrawal
David Geffen School of Medicine UCLA
Calvin J Tran, MSIV
BRASH Syndrome: Profound Bradycardia in the Setting of Mild Hyperkalemia
SUNY Downstate College of Medicine
Catherine Divingian, MSIV
"Firefighter down!": Sudden Cardiac Events and Risk Mitigation for Emergency First Responders
University of South Florida
Hannah Gordon, MSIV
Fooled by a Pigeon that Was Not Quite a Pain in the Neck: A Case of Cryptococcal Meningitis
FIU - Florida International University
Herbert Icasiano, MSIV
Flank Pain and Tachycardia in a 30 Year Old Female
Orange Regional Medical Center
Jazmyn Shaw, MSII
Rare Complication of Post-Partum Eclampsia
University of Mississippi Medical Center
Kellan P Etter, MSII
An Atypically Atypical Pneumonia: The Importance of Thorough Patient Investigations in the ER
Des Moines University
Leah Colucci, MSII
Masquerading Dyspnea - A Hidden Pulmonary Embolism
University of Miami - Miller School of Medicine
Nicholas George, MSIV
Delayed Presentation of Bowel Obstruction Caused by Blunt Trauma
University of Maryland School of Medicine
Peter S Dailey, MSIV
First-time Seizure in a Young Adult: It's All in the History
University of New Mexico School of Medicine
Piotr Jurgielewicz, MSIV
Teenage Chest Pain - Lessons Learned
Penn State College of Medicine
Rana Prathap Padappayil, MSIV
Can fatigue be life-threatening?
All India Institute of Medical Science
Shacalles Bonner, MSIV
It Wasn't the Flu: Identifying Victims of Sex Trafficking in the Emergency Room
Albert Einstein College of Medicine
Shane Naidoo, MSIV
Can't Miss Kounis When Managing Anaphylaxis
Ross University School of Medicine
Taylor Brittan, MSIV
Case Study: A Rare Case of Atypical Cholecystitis: etiology and presentation
Ochnser Clinical School University of Queensland
Victoria Kay, MSIV
An Unusual Presentation of Gallstone Ileus
Tufts University School of Medicine
2018 Judges
Jorge Fernandez, MD
UC San Diego - Emergency Medicine
Associate Residency Program Director - EM
Director of Medical Student Programs
Adam Johnson, MD
Kern Medical - PGY3
Kristen Whitworth, DO
Lakeland Health - PGY4
Melissa H White, MD, MPH
Emory University - Emergency Medicine
Program Directory, Residency Program - EM
Katherine L Biggs, DO
LT, MC, USN
Naval Medical Center Portsmouth - PGY4
Sarah Johnson, MD
Vanderbilt University - PGY4