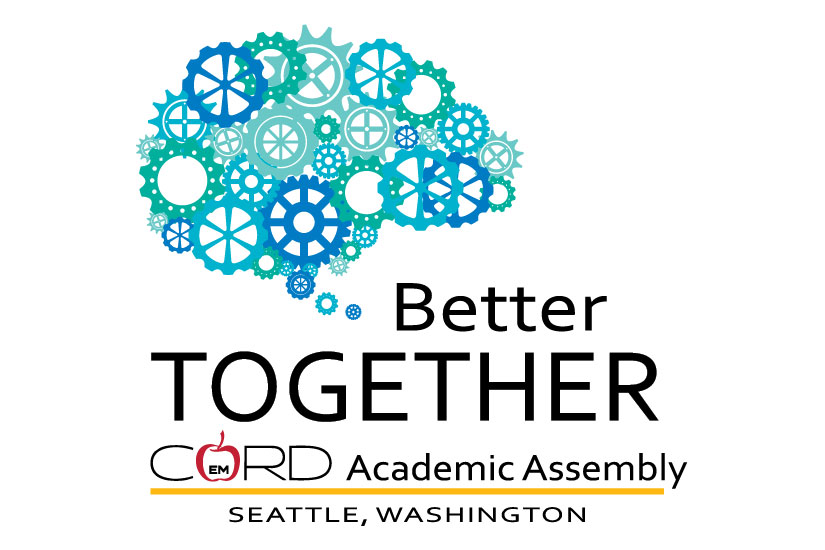 EMRA's spring meetings bring high-energy clinical competitions, opportunities to meet like-minded residents with our Committees, and Representative Council directs the path of the organization. Bring your membership to life by joining the EMRA fun!
As a reminder, you do not need to pay a registration fee to attend EMRA events at CORD. If you plan to attend CORD educational or networking sessions, you need to register for the conference.
Welcome CORD Academic Assembly Parents and Kiddos
EMRA and CORD have partnered to sponsor on-site childcare with Kiddie Corp. Activities include exciting themes, arts & crafts, group games, music & movement, board games, story time, dramatic play, etc.
The program is for children ages 6 months through 12 years old. The dates for the program are March 31 – April 3, 2019 and will be located at the Hyatt Regency Seattle in Seattle, Washington. Snacks and water will be provided. Meals need to be supplied by parents.
Register Now
EMRA at CORD Academic Assembly 2019
When: March 30 - April 2, 2019
Where: Seattle, Washington
EMRA Events at CORD 2019
Saturday, March 30
(Pre Conference)
Location
9a - 12p
EMRA Leadership Academy (invitation only)
: Class of 2019 Graduation
: Class of 2020 Welcome
Regency A, 7th fl
12p - 2p
Committee Orientation, Working Lunch, and Headshots (invitation only)
Regency B
(Headshots 2pm+ 6th fl Foyer)
3p - 7:15p

Committee Meetings

3p - 5p

Admin & Ops
Critical Care
Education (MedED Panel)
Informatics
Pediatrics EM (Guest speaker - Dr. Evelyn Porter, PEM Trained)
Pre-Hospital and Disaster Medicine
Simulation (Simulation Committee will host a field trip to Simulab)
Social Emergency Medicine
Sports Medicine (Guest - Dr. Lauren Vernese, Sports Medicine Fellow)

Wishkah, 6th fl
Snohomish, 6th fl
Skagit, 6th fl
Yakima, 6th fl
Wynoochee, 6th fl
Skykomosh, 6th fl
-------
Nooksack, 6th fl
Hoh 6th

5:15p - 7:15p

Editorial
Diversity & Inclusion (Video Series on why diversity matters)
Health Policy
International
Research
Toxicology
Ultrasound (Handheld US Demonstration)
Wellness
Wilderness Medicine

---------
Wynoochee, 6th fl
Nooksack, 6th fl
Wishkah, 6th fl
Hoh, 6th fl
Twisp, 6th fl
Skykomosh, 6th fl
Snohomish, 6th fl
Skagit, 6th fl
Sunday, March 31
8a - 5p
EMRA Hangouts Live
Sol Duc, 7th fl
8a - 4p
Get Outside at CORD - EMRA Wilderness and Wellness Committee Hike at Tiger Mountain Trail
Sign-up Now
8a - 12p
EMRA Medical Student Council Meeting
Hoh, 7th fl
9a - 10:30a
EMRA Public Hearing and Resolution Review
Tahuya, 5th fl
12p - 2:30p
EMRA Board Meeting
Quilcene, 3rd fl
2:45p - 4:45p
All EM Resident Organizations and Students (AEROS) Meeting (invitation only)
Sauk, 5th fl
4:30p - 5:15p

EMRA Quiz Show Team Photos

Regency Ballroom B
5:30p - 7:30p

EMRA Quiz Show
Sponsored by Rosh Review

Regency Ballroom B
8p
Committee Updates to the EMRA Board and Dinner
(invitation only)
FareStart
700 Virginia Street
Tuesday, April 2
8a - 5p
EMRA Hangouts Live
10a - 11:30a
EMRA Board of Directors Meeting
Wynoochee, 6th fl
12p
EMRA Lunch with EMARC (invitation only)
Elwah, 5th fl
6p - 8p
CORD Closing Reception
Museum of Pop Culture
325 5th Avenue N
Seattle, WA 98109
| | | |
| --- | --- | --- |
| Wednesday, April 3 | | |
| 12p | CORD Academic Assembly Ends | |