Congratulations to our 2019 EMRA MedWAR winners!
First Place: Stanford EM (SKEMbags)

Second Place: UCSF San Francisco General Hospital (Overdrive Pacing)

Third Place: Virginia Commonwealth University (Out Here to MTF)
2019 MedWAR Teams
Team Name
Program
Madigan Mountaineers
(2018 Champions)

Madigan Army Medical Center

The Grady Outdoors
Emory University School of Medicine
Florida Man
Mount Sinai Medical Center (Miami Beach)
Moving Meat
Augusta University - Medical College of Georgia
Overdrive Pacing
UCSF San Francisco General Hospital
Pitt Ocin
University of Pittsburgh
The Tacky-dysrhythmias
Renaissance School of Medicine at Stony Brook University
Out Here to MTF
Virginia Commonwealth University
UCONN Trail Dogs
University of Connecticut
Rossie Parrots
Ross University School of Medicine
SKEMbags
(2019 Champions)
Stanford EM
Queen BAPs
PCOM Georgia
Related Content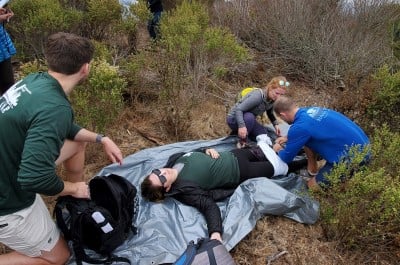 Feb 13, 2023
Wilderness on the Water: MedWAR 2022
EMRA members met at Lake Chabot Regional Park near San Francisco on Oct. 4 to compete in MedWAR, the annual test of medical knowledge, wilderness skills, and endurance. The sunny temperate climate of the West Coast was certainly a welcome relief compared to the blustery conditions during MedWAR 2021 in Boston. The roughly 11-mile course circled the lake, taking competitors from scenarios on the water to panoramic views of the City by the Bay.