SAVE THE DATE! August 13 - 18, 2022
Times: 8am - 9pm CST Daily

The EMRA Residency Program Fair will be hosted via a virtual platform. This event will be FREE for EMRA medical student members.
Residency Program Details
Our virtual format will allow medical students to connect directly with residency programs. Some of the virtual features include:
Up to 5 representatives from a program can virtually video chat 1:1 with interested MSIV medical students.
Private video chats will be limited to 10 minutes.
Program listings will be organized by geographic region.
While virtual appointments can be concentrated over one weekend, we extended the appointment calendar for an additional week to offer more time to connect.
Programs can highlight their culture on their virtual profile, link to their program website, social media accounts, their EMRA Match profile, and even post videos.
Students can create an online profile to share information about what they are looking for in a program, their academic interests and share their CV/Resume.
In an effort to allow all students the opportunity to chat with a program, they will be limited to scheduling 10 meetings.
Registration for residency programs will open late Spring 2022.
Medical Student Attendees
Registration for the EMRA 2022 Fall Virtual Residency Program Fair will open in late Spring. We are excited to provide you an amazing virtual experience that personally connects you with over 160 emergency medicine programs.
Because you are EMRA Family, EMRA is offering our Virtual Residency Program Fair at NO COST to EMRA medical student members. To take care of our members preparing for the 2022 Match, MSIVs will have first access. As space allows, we will open registration to all medical student members.
Our virtual platform provides:
Customizable virtual profile
Residency program booths organized in geographical regions
Ability to chat with up to 5 program representatives from each program
Private 1:1 live video chats in 10-minute increments
In an effort to allow all students the opportunity to chat with a program, students will be limited to scheduling 10 meetings.
Once registration opens, link to create your profile and start connecting with programs.
Residency Program Fair
More than 1,000 US and international students attend the EMRA Residency Program Fair to find their perfect program. This is the largest emergency medicine residency program fair in the nation!
Audience
MSIV interested in matching in emergency medicine.
Registration for our 2022 Virtual Residency Program Fair - Opening Late Spring 2022.
Regions are divided by States, please select your region when placing your order
| | |
| --- | --- |
| Early-Bird Registration (received on or before July 1) | $275 / per table |
| Registration (received after July 1) | $375 / per table |
Registration is on first-come basis.
ORGANIZED BY GEOGRAPHIC REGION
Western Region (AK, AZ, CA, CO, HI, ID, MT, NM, NV, OR, UT, WA, WY)

North Central Region (IA, IL, IN, MI, MN, ND, NE, OH, SD, WI)

South Central Region (AR, KS, LA, MO, OK, TX)

North East Region (CT, DC, DE, MA, MD, ME, NH, NJ, NY, PA, RI, VT)
South East Region (AL, FL, GA, KY, MS, NC, PR, SC, TN, VA, VI, WV)
To exhibit or serve as a sponsor in the EMRA Residency Program Fair, please contact Heather Deja at 469.499.0167 | Email Heather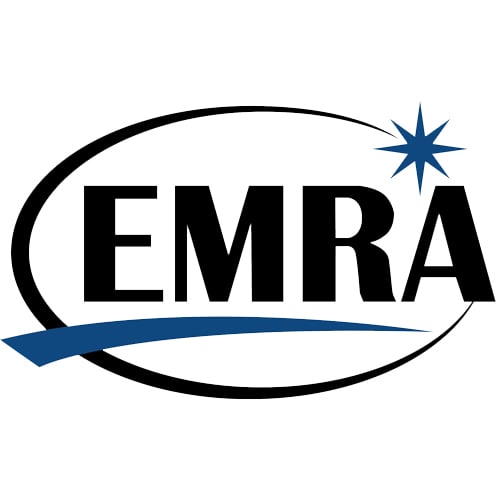 Related Content