JOIN US! Aug. 13 - 18, 2022
Times: Kick off at 1 pm CT on Saturday, Aug. 13, and then runs daily from 8 am - 9 pm CT through Thursday, Aug. 18

The EMRA Residency Program Fair will be hosted via a virtual platform. This event will be FREE for EMRA medical student members.
Residency Program Details
Our virtual format will allow medical students to connect directly with residency programs. Some of the virtual features include:
Up to 4 representatives from a program can virtually video chat 1:1 with interested MSIV medical students.
Private video chats will be limited to 10 minutes.
Program listings will be organized by geographic region.
While virtual appointments can be concentrated over one weekend, we extended the appointment calendar for an additional week to offer more time to connect.
Programs can highlight their culture on their virtual profile, link to their program website, social media accounts, their EMRA Match profile, and even post videos.
Students can create an online profile to share information about what they are looking for in a program, their academic interests and share their CV/Resume.
In an effort to allow all students the opportunity to chat with a program, they will be limited to scheduling 10 meetings.
Registration for residency programs is closed for this years Virtual Residency Fair.
Medical Student Attendees
Registration for the EMRA 2022 Fall Virtual Residency Program Fair is now open. We are excited to provide you an amazing virtual experience that personally connects you with over 160 emergency medicine programs.
Because you are EMRA Family, EMRA is offering our Virtual Residency Program Fair at NO COST to EMRA medical student members. To take care of our members preparing for the 2023 Match, MSIVs will have first access. As space allows, we will open registration to all medical student members.
Our virtual platform provides:
Customizable virtual profile
Residency program booths organized in geographical regions
Ability to chat with up to 4 program representatives from each program
Private 1:1 live video chats in 10-minute increments
In an effort to allow all students the opportunity to chat with a program, students will be limited to scheduling 10 meetings.
Registration is currently open, access to the platform will occur at the beginning of August.
Residency Program Fair
More than 1,000 U.S. and international students attend the EMRA Residency Program Fair to find their perfect program. This is the largest emergency medicine residency program fair in the nation!
Audience
MSIV interested in matching in emergency medicine.
Registration for our 2022 Virtual Residency Program Fair
Regions are divided by States; please select your region when placing your order
| | |
| --- | --- |
| Early-Bird Registration (received on or before July 15) | $275 / per table |
| Registration (received after July 15) | $375 / per table |
Registration is on first-come basis.
ORGANIZED BY GEOGRAPHIC REGION
Western Region (AK, AZ, CA, CO, HI, ID, MT, NM, NV, OR, UT, WA, WY)

North Central Region (IA, IL, IN, MI, MN, ND, NE, OH, SD, WI)

South Central Region (AR, KS, LA, MO, OK, TX)

North East Region (CT, DC, DE, MA, MD, ME, NH, NJ, NY, PA, RI, VT)
South East Region (AL, FL, GA, KY, MS, NC, PR, SC, TN, VA, VI, WV)
Meet the Participating EM Residency Programs!
(List as of 8/3/22)
| | | |
| --- | --- | --- |
| Abrazo Health | Johns Hopkins University | Texas A&M/Scott & White Medical Center - Temple |
| AdventHealth Orlando | Kaiser Permanente Northern California | Trident Medical Center/HCA Healthcare |
| Advocate Christ Medical Center | Kaiser Permanente San Diego Medical Center | TriStar Skyline Medical Center |
| Akron General Medical Center | Kendall Regional Medical Center | UHS Southern California Medical Education Consortium |
| Albany Medical Center | Kent Hospital | Unity Health - White County Medical Center |
| Albert Einstein Medical Center | Kern Medical Center | University Hospitals St John Medical Center |
| Allegheny General Hospital | Kingman Regional Medical Center | University of Arizona |
| Arnot Ogden Medical Center | Loma Linda University School of Medicine | University of California - San Francisco General Hospital |
| Arrowhead Regional Medical Center EM Faculty | Louisiana State University - Baton Rouge | University of California San Francisco - Fresno |
| Ascension Macomb Oakland Hospital | Louisiana State University - New Orleans | University of Central Florida/HCA - Greater Orlando |
| Bayhealth Emergency Medicine Residency Program | Louisiana State University - Shreveport | University of Cincinnati College of Medicine |
| Baystate Medical Center | Maimonides Medical Center | University of Florida - Jacksonville |
| Beaumont Hospital -Farmington Hills | Medical College of Georgia at Augusta University | University of Illinois College of Medicine/St. Francis Medical Center at Peoria |
| Beaumont Hospital - Royal Oak | Medical College of Wisconsin | University of Illinois Hospital - Chicago |
| Boston University School of Medicine | Medical University of South Carolina | University of Iowa Hospital and Clinics |
| Campbell University/Southeastern Regional Medical Center | Memorial Health System | University of Kansas School of Medicine |
| Cape Fear Valley Medical Center | Mercy Health Muskegon | University of Kentucky |
| Carolinas Medical Center | Michigan State University/Sparrow Hospital - Lansing | University of Louisville - Kentucky |
| Case Western/University Hospital Cleveland Medical Center | Nazareth Hospital | University of Maryland |
| Central Michigan University College of Medicine | Rutgers Health/Community Medical Center | University of Miami / Jackson Health System |
| Christiana Care Health | New York Presbyterian Hospital | University of Mississippi Medical Center |
| CHRISTUS Health / Texas A&M | New York Methodist Hospital - Brooklyn Methodist | University of Missouri |
| Columbia Presbyterian University Hospital | Northeast Georgia Medical Center | University of New Mexico |
| Conemaugh Memorial Medical Center | Northwestern University | University of North Carolina |
| Crozer Chester Medical Center | Ohio Health Doctors Hospital | University of Oklahoma College of Medicine/Tulsa |
| Duke University School of Medicine | Ohio State University Medical Center | University of Rochester |
| Einstein Medical Center Montgomery | Penn State Health Milton S Hershey | University of Tennessee - Nashville |
| Emory University School of Medicine | Prisma Greenville Health | University of Tennessee College of Medicine at Memphis |
| Florida Atlantic University | ProMedica Monroe Regional Hospital | University of Texas Health Science Center at San Antonio |
| Florida State University - Sarasota | Riverside Regional Medical Center | University of Texas Southwestern Medical Center - Dallas |
| Franciscan Health - Olympia Fields | Ronald Reagan UCLA / Olive View UCLA Medical Center | University of Utah Hospital & Clinics |
| Geisinger Medical Center | Rush University Medical Center | University of Vermont Medical Center |
| Grand Strand Medical Center | Southern Illinois University | University of Wisconsin |
| Guthrie Robert Packer Hospital | Spectrum Health Lakeland | UPMC Hamot Medical Center |
| HCA Brandon Regional Hospital | St Agnes Medical Center – Fresno | UPMC Pinnacle Harrisburg |
| HCA Healthcare Riverside Program (Riverside Community Hospital) | St John's Riverside Hospital | Vidant Medical Center/East Carolina University |
| HCA West Florida/Oak Hill Hospital | St Joseph's Medical Center | Wake Forest University |
| Health Quest | St Louis University School of Medicine | Warren Alpert Medical School of Brown University |
| Henry Ford Hospital | St Luke's University Health | Washington University St Louis |
| Henry Ford Wyandotte Hospital | St Mary Mercy Hospital | Wellspan York Hospital |
| Indiana University School of Medicine | State University of New York - Upstate Syracuse | Yale New Haven Medical Center |
| Inspira Medical Center | Staten Island University Hospital | Zucker School of Medicine-Northwell at North Shore/Long Island Jewish |
| Jefferson Health Northeast (Aria Health) | Sutter Roseville Medical Center Emergency Medicine Residency | WellStar Kennestone Regional Medical Center |
| | | |
To exhibit or serve as a sponsor in the EMRA Residency Program Fair, please contact Heather Deja at 469.499.0167 | Email Heather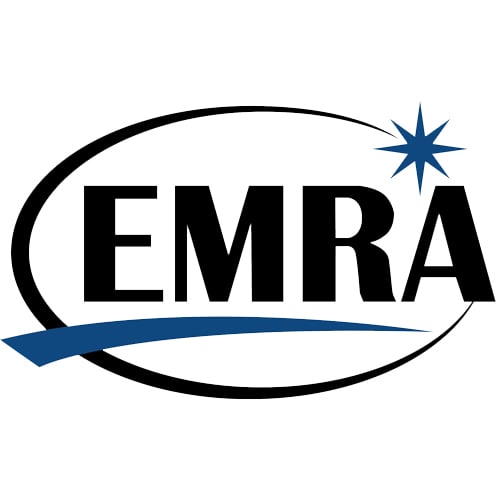 Related Content