The EMRA Medical Student Forum is a half-day session held both in the spring and the fall geared to EM-bound medical students. Lectures offer evidenced-based advising to help you match in emergency medicine.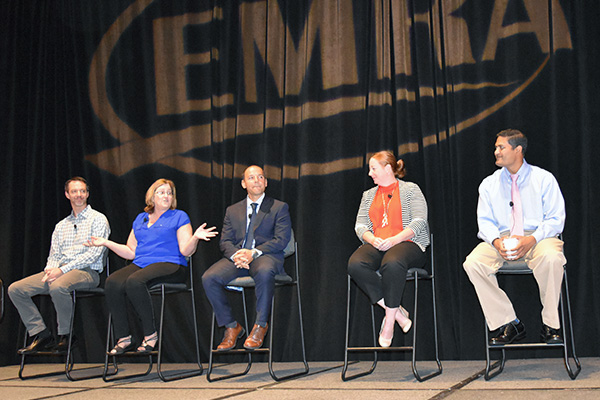 EMRA Spring Medical Student Forum
The EMRA Medical Student Forum brings together program directors, interns who just matched in EM, and faculty to answer questions specific to your phase in training. General sessions answer big-picture topics, and breakout sessions per year to target exactly where you are in your training.
FREE to EMRA Medical Student Members!
When: Saturday, March 7, 2020 : 8a - 11:45a
Where: Westin Times Square, NYC
Only the first 250 registered can attend! Registration Required
Free for EMRA Members / $75 for non-members
EMRA Medical Student Forum event is free for members (and $75 for non-members), and registration is required. After logging in, select the Medical Student Forum and your total at check out will be $0.
Register Now!
Not an EMRA Member? Join and save.
Join EMRA for only $60/year and receive great benefits! New medical student members receive our infamous new member kit filled with on-shift resources like the EMRA Antibiotic Guide, EM Fundamentals, Airway Card and more! EMRA members also receive complimentary access to EMRAP, EMedHome, EB Medicine, Critical Decisions in Emergency Medicine, Annals of Emergency Medicine and more!
After you join, make sure to register for the EMRA Medical Student Forum to reserve your free spot.
Join EMRA Today
EMRA Spring Medical Student Forum (Westin Times Square)
Saturday, March 7
8a - 12p
EMRA Spring Medical Student Forum
Westin Times Square
7a - 8a
Registration Opens
9a - 10a
EMRA Medical Student Breakouts
MSI/II
MSIII
MSIV
International
NEW -- NYC Program Breakout
10:15a - 11:30a
Hands On EM Boot Camp
11:30a - 11:45a
Closing Remarks and Adjourn