Signup for the the plenary and breakout sessions from the EMRA Virtual Medical Student Forum.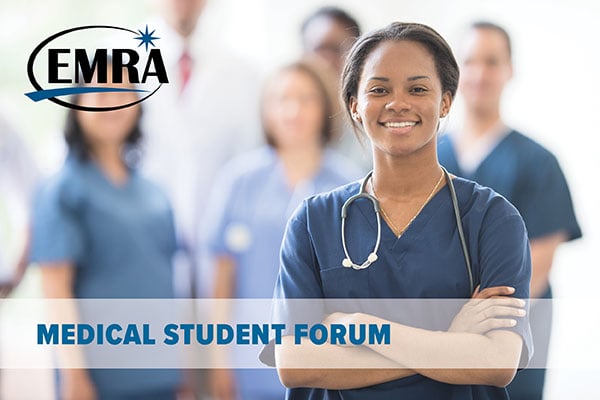 EMRA Virtual Fall Medical Student Forum
The EMRA Medical Student Forum brings together program directors, interns who just matched in EM, and faculty to answer questions specific to your phase in training. General sessions answer big-picture topics, and breakout sessions per year to target exactly where you are in your training.
Sessions are available On-Demand.
You must be an EMRA member to view Medical Student Forum videos
Plenary Sessions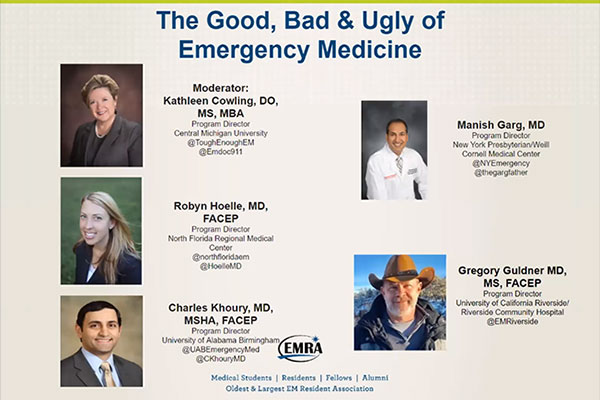 The Good, Bad and Ugly of Emergency Medicine
Moderator - Kathleen Cowling, MS, DO, MBA
Panelists: Charles Khoury, MD, MSHA, FACEP : Robyn Hoelle, MD, FACEP : Kathleen Cowling, MS, DO, MBA : Gregory Guldner, MD, MS : Manish Garg, MD
Objectives:
Discuss the pros and cons of the emergency medicine specialty
Discuss lifestyle pros and cons
Discuss downfalls of a career in emergency medicine
Discuss the different subspecialties in EM and pathways to them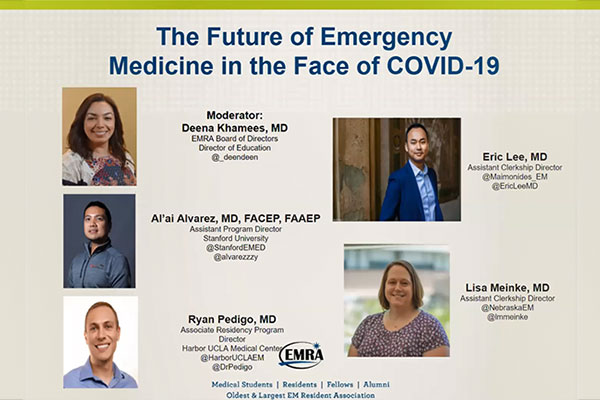 The Future of Emergency Medicine
in the Face of COVID-19

Moderator - Deena Khamees, MD
Panelists - Eric Lee, MD : Lisa Meinke, MD : Al'ai Alvarez, MD, FACEP :
Ryan Pedigo, MD
Objectives:
How will COVID effect the future of medical education/residency education?
What will the practice environment look like when I graduate residency?
Breakout Sessions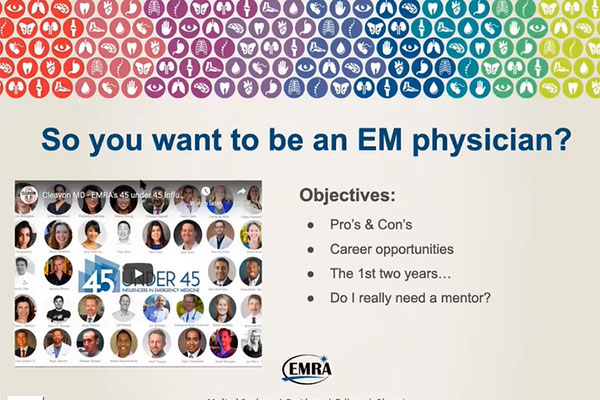 MSI / MSII - So you want to be an emergency medicine doctor?
Presenter - Hillary Fairbrother, MD, MPH, FACEP
MSC Facilitator - Chiamara Anokwute
Objectives:

Detail the advantages, disadvantages, expectations, and career opportunities available within Emergency Medicine (EM).
Provide advice about how to prioritize/balance academics, research, extracurricular activities, and other commitments during the first two years of medical school.
Discuss the importance of mentorship and advising to the EM-bound medical student.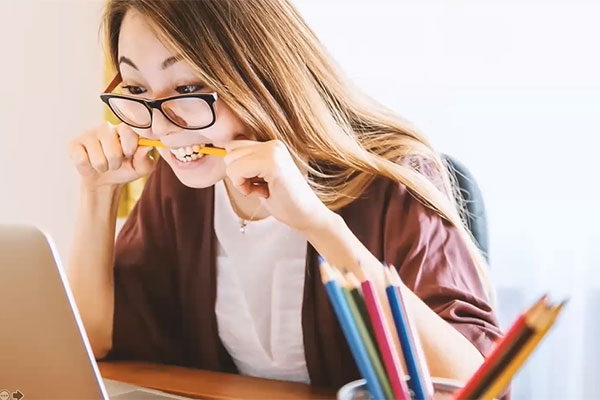 MSIII - How to Succeed on Clinical Rotations

Presenter - George Willis, MD, FACEP
MSC Facilitator - Ryan Lucas
Objectives:
Discuss ways to shine on different clinical rotations
Discuss ways to be successful on an emergency medicine rotation
Discuss different resources that students find helpful during their EM rotation (EMRA Resources, CDEM M3 Curriculum, etc.)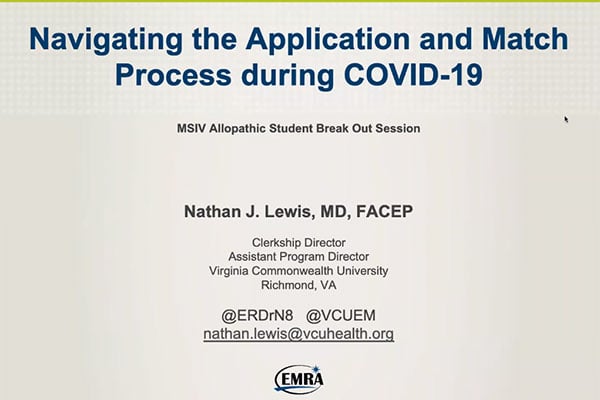 MSIV Allopathic - Navigating the Application and Match Process during COVID-19

Presenter - Nathan Lewis, MD, FACEP
MSC Facilitator - Kenneth Kim
Objectives:
Discuss how to prepare for the emergency medicine virtual interview, including program research and question development.
Learn how to critically assess a program during a virtual interview and what elements are important to consider when ranking programs.
Advise on appropriateness of reaching out to programs particularly as it relates to upcoming Residency Program Fair
Provide guidance on appropriate interview follow-up and post-interview communication.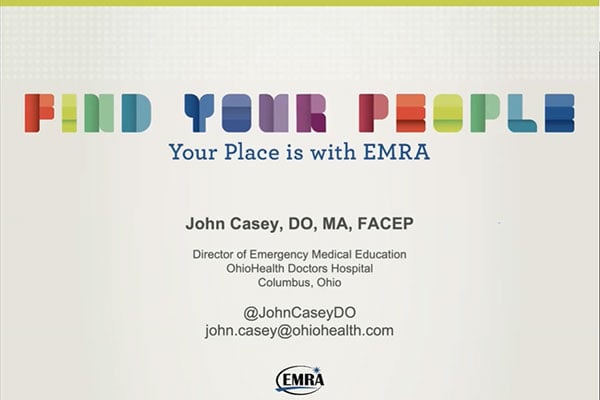 MSIV Osteopathic - Navigating the Application and Match Process during COVID-19

Presenter - John Casey, DO, MA, FACEP, FACOEP
MSC Facilitator - Ryan Lucas
Objectives:

Discuss how to prepare for the emergency medicine virtual interview, including program research and question development.
Learn how to critically assess a program during a virtual interview and what elements are important to consider when ranking programs.
Advise on appropriateness of reaching out to programs particularly as it relates to upcoming Residency Program Fair
Provide guidance on appropriate interview follow-up and post-interview communication.
Address ways to stand out as an osteopathic applicant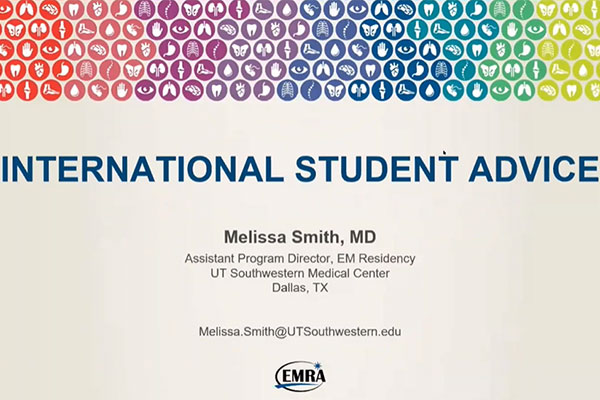 International - Interview Day Advice

Presenter - Melissa Smith, MD
MSC Facilitator - Shelby Wood
Objectives:
Learn how to critically assess a program during a virtual interview and what elements are important to consider when ranking programs.
Advise on appropriateness of reaching out to programs particularly as it relates to upcoming Residency Program Fair
Provide guidance on appropriate interview follow-up and post-interview communication.
Address ways to stand out as an international applicant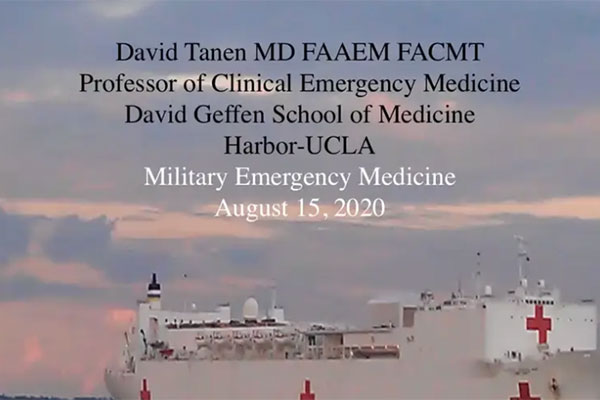 Military - Navigating the Application and Match Process

Presenter- David Tanen, MD, FACMT, FAAEM
MSC Facilitator - Matthew Christensen

Discuss the nuances of the military application and match processes
Discuss the differences between military and civilian residencies as an active service member
Learn about civilian deferment and General Medical Officer service
Detail the process from medical school graduation to arrival at your duty station
Free Bonus EMRA Hangout Session from Medical Student Forum
August 15, 2020 | TOPIC: "Virtual Interviews: Tips For Putting Your Best Face Forward"
Bo Burns, DO, FACEP
George Kaiser Family Foundation Chair in Emergency Medicine
Professor Department of Emergency Medicine
University of Oklahoma School of Community Medicine
CORD Board of Directors

Maria Moreira, MD, FACEP
Medical Director of Continuing Education & Simulation-Denver Health
Director of Professional Development & Wellbeing-Denver Health
Associate Professor of Emergency Medicine
University of Colorado School of Medicine
CORD Immediate Past President
RJ Sontag, MD
EMRA Board of Directors President-Elect, 2019-2020
Residency: University of Texas Health Science Center at San Antonio
Medical school: Wright State University Medical School
Watch Now