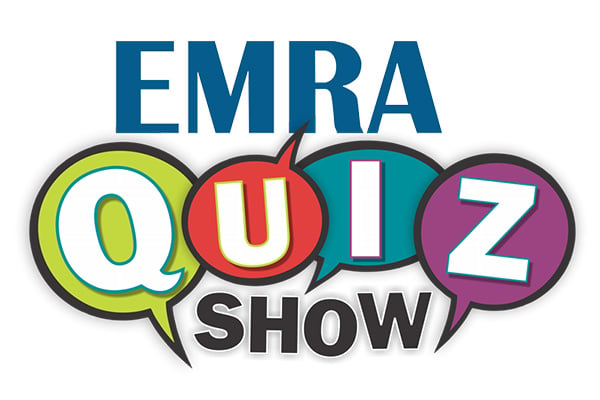 The learning doesn't end after the day's meetings have concluded. But you won't find stacks of papers, books, presentations and boring lectures. What you will find is challenging medical conundrums, wacky graphics, fun and games with a little pop culture thrown in for good measure. It's the EMRA Quiz Show!
Where: Coming to you virtually!
When: Tuesday, April 13, 2021 at 6:30 pm Central
Who's clued in to win?!
The countdown is on for Quiz Show 2021, our virtual madhouse of a competition. Which programs are sending their brightest minds to compete? Take a look!
Make sure you show up (virtually) and cheer on these teams. The questions are rooted in board exam material - but masquerading in the most outrageous ways. Join us and show your support!
Attendance is free: https://bit.ly/3dXOzVF
About the Competition
This competition is all about the residency program that comes out on top after five rounds of questions. Who knows their stuff and can think fast on their feet? Each round has five – six tough medical questions – and you can't really study for this! You just put a team of four smart residents together and hope for the best!
Are we serious about the medical knowledge? We sure are. Are we serious about how it's presented? No, we're not! This is a popcorn-throwing, crank-up-the-music, guaranteed-noisiest event you'll attend at Academic Assembly. And dare we say, the most fun.
See Winners and Photos from Past EMRA Quiz Shows
How to Compete?
Every year, EMRA holds a lottery to Call for Teams. Look for news in the monthly e-newsletter, What's Up in Emergency Medicine; ads in EM Resident, and the CORD e-newsletter.
The previous year's champions are always asked back to defend their championship. There's room for twelve teams and lots of audience each year.
This is a don't miss event – it's rollicking good fun! The more, the merrier, so if you're not a team, you should be in the audience.
Judging
We recruit our judges from the EMRA Board of Directors. Since they're not eligible to join a team, they absolutely refuse not to join in on the fun!
Prizes
Bragging rights!
We ask each team to bring five gifts to the event that represent their residency or city. The winning team goes home with all the gifts. Nothing big – just a small token. We've seen city snow globes; cheese trays; baseball caps with team logos; tees with your city's motto. Sometimes the gifts are as wacky as the Quiz Show and that's all part of the fun!