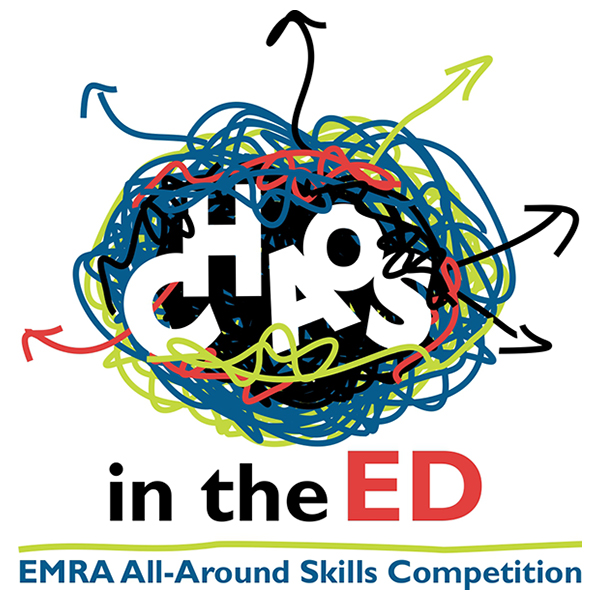 An All-Around Skills Competition
You never know what you'll face when a patient walks through your emergency department doors, but the one thing you do know, is to expect the unexpected. Do we have an event for you! It's called "Chaos in the ED. EMRA."
Coming Soon! @ CORD19 in Seattle, Wa
About the Competition
There are four challenges – tough, exciting, and completely chaotic. Think EMRA SIMWars on steroids or EMRA MedWAR on adrenaline.
First, we throw in a "touch of absurdity" by drawing the team players at the beginning of the event. This is a totally random drawing of people who have previously registered AND who show up in the room the morning of the event. You could be teamed up with all interns, a combination of junior and senior residents, all chief residents, even program directors and assistant program directors – who knows? How deliciously evil!
Teams of four compete against each other in challenges created by different EMRA committees. Could be anything from an unusual airway challenge to something that might happen in the wilderness, to a case that tests your command of critical care or a challenge that is not even clinical in nature. You can't practice this – you just have to know your stuff! One challenge is hosted by ACOEP, Resident Student Organization (and that's all we are going to divulge now!).
Eight teams in all, and when we get to the last two teams standing, there's a final challenge that has chaos, craziness and championship written all over it!
How Do I Compete?
Answer a PEER IX clinical question correctly and we'll put your name in a hat – that's your entry into the drawing for team members the day of the event.
No need to do anything to find the question; there will be lots of places at CORD where the questions will find you … they'll be at the EMRA Quiz Show and at all EMRA events. If you still can't find a question to answer, show up early at the event - we'll have questions there.
Show up at "Chaos in the ED" on Tuesday, April 24 at 9am and cross your fingers that we draw your name. You won't have a chance to play if you don't show up!
If you're not chosen to compete on a team, well, we have surprises, giveaways, and EMRA-style fun activities for the audience, too!
Judging
Scoring is based on time of completion and clinical accuracy of each challenge.
Prizes
Each member of the winning team will receive a PEER IX subscription. Already have one? You'll be able to renew when the time comes. A $175 value (resident pricing).
Lots of recognition in EMRA's publications – EM Resident, What's Up in Emergency Medicine? e-newsletter.
New friends and colleagues! You might not know them going into the event, but because you never know who you'll be teamed up, your team members might become your new BFF's!