EMRA's Medical Student Council and the ACEP International Section partnered to provide a one year mentorship program through which ACEP International Ambassadors and other section members mentor EMRA's student members interested in global emergency medicine (GEM). The program aims to introduce students to the fields of GEM and global health and the opportunities that come along with it, as well as to build a network of emergency medicine physician mentors who are conducting global health work worldwide. Through these relations the mentees can establish memorable connections based on regions, GEM subspecialty of interest (i.e. disaster response, medical education, ultrasound, others), and intended career path all while being provided with a valuable immersion into major topics within international emergency medicine via journal clubs and group academic projects.
Student requirements:
Have an EMRA/ACEP and ACEP's International Section membership
Attend a mandatory GEMS LP virtual orientation session at the start of the program (August or September 2021)
Attend the ACEP 21 International Ambassador Conference in Boston, MA (exact date TBD), including virtually if needed*
Participate in three or more mentorship meetings via phone or video conference with the GEMS LP mentors
Have 2-4 phone calls with program leadership over the program year
Participate in the majority of the GEMS LP journal clubs via video conference throughout the year
Lead one of the journal clubs on pre-assigned global emergency medicine topic
Work 1-2 hours per week on a group global emergency medicine academic project with one of the GEMS LP mentors and other mentees
Fill out initial and final self assessments based on GEM Milestones
Fill out midpoint and final program evaluations
This Spring 2021, we will be recruiting our forth class of students who are passionate about global health and its development. We invite you to explore the various GEMS LP resources linked through this page to learn more about GEMS LP and to submit an application once they open in April 2021. Application deadline for the 2021/22 program is June 30, 2021. For more information or questions, the GEMS LP leadership team can be reached at info.GEMSLP@gmail.com.
*Although in past years attendance to the ACEP Ambassador Conference during ACEP Scientific Assembly has been required, given the current COVID-19 events, attendance is required if the conference is held virtually. Should the 2021 ACEP Ambassador Conference become an in-person only event, requirements to travel to the conference will be determined based on the COVID-19 pandemic status in summer/fall of 2021. If deciding to attend, every mentee is responsible for her/his own travel and accommodations expenses.
Related Content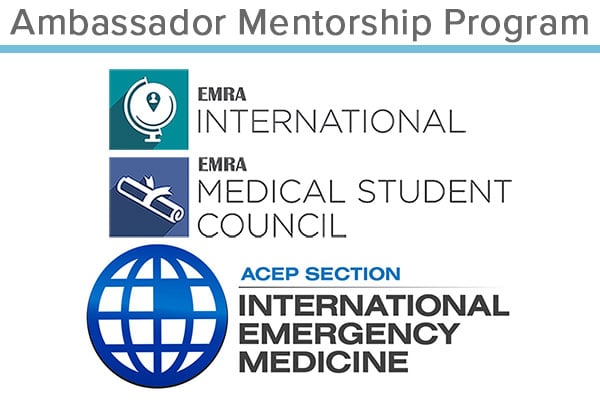 Jun 12, 2019
Global Emergency Medicine Student Leadership Program
EMRA's Medical Student Council and the ACEP International Ambassador Section, have started a mentorship program matching EMRA international student members with ACEP International Ambassador Section mentors. The program seeks to expose students to a network of emergency medicine physicians conducting global health work and to familiarize students with major topics within emergency medicine.