Case-Con 2019 - Winners
A huge success! Thank you to the 30 participants. This year we expanded to include 2 groups of competitors of medical students residents that came out to present this year at our second annual case study presentation contest. Congratulations to our 2019 winners, who we hope to feature in an upcoming edition of EM Resident.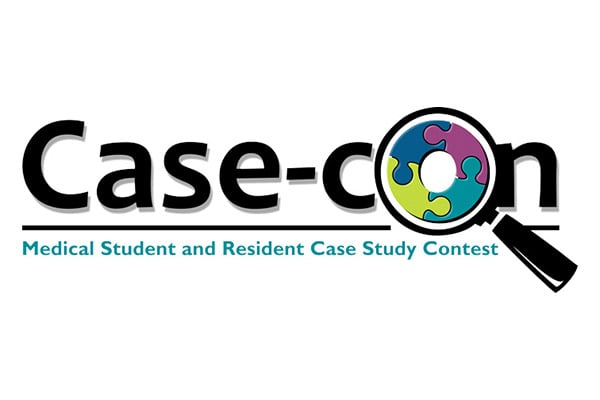 Case-Con 2019 Cases
Congratulations to the winners and all the participants for such great work! Thanks to our Judges for taking their time and making the tough decisions and providing fantastic feedback to the presenters.
Medical Student Cases
Bradley Upchurch
Wait, Isn't That Extinct?: Diagnoses to Consider for a Rash in SLE Patients
UT Southwestern Medical School
Erik Kramer
Red Rashes and Red Herrings: an Overlooked Cause of Erythema Multiforme
Yale School of Medicine
Fraser Kegel
Oh Baby! A Case of Unusual Pediatric Headache
McGill University Medical School
William Provosty
To Bleed or Not to Bleed? The Case of the Quadrate Lobe Hot Spot Sign
Tulane University School of Medicine
Christiana Prucnal
Amyloid Spell
Warren Alpert Medical School of Brown University
Jerry Oommen
Hoofbeats Are Not Always Horses: Cerebral Venous Thrombosis with Skull Base Osteomyelitis and Retropharyngeal Abscess
Michigan State University College of Osteopathic Medicine
Frederick Williams
Blood in the Diaper
David Geffen School of Medicine at UCLA
Hayley Musial
Atypical Presentation of Myocardial Infarction in a patient with Chronic Back Pain: The Importance of Reducing Bias and Maintaining Broad Differentials in the Emergency Department
Florida International University Herbert Wertheim College of Medicine
Rana Prathap Padappayil
It's Just a Bump on her Forehead
Brigham and Women's Hospital
Hillary Ohlsson
A Snake in the Grass: Post-Envenomation Anaphylaxis Versus Systemic Envenomation
University of South Carolina/Prisma Health
Charlene Gaw
Don't be Vulgar: Identification and Treatment of Pemphigus Vulgaris
Mayo Clinic Alix School of Medicine
Emily Ollmann
The Other Silent Killer: Presentation and Management of Silent Myocardial Infarctions
University of Illinois at Chicago
Schyla Wante
Fever of Unknown Origin? Think Small! A Case of Anaplasmosis
University of Massachusetts Medical School
Eriny Hanna
Eye Can't See: STEMI Embolus
Vanderbilt University School of Medicine
Leyla Farshidpour
The Diagnostic Dilemma of Dysarthria: A Rare Case of Botulism
UC Davis Medical School
Resident Cases
Roli Kushwaha, MD
Identification of Pneumoperitoneum and Perforated Viscous: A Case Report
Brandon Regional Hospital
John Joseph, MD
Why is ARDS in all CAPS?
University of Michigan
Janina Gregorski, MD, CPT
Help! My Child Can't Walk! Approach to the Non-Ambulatory Child in the Emergency Department
Carl R Darnall Army Medical Center
Ryan McCreery, MD
Pure Sensory Stroke Due to Brainstem Lesion
Orange Regional Medical Center
Lindsay McHale, MD, CPT
ST-Segment Myocardial Infarction Secondary to Likely Traumatic Dissection of LAD in the Setting of Polytrauma: A Case Report
Madigan Army Medical Center
Jennifer Wolff, MD
Necrotizing Fasciitis of the Thigh… or is the Source More High?
Northwell Health Emergency & Internal Medicine
Tai-An Lee
Pitfalls in Seizure: May Be a Lethal Arrhythmia
Show Chwan Memorial Hospital
Tiffany Proffitt, DO
Post-operative Appendix Specimen Retention Presenting as Small Bowel Obstruction: A Case Report
Spectrum Health Lakeland
Morgan Ritz, MD
Pressure! Pushing Down on Me, Pressing Down on You. The Underlying Danger of Water Pressure Injuries
Crozer Chester Medical Center
Andrew Bellino, MD
Precipitous Painless Paraplegia: an Atypical Vascular Etiology for a Stroke Code
Stanford University
Stephanie DeMasi, MD
Positive FAST: Negative Hemoperitoneum
University of Alabama at Birmingham
Brianna Stroup, MD
Pregnancy of Unknown Location Plus Abdominal Pain Does Not Always Equal Ectopic Pregnancy
University of Alabama at Birmingham
Mollie Powell, DO
Listen to you Heart, or at Least Theirs
University of Central Florida/HCA GME Consortium
Brittany Perry, DO
A Sheltered Parasite: An Emergent Case of Babesiosis
Atlantic Health System - Morristown Medical Center
Dorjan Pantic, MD
Mind over matter: the importance of utilizing clinical reasoning in the era of patient serology
Zucker school of Medicine at Hofstra/Northwell EM/IM/CC
Case-Con 2019 Judges
Thanks to all of the judges for volunteering their time, experience, and desire to teach / mentor.
Faculty
Sylvia Alden, MD
Assistant Professor
Department of Emergency Medicine
University of New Mexico
Gillian Baty, MD, MPH, FACEP
Associate Professor
Department of Emergency Medicine
University of New Mexico
Barabara Blok, MD, FACEP
Associate Professor
Department of Emergency Medicine
University of Colorado
Ryan Bodkin, MD
Assistant Professor
Department of Emergency Medicine
University of Rochester Medical Center
Laurie Boge, DO
Program Director
Department of Emergency Medicine
Mount Sinai Medical Center Miami
Brian Levine, MD, FACEP
Associate Chief Academic Officer and Designated Institutional Officer
Department of Emergency Medicine
Christiana Care
Shawn London, MD, FACEP
Residency Program Director
Assistant Professor
Department of Emergency Medicine
University of Connecticut
Sarah Schlein, MD
Emergency Medicine Physician
Assistant Professor
University of Vermont Medical Center

Samantha Strickler, DO, FACEP
Assistant Professor
Department of Emergency Medicine
Emory University School of Medicine

Justin Stowens, MD, FACEP
Associate Program Director
Emergency Medicine Residency
Christiana Care
Gannon Sungar, DO
Assistant Professor
Department of Emergency Medicine
Denver Health
Melissa White, MD, MPH
Program Director
Department of Emergency Medicine
Emory University School of Medicine
Anna Quay Yaffee, MD
Assistant Professor
Department of Emergency Medicine
Emory University School of Medicine
Residents
Blake Briggs, MD
Resident - PGY3
Wake Forest University
Marc Cassone, DO
Resident - PGY3
Geisinger Medical Center
Pamela Chin, MD
Resident - PGY3
Crozer Chester Medical Center
Adam Johnson, MD
Resident - PGY4
Kern Medical Center
Samantha Margaritis, DO
Resident - PGY4
Swedish Covenant Health