Registration
There is a nominal fee for resident members to attend the Leadership & Advocacy Conference. Paying for travel to Washington, DC, lodging, and related expenses can be difficult for the average cash-strapped EM resident. Many residency programs and ACEP chapters have funding that may be available to residents interested in attending.
About the Conference
At the ACEP Leadership & Advocacy Conference, you will have the opportunity to learn advocacy skills, be exposed to the latest issues facing emergency medicine, and receive updates directly from members of Congress. Additionally, there will be a section focused solely on issues facing residents. You must be involved to help delineate these policy issues unique to residents. You will have the chance to walk across the mall and take an active part in forming healthcare policy. Bring your excitement to learn and your desire to advocate for the rights of patients, residents, and emergency medicine.
Drop The Mic - Advocacy
We are looking for engaging, talented speakers who are interested in health policy and emergency medicine to be in the spotlight at the Leadership and Advocacy Conference (LAC) Health Policy Primer Day 2020. Approximately 5 speakers will give mini-lectures (~7 minutes - Ted talk style) focusing on timely legislative topics. Selected speakers will be given a topic and lecture objectives. The EMRA/YPS Executive Committee will work with you to refine and review your final talk prior to the LAC2020 conference.
Deadline - Feb 1, 2020
Apply Now!
EMRA and ACEP Young Physician Section - Health Policy Primer
Grand Hyatt - Washington
1000 H St NW
Washington, DC
(202) 582-1234
Sunday, April 25
12:30p
Welcome
12:45p
Health Policy 101 -

Dr. Angela Cai

1p
How a Bill Becomes a Law - Schoolhouse Rock Adult Version - Dr. Puneet Gupta
Featuring: Cleavon MD rap on legislative process
1:30p
Point-Counterpoint: Is the solution to health care coverage public or private?
2:15p
Break : Transition to Drop The Mic Lecturers
2:30p

Drop The Mic: Advocacy

3:20p

The Politics of Policy

4p
Closing Remarks - How to get involved
Real Stories on How Health Policy Impacts Our Patients
The future of Emergency Medicine is bright, as our residents engage in making their patients' lives better. Check out their health care advocacy stories below.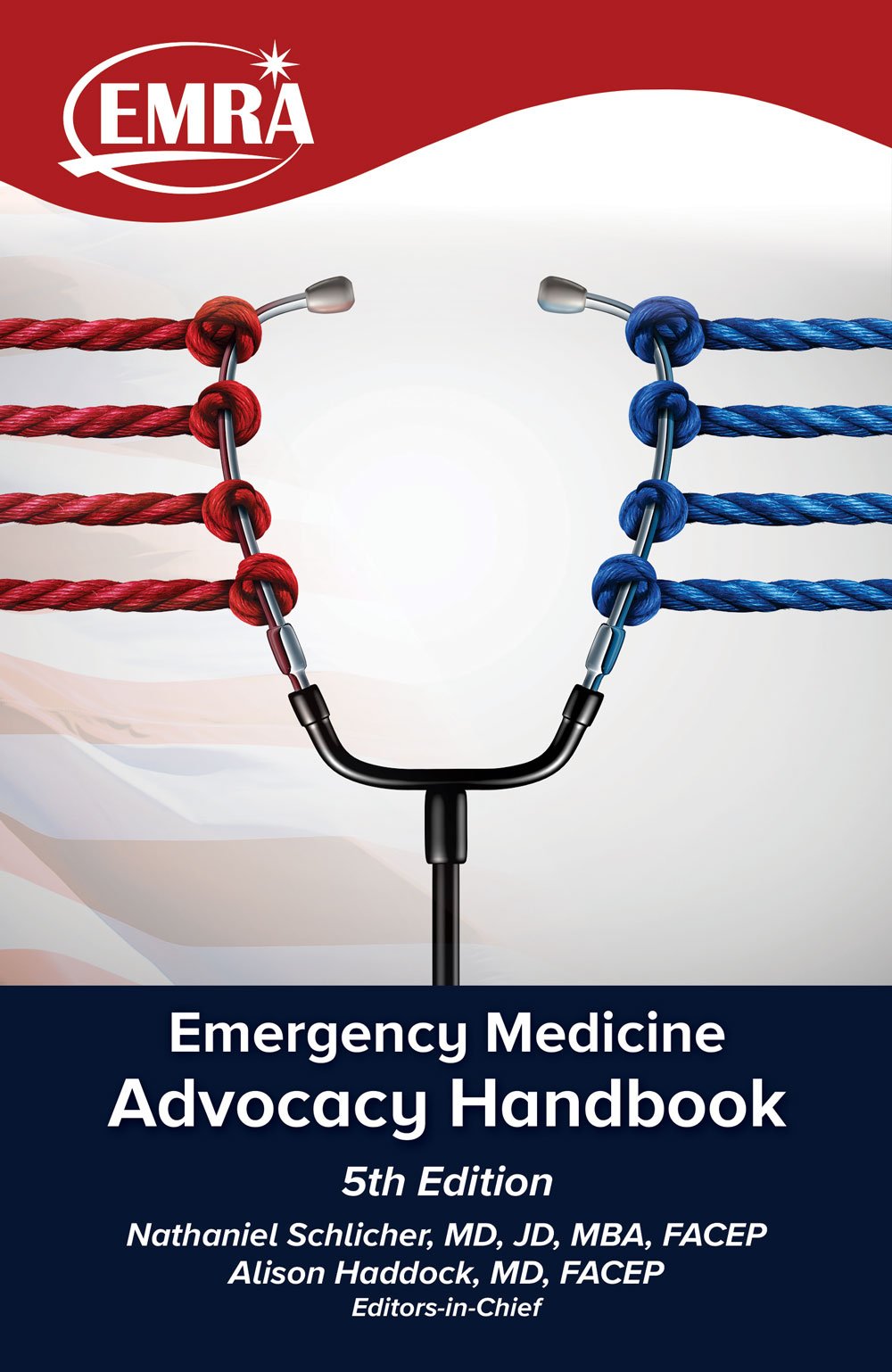 Published: April, 2019
Health policy plays a critical role in the success of every emergency physician. Be an informed, active advocate for yourself and your patients! EMRA's Advocacy Handbook, 5th ed., will give you the knowledge and context you need to discuss the policy issues affecting the way you practice medicine. Produced with the help of an educational grant from US Acute Care Solutions, this book offers a clear path to becoming a savvy advocate.
Coming soon on Amazon and the ACEP Bookstore!
Download Now

pdf 2.53 MB
Read Online Now
Listen Now