Information about choosing a practice, evaluating the opportunity, and negotiating the contract.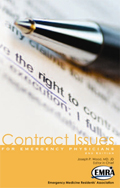 Published: December, 2007
This updated edition is intended to alert the emergency physician to issues central to entering into an employment or independent contractor agreement to provide medical services on behalf of a hospital or group. What you don't know can really hurt you! This book will help you be prepared for those important contract discussions.
Order now from Amazon or the ACEP Bookstore!
EMRA Member Price $17 // ACEP Member Price $25 // List Price $27