Revelle Gappy, MS-III, Oakland University William Beaumont School of Medicine
EMRA MSC Great Lakes Regional Representative, 2022-23
Sahar Rammaha, OMS-IV, Michigan State University College of Osteopathic Medicine
EMRA MSC Midwest Coordinator, 2021-23
Jacques Lowe, MS-IV, Carle Illinois College of Medicine
EMRA MSC Great Plains Regional Representative, 2022-23
Lifelong learning is a concept well understood and celebrated within emergency medicine. The task of training the next generation and the need for advancing medical education paved the way for a fellowship to equip future educators and leaders within the field. The fellowship training provides opportunities to enhance many skillsets, including teaching expertise, curriculum design, administrative experience, program evaluation, clinical competency, medical education research, educational methodologies, and more. Program length varies from one to two years and may depend on the program either offering or requiring completion of a master's degree related to healthcare professional education. Completion of the fellowship can prepare one for a career in resident and medical student education, curriculum development and educational research, and more.
Fellows can expect to serve in many roles (variable, depending on their institution) to enhance their educational experiences and prepare themselves for educational leadership, including:
Acting as an interim clerkship director or interim assistant program director
Serving on a clinical competency committee and/or program evaluation committee
Attending national conferences and seminars
Designing and completing a medical education research project to submit for peer-reviewed publication
As a medical student, you may look forward to a career in medical education if you value mentorship, teaching students, are interested in curriculum development, or hope to obtain leadership positions within a residency program or medical school.
Below is an interview with Dr. Emily Jameyfield, a first-year medical education fellow at the University of Chicago who provides a key insight on her fellowship experience.
What inspired you to go into medical education?
I've always loved teaching and mentorship, and I felt like doing the fellowship was my natural next step towards getting to an official career where I could really center myself in both teaching and mentorship roles. I wanted to learn more about the background pieces of educational methodology and also some of the research pieces.
What helped you decide between a one year or two-year fellowship?
Most – not necessarily a hard and fast rule – two-year fellowships are the ones that include a master's program or that ask or require a master's program to be completed during that two-year period. It was important to me to do a master's program because I really wanted to cement my own knowledge in education methodology, statistics, various assessment and instruction methods, and all the things that we learn during the Master's in Health Professions Education (MHPE) courses.
How does your curriculum and/or responsibilities change from being a first-year fellow to a second-year fellow?
I think it's probably different at every program. For us, I will have a little more bandwidth in the next year to fully commit myself with students because I'm more interested in clerkship management than residency management and leadership. I'm working every single week with our clerkship when I can throughout the whole next year whereas the beginning part of my first year was getting my feet wet, taking my boards, and getting into my master's classes. Now I can really spend extra time dedicating myself to the hands-on immersive learning piece.
What is your favorite part about medical education?
Especially in emergency medicine, I really love helping learners to figure out how working with undifferentiated patients can further their own cementing of their medical knowledge. Seeing learners put together the physiology and pathophysiology they learned in their preclinical years, applying it to the true clinical context, and seeing those lightbulbs go off and connections get made – that's my favorite piece of the learning process. Getting to facilitate that in an official role is something that I'm really excited about.
Why did you choose your program?
There were many reasons! It's a well-respected program that has a great leadership team that also is affiliated with a really strong master's program at UIC-University of Illinois in Chicago. The MHPE program is the first of its kind and is just a really wonderful master's program. I also went to residency here, so I already know and love Chicago. I love the hospital that I work at and the patients that we are able to serve. My husband lives in Chicago and is a fourth-year neurology resident, so it is important to me for work-life balance to stay here as well.
What is your next goal after you finish your fellowship?
To get a job! Ideally one where I can work with students in some capacity. My long-term goals are to eventually work in either a clerkship or working in sort of a clinical skills environment with pre-clerkship students. Down the line, I would love to be involved in medical school leadership in some capacity. In the meantime, I want to make sure I can keep working with learners and supporting my patients.
Thank you, Dr.Jameyfield! For more resources about emergency medicine fellowships, including medical education, check out the EMRA Fellowship Guide. The EMRA Medical Education Committee also features events and provides EMRA members interested in medical education with the resources and advice needed to advance their career interests.
Related Content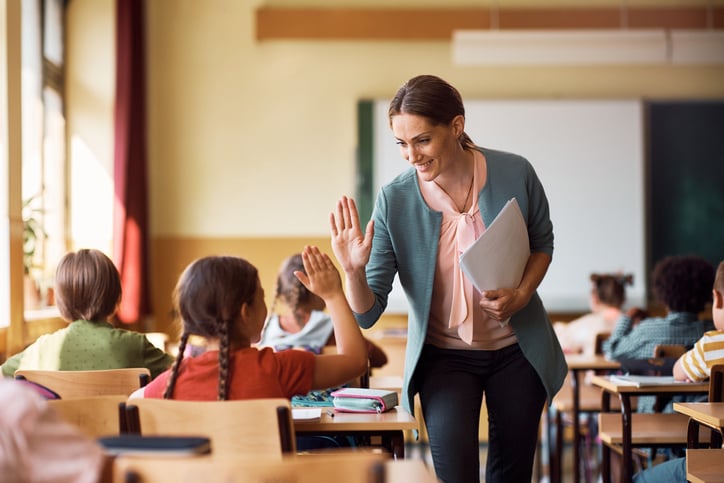 Feb 21, 2023
Emergency Medicine & Beyond: Introduction to Medical Education Fellowship
Lifelong learning is a concept well understood and celebrated within emergency medicine. The task of training the next generation and the need for advancing medical education paved the way for a fellowship to equip future educators and leaders within the field.