Andy Little, DO (@andyglittle) is an Emergency Physician at the Doctor's Hospital/OhioHealth Emergency Medicine Residency. There he serves as a core faculty member in the roles of research director and the curriculum director.
His passion for emergency medicine began as a child in rural Montana where he dreamed of growing up to be a firefighter. With the help of loving parents, he enrolled in college at Shawnee State University, and, with the help of a supportive spouse, he found his way in the medical school at the Ohio University Heritage College of Osteopathic Medicine. During medical school and residency, Dr. Little held many roles within the American College of osteopathic Emergency Physicians, where he served as an advocate for both medical students and emergency medicine residents across the country.
In the spring of 2016, he and two of his good friends founded the EM Over Easy, a podcast dedicated to educating EM physicians, residents, and medical students about how they can be better physicians by being better people, all while having #MoreThanMedicine conversations. Along the way, Dr. Little has benefited from mentors who are too many to mention (but many of which are also members of the 45 under 45). Between the combination of his determination and hard work coupled with countless examples of sponsorship from people seeing the best in him, he has been able to succeed far beyond the dreams of the young boy he was in rural Montana.
He is honored to be selected for the EMRA 45 under 45 and looks forward to improving himself and, hopefully, others along the way, all while attempting to fill these enormous shoes he now gets the honor to wear.
Dr. Little's accomplishments are best summarized through his nominator, who states simply, "All before the age of 45, Andy has influenced and changed medical education for the better."
EM Resident Articles and Publications
Over 400 applications were reviewed by the selection committee, comprised of Steven J. Stack, MD, MBA, FACEP, Zach Jarou, MD, Omar Z. Maniya, MD, MBA, Hannah Hughes, MD, MBA, Ven Subramanyam, MD, Erin Karl, MD, and Jazmyn Shaw.
The selection committee was blinded to EMRA and/or ACEP membership status. Care was taken to ensure both a diverse applicant pool and awardee group. For any questions, contact Cathey Wise at cwise@emra.org
Related Content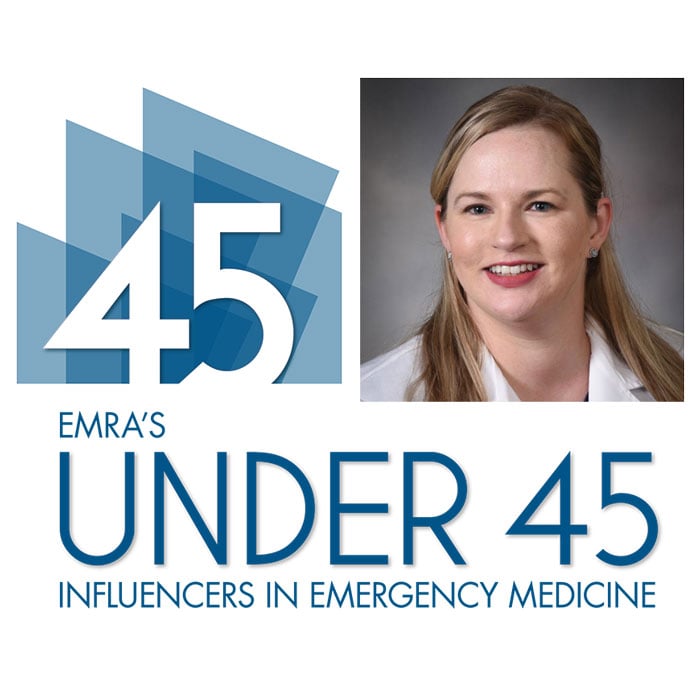 Aug 31, 2019
Nicole Battaglioli, MD, FAWM
As outgoing ALiEM Wellness Think Tank COO, Nicole Battaglioli has devoted considerable time and brainpower to defining and improving resident wellness. Along with being an Assistant Professor of Emergency Medicine, Dr. Battaglioli is the CEO/founder of Komorebi Coaching, lover of wilderness medicine, and promoter of super-sheroes.