President-Elect
Angela G. Cai, MD, MBA
King's County Hospital | SUNY Downstate - Brooklyn, NY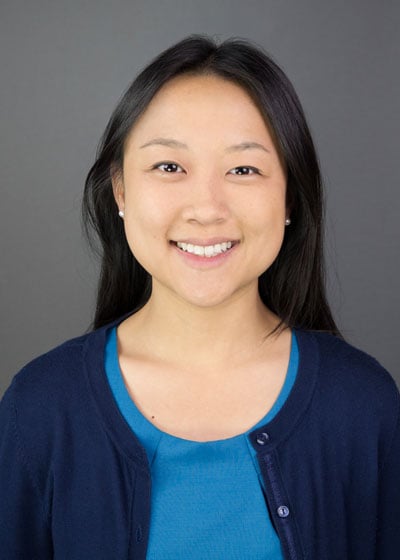 View Angela's CV
My name is Angela Cai, and I am excited to earn your vote for President-Elect. I am a fourth-year resident at SUNY Downstate/Kings County in Brooklyn.
I firmly believe that physicians must shape the system in which they practice. Being your Director of Health Policy for the last 2 years has shown me how powerful we are speaking and working with one voice, as 16,000+ members of EMRA. I am running for President because EMRA is the most impactful platform to shape our collective futures as trainees.
My tenure on the EMRA board has prepared me to be your President and spokesperson. While representing EMRA to senior policy leaders, I learned the issues and how to advocate our positions with poise and tact. EMRA has a broad mission - encompassing education, leadership, and policy - sometimes necessitating difficult trade-offs. I bring insight on how to strategically prioritize our agenda according to what is important to members and where EMRA can make the most impact.
Uncertainty over the next 3 years is guaranteed, but EM leads and adapts. I am prepared and committed to amplify your voice as EM trainees in stewardship of our future practice. Thank you for your vote.
Nicholas P. Cozzi, MD, MBA
Spectrum Health | MSU College of Medicine - Grand Rapids, MI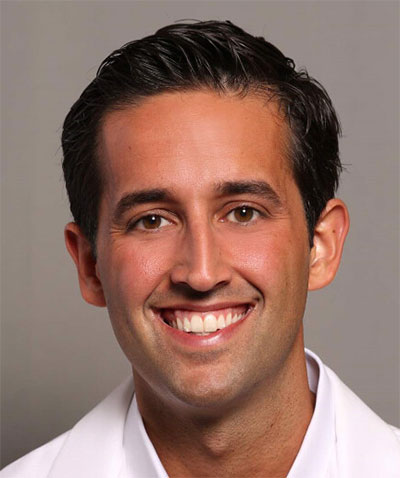 View Nick's CV
It is an honor to be considered for the position of EMRA President-Elect.
As an MBA trained Chief Resident of the Spectrum Health/Michigan State University EM Residency, I possess a perspective cultivated from a number of experiences in a variety of settings. As a former Secret Service Intern, I learned the agency's motto "Worthy of Trust and Confidence" was not a slogan but a way I wanted to live my life. It is incumbent upon our next President-Elect to continue building relationships to champion broad recognition of our distinct training, unify our speciality, and cultivate tomorrow's emergency medicine leaders. As the Chair-Elect of the Administration and Operations Committee, I have worked to build such partnerships with EDPMA and SAEM. We executed the 2020 EMRA SAEM Cocktail Hour with EM Chairs. I also serve as EMRA's representative to ACEP's EM Practice Committee. Through a broad coalition, we helped successfully advocate for current and future trainees by firmly upholding the principle that the safest care for patients requires contemporaneous supervision by emergency physicians.
If elected, I am committed to earning your trust and confidence as I advocate for your priorities and the training, rights, and future of the next generation of EMRA.
Erin R. Karl, MD
University of Nebraska Medical Center - Omaha, NB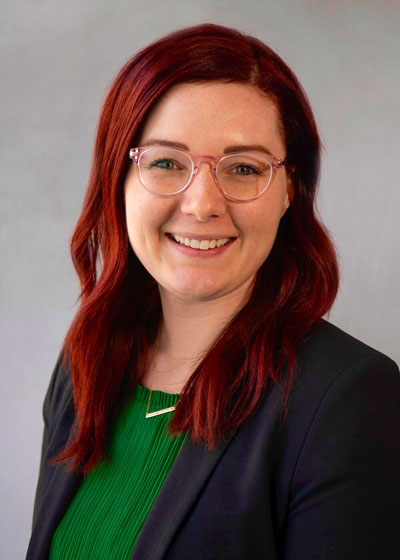 View Erin's CV
First and foremost, I am running for EMRA President-Elect because I am constantly inspired by you - my EMRA family.
After serving as an EMRA leader for the past FIVE years, both on committees and on the EMRA Board of Directors, I have the experience and passion needed to excel as your next EMRA President-Elect. Likewise, during my time as an EMRA representative to several working groups and committees, I have built relationships with leaders from other powerhouses in organized medicine, including ACEP, CORD, AAEM, SAEM, CDEM, the AMA, and the AAMC. I will continue to use these connections to fiercely advocate for you all, as your next EMRA President-Elect.
As my program's delegate to EMRA's Representative Council for the past two years, I want to further the amazing discussions and progress we have made each year at RepCo. I am passionate about advocating for equitable pay for EM residents, completing emergency medicine residency as the only road to independently practicing emergency medicine, increasing the diversity, equity, and inclusion within our specialty, and most importantly amplifying all of YOUR voices.
I will continue to be a fierce advocate for you all, as your next EMRA President-Elect!
Resident Representative to ACEP
Pavitra Krishnamani, MD
Baylor College of Medicine - Houston, TX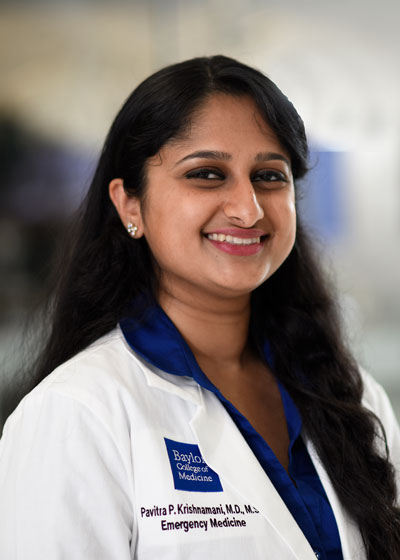 View Pavitra's CV
Our medical training has been shaped by a pandemic that laid bare the consequences of an overburdened healthcare system and reaffirmed the importance of resident representation within our professional societies. We've learned how vital it is for our leaders to have experience in organized medicine and speak up in daunting situations.
EMRA's representative to ACEP will need a discrete skillset to effectively advocate for our constituents: comfort under pressure, diplomacy in vocalizing our positions to an audience of future colleagues, and the ability to balance our values with those of our sister organization. I developed these skills on the Board of Trustees for the American Medical Student Association (AMSA). Through my experiences with AMSA and other opportunities during medical school, I've met with congress members to advocate for my colleagues, given hours of testimony at hearings, and delivered keynote addresses to senior audiences.
Serving as my program's representative to EMRA has taught me more about what we stand for – and I truly believe in our values as an organization. With your support, I'm excited to dedicate my voice to making sure those values are heard on ACEP's Board at a time when resident representation could not be more important.
Nishad Rahman, MD
St. John's Riverside Hospital - Yonkers, NY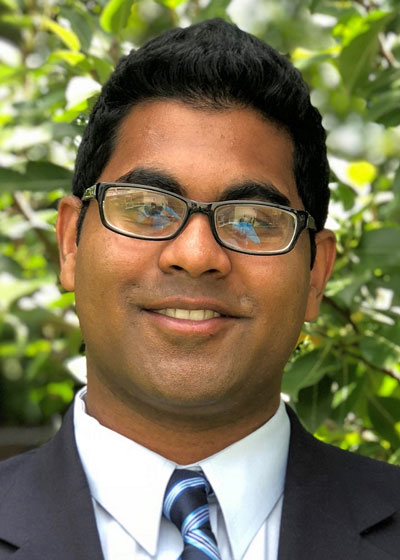 View Nishad's CV
Thank you all for considering me to be your Representative to the ACEP Board of Directors. I have a profound passion for policy and advocacy, and have pursued these interests through multiple avenues within both EMRA and ACEP.
I have served as a voting ACEP Councillor representing the state of New York, and I continue to serve as a member of the Government Affairs committee of the New York ACEP. Through this avenue, I have been part of efforts to reshape both state and federal legislation through the power of advocacy.
Within EMRA, I serve as an EMRA Health Policy Academy Fellow. I have also had the honor of bringing three different resolutions to the Representative Council. Furthermore, I have engaged in numerous opportunities through the Health Policy Committee, including writing for both Policy Prescriptions and EMDocs.net.
When choosing a leader, it is essential to judge candidates on their previous experiences, their ability to pursue meaningful change, and their aptitude at engaging others in honest conversation, all in pursuit of energetic participation, organization, advocacy, and the quest for progress.
I look forward to sharing my vision for our future at ACEP20. Thank you all for your consideration!
Director of Leadership Development
Jonathan Chan, MD
St. John's Riverside Hospital - Yonkers, NY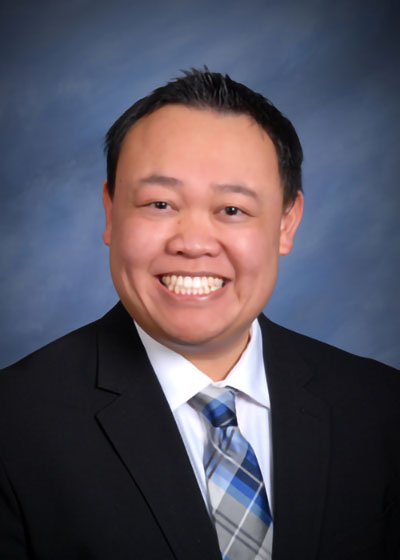 View Jonathan's CV
I deeply believe the effectiveness of EMRA lies in our people: the residents, medical students, fellows, and staff who bring passion every day to this organization and the patients we serve.
As director of leadership development, I will listen to and support each committee leader and member in developing their most exciting and innovative ideas into programs that will benefit all emergency medicine residents. I am committed to ensuring that every EMRA member will be able to find their home among our many committees and programs as we grow into emergency physicians who advance our specialty.
At EMRA, I've developed a deep familiarity with our leadership values through involvement in a number of roles, including as a current participant in the Leadership Academy and serving as an Assistant Vice Chair for the International EM Committee and Social EM Committee.
I have worked in leadership development for a number of non-profit organizations including Teach For America, Special Olympics, and Partners In Health, and I hope to bring that experience to support EMRA's committee leaders and members.
Thank you for considering me for this role and I look forward to serving the incredible EMRA community as the next director of leadership development.
Yevgeniy Maksimenko, MD
Boston University Medical Center - Boston, MA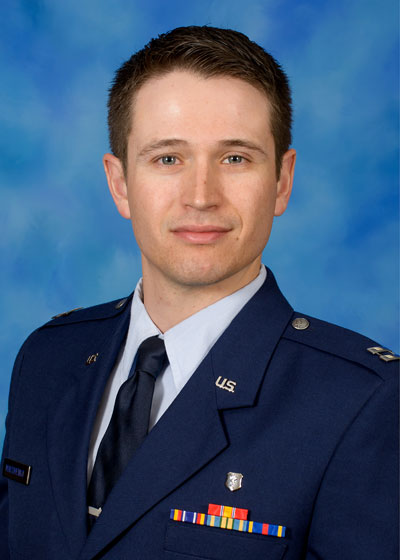 View Yevgeniy's CV
Dear EMRA Family,
During these recent and challenging times, EMRA remains strong as ever thanks to the passion of its leadership and members. And over the last three years, I have had the pleasure of serving as an EMRA leader as part of the Wilderness Committee. EMRA has allowed my wildest ideas to become productive, educational, and fun activities available to all members. These opportunities have provided me a front-row seat to see how dedicated EMRA is to its members. From the EM bound medical student to the fledgling MS1, EMRA equips our members to serve as leaders of EM for decades after residency.
Drawing on my experience of EMRA committees, as well as my background as a military officer, I want to continue to inspire and empower our members. Working together, we as an organization, can continue developing your innate leadership potential, allowing you to dream big and helping you bring your brilliant ideas to life.
It is for these reasons I am running to serve as Director of Leadership Development. EMRA is a family like no other and I hope to continue to provide our members the opportunities so graciously provided to me.
Thank you for your consideration.
Michael Messina, DO
LAC+USC - Los Angeles, CA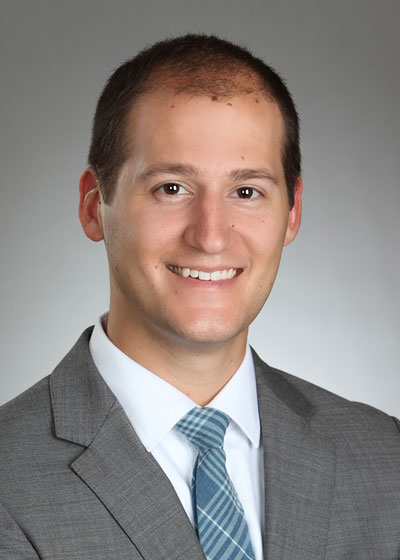 View Michael's CV
Hello, my name is Mike Messina, and I am excited for the opportunity to serve as your EMRA Director of Leadership Development!
Why? You all inspire me. Between the shift-saving resources like the new Pain Management Guide to planning the beloved Quiz Show at CORD, EMRA's leaders are moving the bar forward. With roughly 20 committees and many more fearless leaders behind them, I want to fight for YOU, our awesome members, whose ideas are behind it all. In order to oversee all of EMRA's committees and our representatives to ACEP's 30 sections, you need a Director that has a deep understanding of EMRA as an organization and thus can hit the ground running. For the past four years, I have had the pleasure of serving as an EMRA leader, first on the Medical Student Council and then on the Education Committee. Through this experience, I have grown to know this organization, established relationships with the board and EMRA staff, and acquired the skills needed to thrive at this position. You are the future. You have the next greatest idea. And I want to be there to promote innovation and advocate on your behalf.
Thank you all for the opportunity!
Vice Speaker
Ashley Tarchione, MD
Maricopa Medical Center - Phoenix, AZ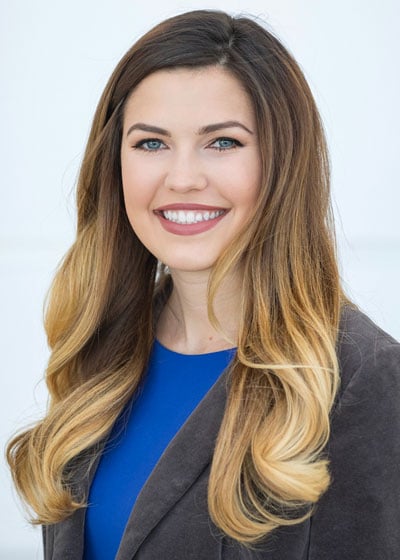 View Ashley's CV
My past two years with EMRA have been completely transformative to my education and career. In that time, I learned that the residents and students that comprise EMRA are some of the most driven, hardworking, organized, and fun-loving people I have ever met. This energy and spirit of collaboration draws people to participate and put in hard work to make our specialty better for each other, our coworkers, and our patients. That is why it is vital that the speaker of EMRA represent these values.
In this position, I will strive to run the representative council in a manner reflective of its membership: with diligence, organization, and fun. My experience of writing, reviewing, and advocating for resolutions within the AMA, EMRA, and ACEP allows me the familiarity to comfortably navigate the policy making process and pull from experience in order to make the EMRA policy process easy for new members to navigate and engaging for all members. I hope to further increase the number of residency programs represented each year at the Representative Council, the number of impactful resolutions submitted each meeting, and our collective voice on the ACEP Steering Committee.
Director of Health Policy
Maggie Moran, MD
San Antonio Military Medical Center - San Antonio, TX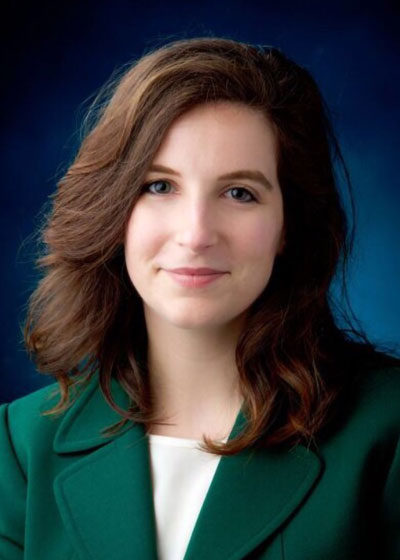 View Maggie's CV
The clinical practice of emergency medicine takes place in a complex landscape which includes patient care, policy, and politics. As prospective Director of Health Policy for the EMRA Board of Directors, it is my aim to understand this landscape, facilitate meaningful and productive discussion on policy, and most importantly, advise on policy which furthers the objectives of our membership. Over the course of the last year, we have witnessed first hand the importance of focused, productive conversation and advocacy. We have had the opportunity to create and shape policy which has protected and served both residents and patients nationwide. Our time in training has looked much different than we anticipated, but our adaptability and advocacy on behalf of our colleagues has changed the landscape of training for the better for the coming generations of trainees.
As an EMRA Health Policy Fellow, I have had the opportunity to participate in many town hall discussions, author several resolutions which advocate for the protection of emergency medicine residents, and chair the CORD Reference Committee. I look forward to continued involvement in EMRA and hope to have the opportunity to do so as a member of EMRA's Board of Directors.