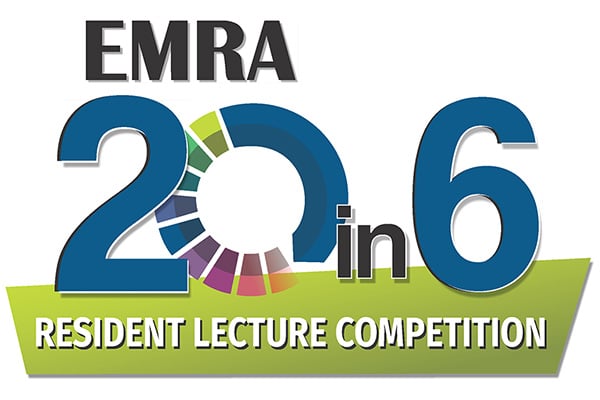 The EMRA 20 in 6 Resident Lecture Competition occurs at ACEP's Scientific Assembly every year and is hosted by residents, for residents. We seek out the best resident speakers in the country and each year, they compete for the title "Best Resident Lecturer." Residents are given up to six minutes and exactly 20 slides to lecture on any topic that is relevant to emergency medicine. It's designed to be a fast-paced, intellectually-stimulating event in a fun, EMRA-style atmosphere. To submit a proposal to present a lecture, complete this online form by July 30.
Wednesday, October 27 @ 2:30pm - 4:30pm ET | Virtual
July 30, 2021: Submissions Due
September 1, 2021: Presenters Announced
2021 20 in 6 Resident Lecturers
Sarayna McGuire, MD, Mayo Clinic: "The Team is Not Okay: Workplace Violence in the ED"
Brendan Innes, MD, Brown Emergency Medicine Residency: "Point of Care, Goals of Care: Rapid Goals of Care Conversations in the Emergency Department"
Maxwell Spadafore, MD, University of Michigan / St. Joseph Mercy Hospital Emergency Medicine Residency: "The Aorta is a Tree: The Biomechanics of Aortic Dissection"
Emily Grass, MD, Washington University in St. Louis: "The Bullet Wounds We Cannot See"
Elmira Andreeva, MD, Boston Medical Center: "A Nation of Immigrants: Caring for Undocumented Americans in the Emergency Department"
Matthew Stampfl, MD, University of Wisconsin: "Prescribing Buprenorphine in the ED: Can We Afford Not To?"
Ivan Zvonar, MD, Boston Medical Center: "Errare Humanum Est: When First Do No Harm Creates a Second Victim"
Marissa Wolfe, MD, LAC + USC EM: "How to Care for Sexually Assaulted Patients in the ED"
Courtney Sakas, MD, Boston Medical Center: "Collateral Damage: The Invisible Wounded in the ED"
2020 Winners
First Place: Sarah Carpenter, MD - Boston Medical Center, "Those Who Show Up: How to Be a Physician Advocate"
Second Place: : Réginald Sévère, MD - Boston Medical Center, "Allyship 101: How to Be an Effective Ally and Reshape Your Department"
Third Place: Brian Sumner, MD - Mount Sinai Morningside, "Unvented: Palliative Extubation in the ED - A Procedural Review"
Fan Favorite: Dan Keller, MD - Virginia Commonwealth University, "Performance Enhancing Shrubs: How Nature Can Improve Performance in the Emergency Department"
View All 2020 Competitor Presentations