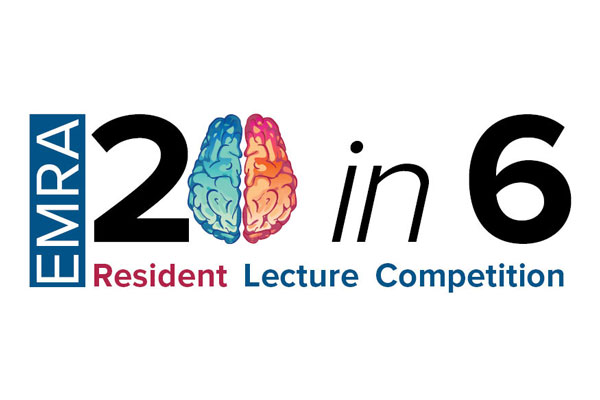 What is it?
The EMRA 20 in 6 Resident Lecture Competition occurs at ACEP's Scientific Assembly every year and is hosted by residents, for residents. We seek out the best resident speakers in the country and each year, they compete for the title "Best Resident Lecturer." Residents are given up to six minutes and exactly 20 slides to lecture on any topic that is relevant to emergency medicine. It's designed to be a fast-paced, intellectually-stimulating event in a fun, EMRA-style atmosphere.
Tuesday, October 29, 2019 : 1PM - 3PM
ACEP19 - Denver, CO
This Year's Judges
We recruit the best of the best lecturers and teachers in the specialty to judge this competition.
Jenny Beck-Esmay, MD
Emergency Medicine Physician and Assistant Residency Director
Mt. Sinai St. Luke's-Mt. Sinai West in New York City
Mizuho Morrison, DO
Assistant professor of Emergency Medicine
Los Angeles County and USC Medical Center
Keck School of Medicine of USC
Rob Orman, MD
Attending Emergency Physician
Valley View Hospital in Glenwood Springs, CO
St. Charles Medical Center in Bend, OR
Santiam Hospital in Stayton, OR
2018 Winners
First Place: Jon Smart, MD - UT Health San Antonio; "Right Heart on Fire - Pulmonary Hypertension"
Second Place: Katie Lupez, MD - Carolinas Medical School; "Human Jetpacks"
Third Place: Carolyn Comissaris, MD - University of Michigan; "You're not dead until you are cold and dead: Management of Cardiac Arrest due to Hypothermia"
View All 2018 Competitor Presentations
Left to right: Rob Orman, MD; Mizuho Spangler, DO; Jon Smart, MD; Allen Chang, MD; Michael Gisondi, MD
2018 Competitors
Congratulations to the 2018 speakers who will be competing for the title "Best Resident Lecturer."
Neel Andharia, DO. PGY-2,
Staten Island University Hospital, Staten Island, NY
Darian Arman, MD. PGY-2,
Mount Sinai St. Luke's-Roosevelt Hospital, New York, NY
Aaron Blackshaw, MD. PGY-3,
University of Virginia Hospital, Charlottesville, VA
Sophia Bodnar, DO. PGY-3,
University of Illinois in Chicago, Chicago, IL
Carolyn Commissaris, MD. PGY-3,
University of Michigan Hospital, Ann Arbor, MI
Andrew D'Alessandro, MD. PGY-2,
Vanderbilt University Hospital, Nashville, TN
Kathryn Fisher, MD. PGY-3,
McGovern Emergency Medicine, Houston, TX
Matthew Gangidine, MD. PGY-2,
Wright State University Hospital, Dayton, OH
David Kaltman, MD. PGY-3,
Northwesten University Hospital, Chicago, IL
Katie Lupez, MD. PGY-3,
Carolinas Medical Center, Charlotte, NC
Isabel Malone, MD. PGY-3,
Emory University Hospital, Atlanta, GA
Jillian Nickerson, MD. PGY-4,
Mount Sinai Hospital, New York, NY
Manavjeet Sidhu, MD. PGY-3,
UCSF-Fresno Hospital, Fresno, CA
Jon Smart, MD. PGY-3,
University of Texas Health San Antonio Hospital, San Antonio, TX
Emily Wheelis, MD. PGY-3 EM/IM,
University of Illinois in Chicago, Chicago, IL